Thursday, February 9, 2017
Northeastern Bows Out in Beanpot First Round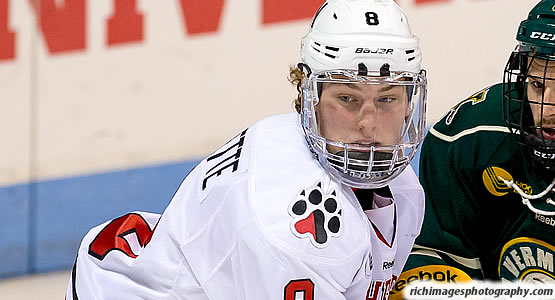 Adam Gaudette scored two goals for the Huskies on Monday night
By Eleanor Kennedy, Special to HockeyEastOnline.com
Discipline was perhaps the difference as Northeastern University were narrowly defeated in a thrilling seven-goal 2017 Beanpot opener at TD Garden on Monday.
Two goals from Adam Gaudette (Braintree, Mass.) couldn't edge the Huskies past Harvard University, who reaches its first Beanpot final since 2008 after their 4-3 win.
The loss extends Northeastern's Beanpot title drought to 29 years.
Head Coach Jim Madigan said he thought his side lacked the drive he has seen at certain points throughout the season.
"Im disappointed in the result and disappointed that we're better than we were tonight," he said. "I didn't think we had the energy and tenacity that you need from the get-go to play well in this tournament.
"I don't think it was anything Harvard did - no disrespect to Harvard - we didn't skate. Plain and simple."
There was no difference between the two teams in a careful opening period, but they traded goals in the second, first by Alexander Kerfoot to put the Crimson in front and then Gaudette on the power play with less than two minutes remaining in the stanza.
Special teams played a big role throughout the night with men sent to the box on five occasions each.
Northeastern scored a pair of power-play goals, improving their tally to 43 on the year with the man advantage, the second highest total in the nation.
Harvard had a power-play goal and a shorthanded goal, both of which came at vital stages in the final period and which appeared to put a nail in NU's coffin.
"We couldn't get a clear and we couldn't get a full-change, we were only able to get a forward change. We were tired and we couldn't get the clear," Madigan said. "We did a good job killing their power plays but it gave them momentum and took a little momentum away from us."
Northeastern tried to regain that momentum but their efforts proved too late.
At 18:27, and with the goaltender pulled in favor of an extra attacker, Gaudette brought his team within one once again.
The goal held up to video review, but the Crimson were able to hang on for the win.
It was the sophomore Gaudette's fourth Beanpot goal, all of which have come against Harvard.
"We battled back but we couldn't get that fourth one and it is so disappointing," Gaudette said.
Northeastern now turns its focus to its Hockey East home bout versus UMass Friday night at 7pm, which a crucial two points on the line.