Thursday, February 9, 2017
Despite Beanpot loss, BC's Calnan Cherishes Experience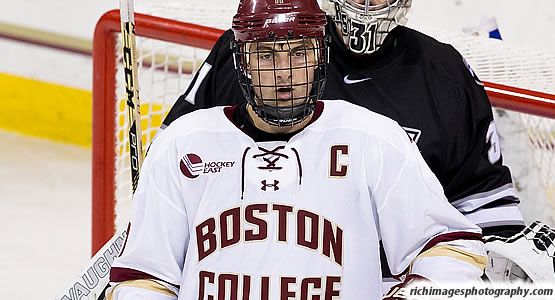 Chris Calnan will captain his team for one last Beanpot matchup against Northeastern University Huskies in the consolation game on Monday
By Eleanor Kennedy, Special to HockeyEastOnline.com
They just couldn't overcome a bad first period.
Boston College's chances of retaining the Beanpot were eliminated on Monday as they lost out to cross-town rivals, Boston University, 3-1, in the tournament semifinals at TD Garden.
The Eagles recorded just two shots on net in the opening 20 minutes, a stat that perhaps proved consequential for the remainder of the game.
"I think we started so slow. In the first period we played very tentative and just not the way we have been playing the last month," Boston College Head Coach Jerry York, who is coaching his 23rd Beanpot, told media after the game.
"I just don't think we had the fire that people wanted to see. We saw glimpses of it in the second and third periods."
York's side were outshot 12 to two in the first period, with their first chance on target only coming at the 18:10 mark, an attempt by Casey Fitzgerald from the red line.
Despite this, the Eagles saw themselves enter the first intermission down just 1-0.
"That was a really plus to us," York said. "I thought in the second and third periods we created more offensive chances, still not a ton of them but enough to score some goals. So we have got to bury those. We had a couple of rebounds that we could have scored."
BC's only goal came at 6:59 in the second period, when senior forward Austin Cangelosi (Estero, Fla.) slotted a rebound.
Even that didn't come easy, the goal only being confirmed after a quick review for goaltender interference.
After his team's third loss to the Terriers this season, York said: "We've got to find a way to score goals against BU. It's been three games now. I know they've got a good goaltender but that's just an excuse for most people. We've got to be able to create more offense. We've got one, zero and one goals in three games."
The Eagles' captain, Chris Calnan (Norwell, Mass.), echoed his coach's thoughts.
"It was a real bummer," he said. "You can't come out like that in the Beanpot against such a great team like BU and unfortunately that's what happened.
"[The first period] was just a wake up call. I mean, everyone knew it. Everyone saw the shots and everyone said, 'you know what, let's get out there and do it. Don't hide, give it your best'. We went out there and had a productive second and third."
The loss ended a six-game Beanpot win streak for BC against the Terriers dating back to 2007.
It is particularly disappointing for Calnan, a senior from Norwell, Massachusetts who won the Beanpot in his freshman and junior years.
His memories of the tournament will be mostly of success, something only a handful of players get to experience in the prestigious set of games.
"I think it's huge," he said. "Especially the Beanpot when you have so many students from each school. It gets them going and you want that energy and as much energy from the crowds and the students. Every player notices it."
The energy was particularly important for freshman goaltender Joe Woll (Dardennne Prairie, Mo.) who has posted a 2.49 goals against average in 24 games this season.
"He's a phenomenal goaltender and he's only a freshman," Calnan said. "He's been awesome for us all year. It happens. Unfortunately tonight it was in the Beanpot against BU, but he was great tonight. We've got to do a better job in front of him and play better as a team defensively."
Calnan will captain his team for one last Beanpot matchup against Northeastern University Huskies in the consolation game on Monday at 4.30pm.
But first, focus turns to another Hockey East contest against Merrimack Friday night.
"That's our focus right now, on the Hockey East championship. So we'll focus on Merrimack and then Northeastern," Calnan said.
Coach York said: "We've just got to keep getting better and better as February goes into March and hopefully into April."
Puck drop Friday is 6pm at Conte Forum and the game can be seen live across the country on the American Sports Network and on NESN in New England.