Thursday, February 2, 2017
Hockey East Weekend Preview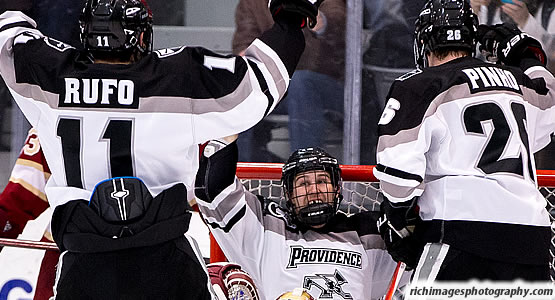 Providence College hosts Maine Friday night on ASN and NESN
No. 3 Boston University vs. UMass/No. 8 Boston College – Fri. 2/3 at BU; Mon. 2/6 at TD Garden
- On January 7 at Frozen Fenway, BU's Jakob Forsbacka Karlsson (Stockholm, Sweden) scored twice to propel the Terriers past the Minutemen, 5-3.
- Terriers first-year skater Clayton Keller (Swansea, Ill.) is currently riding a conference-long 13 game point streak. During that time, the freshman forward has tallied 21 points (9g, 12a). Keller's 26 points (12g, 14a) this season leads the team in scoring.
- The 65th annual Beanpot Tournament kicks off Monday at TD Garden in Boston. The rival Terriers and Eagles clash in the first round, while Northeastern and Harvard face off in the other semifinal.

Northeastern vs. No. 5 Harvard – Mon. 2/6 at TD Garden
- Northeastern and No. 5 Harvard will play for the 43rd time in the Beanpot Tournament. Harvard leads the tournament series with a 23-20 record, but Northeastern has won four of the past five tournament meetings.
- Northeastern and Harvard have common opponents in Boston College, Boston University, Bentley, Clarkson, Quinnipiac and Yale this season. Northeastern has a 3-5-2 record against those programs, while Harvard owns a 4-2-1 record. Northeastern is also 1-2-1 in games facing ECAC opponents this year.

No. 8 Boston College vs. New Hampshire/No. 3 Boston University – Fri. 2/3 at UNH; Mon. 2/6 at TD Garden
- On November 8, JD Dudek (Auburn, N.H.) buried the game-winning goal at 17:33 in the third period against New Hampshire. The deciding tally came just two minutes after the Wildcats finished scoring three straight to tie the game at three goals apiece. The Eagles would hold on to win, 5-3, at Conte Forum.
- No. 8 Boston College and No. 3 Boston University will meet for the third time this season, and for the 44th time in the Beanpot Tournament, on Monday. Most recently, Boston University goaltender Jake Oettinger (Lakeville, Minn.) shut down the most prolific offense in Hockey East with a 3-0 shutout on the road on Jan. 16. Overall, Boston University leads the Beanpot series against Boston College with a record of 27-16. In last year's Beanpot final, Boston College's Alex Tuch (Baldwinsville, N.Y.) sent a wrist shot past BU's Sean Maguire (Powell River, B.C.) to give the Eagles the first 1-0 overtime victory in Beanpot history.

No. 7 UMass Lowell vs. Northeastern/New Hampshire – Fri. 2/3 at NU, Sat. 2/4 at UML
- On January 27, with Northeastern down 3-1 in the third period, Dylan Sikura (Aurora, Ont.) potted a natural hat trick to give the Huskies a 4-3 road win over the River Hawks.
- Sikura has recorded a point in Northeastern's past five games, registering 13 points on five goals and eight assists and the junior forward tied for the national lead in scoring (44). Behind Sikura, Zach Aston-Reese (Staten Island, N.Y./22g, 20a) leads the nation in goals scored and ranks fifth in overall scoring with 42 points. Not far behind is Adam Gaudette (Braintree, Mass./ 15g, 24a), who ranks seventh nationally with 39 points. Sikura, Aston-Reese, and Gaudette's 125 points scored accounts for 49% of Northeastern's total points this season.
- UMass Lowell's Dylan Zink (Madison, Wis.) ranks second in Hockey East defensive scoring with 25 points (8g, 17a). Zink has tallied three assists in the River Hawks last two games.
- New Hampshire's Tyler Kelleher (Longmeadow, Mass/15g, 28a) enters the weekend tied for third nationally in scoring, and leads the NCAA with 28 assists.

No. 15 Providence vs. Maine/UConn – Fri. 2/3, Sat. 2/4 at ME; Wed.2/8 at UConn
- No. 15 Providence is the winner of five straight outings, all coming over Hockey East rivals. In that span, the Friars are outscoring their opponents, 17-8, with an average of 3.40 goals per game. Sophomore forward Scott Conway (Basingstoke, England) has recorded a point in four of Providence's last five victories.
- Maine's Blaine Byron (Ottawa, Ont.) has found the score sheet in four of Maine's past five tilts. The senior forward has tallied seven points on three goals and four assists.
- Since January 1, Rob McGovern (Weymouth, Mass.) ranks second amongst Hockey East goaltenders in save percentage, stopping shots at a .951 clip.

No. 17 Notre Dame vs. No. 12 Vermont – Fri. 2/3, Sat. 2/4 at ND
- This is the first time No. 17 Notre Dame and No. 12 Vermont will meet this season, and the ninth and 10th time in series history. The Fighting Irish lead the overall series with a record of 5-2-1.
- Forward Anders Bjork (Mequon, Wis./16g, 22a) has found the back of the net in three of Notre Dame's past five contests. Bjork's 38 points have the junior forward ranked eighth nationally in total scoring.
- This series features a top-five goaltending matchup between Cal Peterson (Waterloo, Iowa) and Stefanos Lekkas (Elburn, Ill.). Peterson ranks second in the conference in goals against average (2.09) and save percentage (.923), while Lekkas ranks fifth in Hockey East in goals against average (2.39).

Merrimack vs. UConn - Fri. 2/3 at MC, Sat. 2/4 at UConn
- Merrimack is coming off a historic sweep of then-No. 1 Boston University last week. It was the first time that the Warriors have ever swept the Terriers in a regular season series.
- UConn returns to the ice after capturing a 3-1 victory over then-No. 11 Vermont last weekend. In that game, Adam Huska (Zvolen, Slovakia) backstopped the Huskies with a 34-save performance. Huska currently ranks fourth amongst Hockey East goaltenders in save percentage (.921).
- Forward Maxim Letunov (Moscow, Russia) has recorded a point in UConn's three previous contests, registering four points on a goal and three helpers.