Monday, February 27, 2017
Weekly Release: Hockey East Crowns Tri-Champions For First Time Ever
Wild Weekend Ends With UML, BU, BC Splitting Hockey East Regular Season Title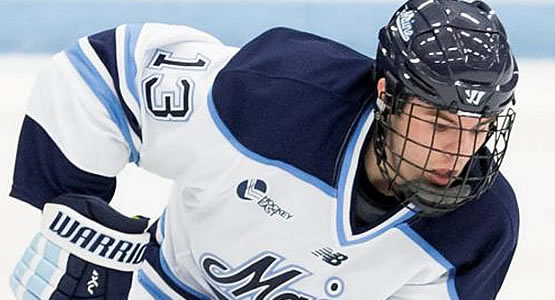 Warrior Hockey Player of the Week Nolan Vesey of Maine
AROUND HOCKEY EAST: For the first time ever, Hockey East crowned regular season tri-champions, as UMass Lowell, Boston University and Boston College each amassed 29 points in league play. UMass Lowell earned the top seed with a 3-1-0 record against the other two teams, while the Terriers slotted in second with a 2-0-0 record against Boston College ... No. 5 Providence (20-9-5/12-7-3 HEA) plays host to No. 12 Massachusetts (5-27- 2/2-19-1 HEA) at Schneider Arena beginning Friday, March 3 at 7:05 p.m. The two programs ended the regular season in a home-and-home series, as the Friars swept the Minutemen. Last season, Providence advanced to the semifinal round in the TD Garden, losing in triple overtime to UMass Lowell, while Massachusetts exited in the first round against Boston University ... No. 6 Vermont (18-11-5/10-8-4 HEA) draws No. 11 Maine (11-19-4/5-15-2 HEA) to Gutterson Fieldhouse Friday, March 3 at 7 p.m. The Catamounts went 1-0-1 against the Black Bears in a two-game home set on Nov. 18-19. In the 2016 Hockey East Tournament, Vermont advanced past UConn on the road before bowing out to Boston College, while Maine ended the year at Northeastern in the opening round ... No. 7 Merrimack (14-14-6/8-8-6 HEA) welcomes No. 10 New Hampshire (12-17-5/7-11-4 HEA) to Lawler Rink Friday, March 3 at 7 p.m. to begin their best-of-three series. The Wildcats claimed a 1-0-1 record in two home games over the Warriors in 2016-17, including a 6-2 win on Oct. 29 and a 3-3 draw on Nov. 13. The pairing is a rematch of the 2016 Hockey East Opening Round, where New Hampshire was tripped up by Merrimack in a three-game series. Merrimack then fell to Providence in the quarterfinals ... No. 8 Northeastern (16-13-5/9-10-3 HEA) will entertain No. 9 UConn (12-14-8/8-10-4 HEA) in their first-ever postseason series. The two Huskies programs clashed recently, as Northeastern swept UConn, 2-0-0, on Feb. 17-18. Northeastern is the defending 2016 Hockey East Tournament Champion, while UConn looks to advance past the opening round for the first time in program history.
---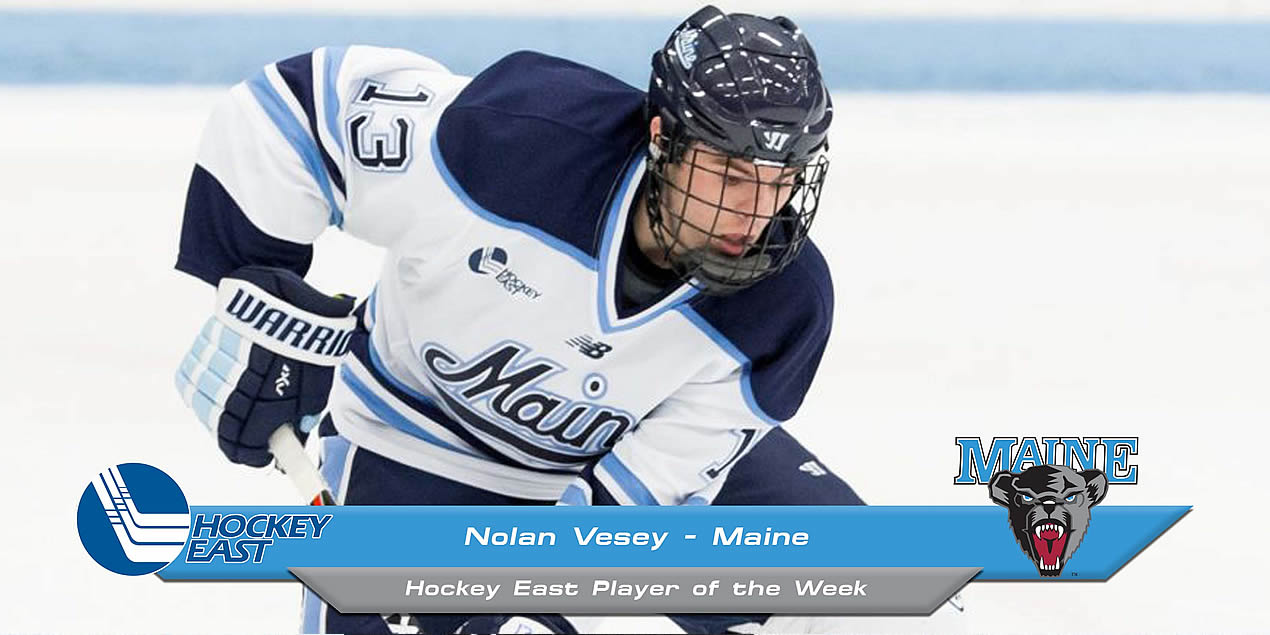 NOLAN VESEY - MAINE

Nolan Vesey (Jr., F; North Reading, Mass.) recorded a goal Friday night against Northeastern and followed up with a hat trick Saturday against the Huskies. It was the second time Vesey has scored a hat trick against Northeastern on Senior night, after completing the feat last year on Feb. 21, 2015.
---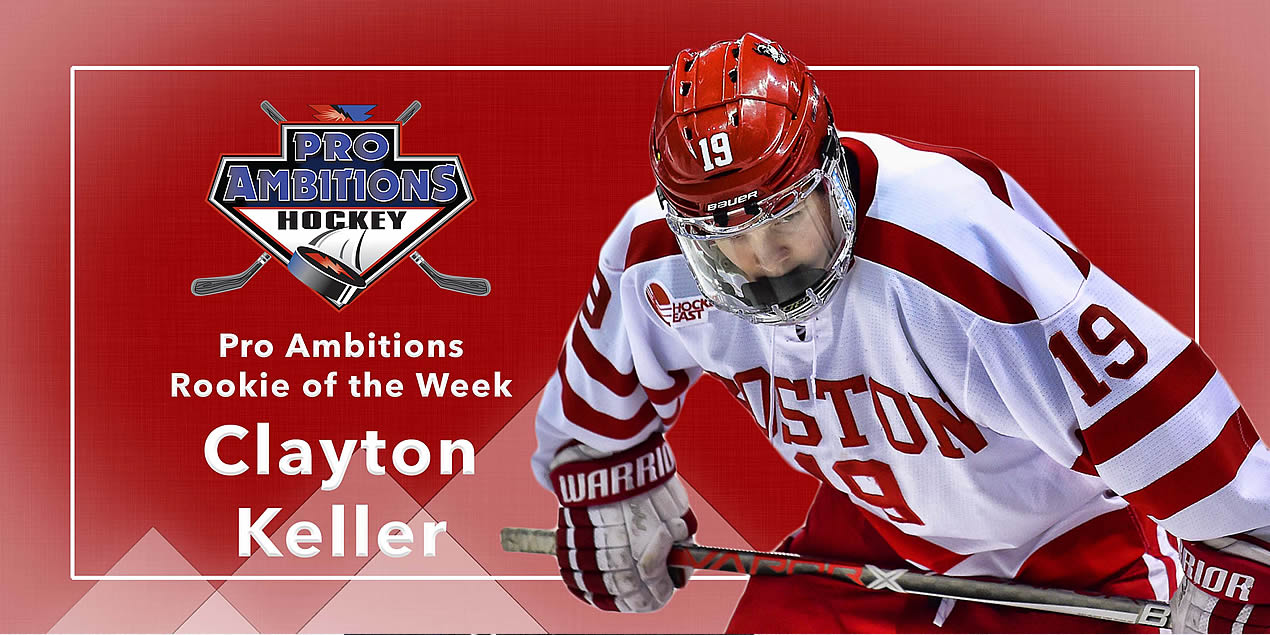 CLAYTON KELLER - BOSTON UNIVERSITY

Clayton Keller (Fr., F; Swansea, Ill.) found the back of the net twice in Saturday's 4-1 win over Notre Dame, helping BU secure a share of the Hockey East regular season title. He also picked up an assist in Friday's setback.
---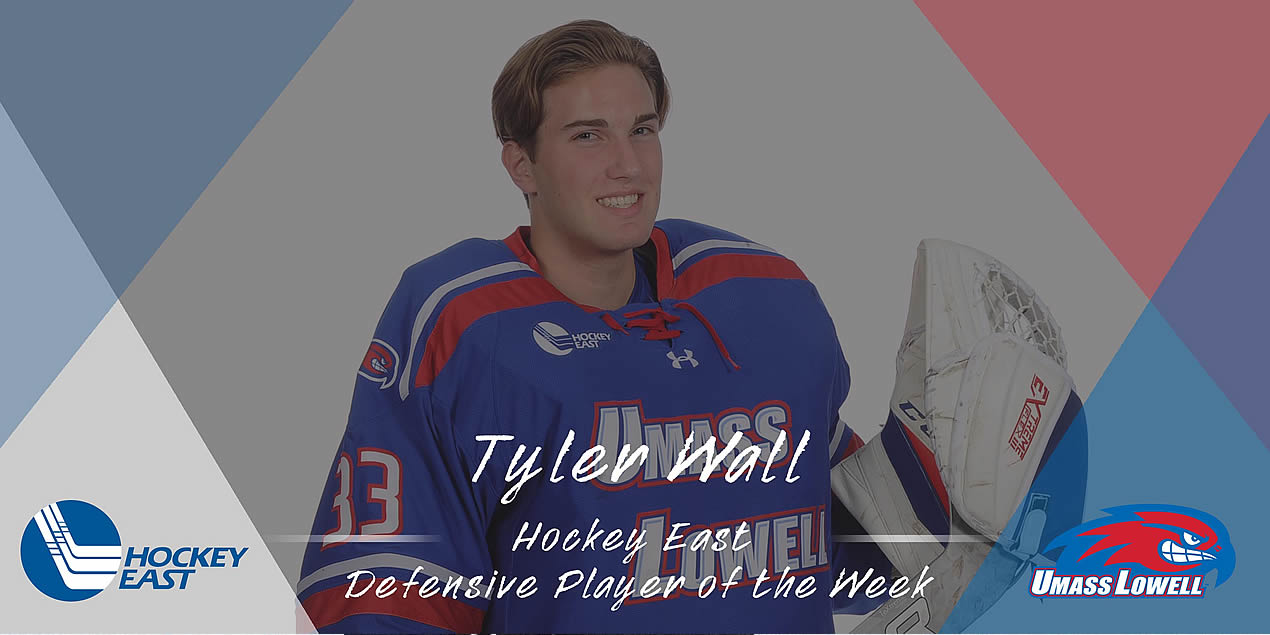 TYLER WALL - UMASS LOWELL

Tyler Wall, UML (Fr., G; Leamington, Ont.) stopped 50 of 52 shots (.967 save %) in the River Hawks' sweep of Boston College. The rookie netminder recorded 28 saves in the 4-1 road win on Thursday, and stopped 22 of the 23 shots he faced in a 3-1 victory on Friday in the regular-season finale.
---
HOCKEY EAST WEEKLY TOP PERFORMERS
Kieffer Bellows, BU (Fr., F; Edina, Minn.) Opened the scoring for BU and set up the decisive tally in Saturday's 4-1 victory.
Jake Oettinger, BU (Fr., G; Lakeville, Minn.) Stopped 63 pucks in a weekend split with Notre Dame, including a career-high 40-save outing in Saturday's 4-1 win to ensure the Terriers a share of the regular season title and the second seed in the Hockey East Tournament.
Tage Thompson, UConn (So., F; Orange, Conn.) Thompson scored a pair of goals and picked-up an assist to help lead the Huskies to a weekend sweep over New Hampshire.
Adam Huska, UConn (Fr., G; Zvolen, Slovakia) Huska made 41 saves to help UConn to a 5-3 win at New Hampshire on Friday night. It was the third time this season the freshman has posted 40 or more saves.
Sami Tavernier, MC (Fr., F; Morzine, France) Had two points (1g, 1a) to help Merrimack to a weekend split at Vermont and secure home ice in the Hockey East Opening Round.
Johnathan Kovacevic, MC (Fr., D; Grimsby, Ont.) Dished out a pair of helpers, one each night, in a split at Vermont.
Collin Delia, MC (Jr., G; Rancho Cucamonga, Calif.) Made 61 saves in out outings with the Catamounts, stopping 61 of 66 shots to finish with a .924 save percentage and a 2.54 goals against average.
Joe Gambardella, UML (Sr., F; Staten Island, N.Y.) Had three points (2g,1a) in UMass Lowell's weekend sweep of BC.
Nolan Stevens, NU (Jr., F; Sea Isle City, N.J.) Potted two goals and three assists in a weekend split at Maine, including the game-winner in overtime on Friday night.
Jeremy Davies, NU (Fr., D; Ste-Anne-de-Bellevue, Que.) Scored a goal and an assist on Saturday's 5-4 loss at Maine.
Jake Evans, ND (Jr., F; Montreal, Que.) Potted a pair of goals, helping the Irish to a 3-1 win at BU Friday, clinching an opening round bye for ND.
Cal Petersen, ND (Jr., G; Waterloo, Iowa) Went 1-1-0 at BU, locking in an opening round bye. He made 37 saves Friday, including 23 third-period stops, to backstop his team to a 3-1 road win.
Jake Walman, PC (Jr., D; Toronto, Ont.) Netted two goals and dished out an assist in a 6-2 win at UMass Friday before setting up the game-winning tally the next night in a 2-1 overtime win. Finished plus-four on the weekend and had 16 shots on net.
Spenser Young, PC (Fr., D; Brentwood, N.H.) His three points (1g, 2a) helped PC to a weekend sweep, while his three points were tied for the rookie lead.
Mario Puskarich, UVM (Sr., F; Ft. Walton Beach, Fla.) Tallied three assists during a two-game series on Senior Weekend with Merrimack and a team-high eight shots on goal.
Stefanos Lekkas, UVM (Fr., G; Elburn, Ill.) Had a 2.00 goals against and .922 save percentage over the weekend against Merrimack, posting 27 saves for his 16th victory on Friday night.