Saturday, February 25, 2017
Hockey East Opening Round Match Ups Determined
Hockey East Postseason Tournament Begins Friday, March 3 for Eight Teams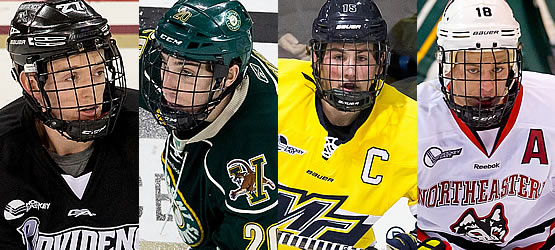 Providence, Vermont, Merrimack and Northeastern will host opening round playoff games starting March 3
WAKEFIELD, Mass. - The Hockey East Association has announced the pairings for the best-of-three opening round of the 2017 Hockey East Tournament. Playoff games begin Friday, March 3. The top four seeds, No. 1 UMass Lowell, No. 2 Boston University, No. 3 Boston College, and No. 4 Notre Dame will enjoy a bye into the quarterfinals, while seeds five through eight will host seeds nine through 12 next weekend, March 3-5. A full schedule can be found in the attached release.
No. 5 Providence (20-9-5/12-7-3 HEA) plays host to No. 12 Massachusetts (5-27-2/2-19-1 HEA) at Schneider Arena beginning Friday, March 3 at 7:05 p.m. The two programs ended the regular season in a home-and-home series, as the Friars swept the Minutemen. Last season, Providence advanced to the semifinal round in the TD Garden, losing in triple overtime to UMass Lowell, while Massachusetts exited in the first round against Boston University.
No. 6 Vermont (18-11-5/10-8-4 HEA) draws No. 11 Maine (11-19-4/5-15-2 HEA) to Gutterson Fieldhouse Friday, March 3 at 7 p.m. The Catamounts went 1-0-1 against the Black Bears in a two-game home set on Nov. 18-19. In the 2016 Hockey East Tournament, Vermont advanced past UConn on the road before bowing out to Boston College, while Maine ended the year at Northeastern in the opening round.
No. 7 Merrimack (14-14-6/8-8-6 HEA) welcomes No. 10 New Hampshire (12-17-5/7-11-4 HEA) to Lawler Rink Friday, March 3 at 7 p.m. to begin their best-of-three series. The Wildcats claimed a 1-0-1 record in two home games over the Warriors in 2016-17, including a 6-2 win on Oct. 29 and a 3-3 draw on Nov. 13. The pairing is a rematch of the 2016 Hockey East Opening Round, where New Hampshire was tripped up by Merrimack in a three-game series. Merrimack then fell to Providence in the quarterfinals.
No. 8 Northeastern (16-13-5/9-10-3 HEA) will entertain No. 9 UConn (12-14-8/8-10-4 HEA) in their first-ever postseason series. The two Huskies programs clashed recently, as Northeastern swept UConn, 2-0-0, on Feb. 17-18. Northeastern is the defending 2016 Hockey East Tournament Champion, while UConn looks to advance past the opening round for the first time in program history.