Monday, February 20, 2017
Weekly Release: Stage Is Set For Crucial Final Weekend In League Play
Regular Season Title, Opening Round Byes on the Line For Top Teams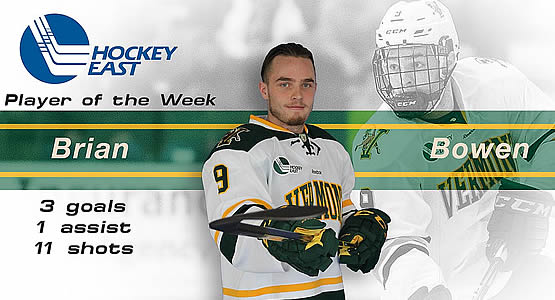 Warrior Hockey Player of the Week Brian Bowen of Vermont
AROUND HOCKEY EAST: Another Hockey East season will come down to the final days, as entering the last weekend of regular-season play on the conference schedule, the current top four teams are set for crucial weekend series. Four teams can earn a share of the regular-season championship, while fifth-place Providence and sixth-place Vermont remain alive for the chance to earn a bye through the opening round of the Hockey East Tournament ... After skating to a pair of stalemates with Boston College last weekend, the Vermont Catamounts remain alive for a bye thanks in part to four points (3g, 1a) from Littleton, Massachusetts native Brian Bowen. The Eagles, taking the ice on Thursday against UMass Lowell, will have a chance to clinch at least a share of the regular season title with a win over the River Hawks. UMass Lowell, meanwhile, will also have a shot to clinch an opening- round bye with a win against the first-place Eagles and a Providence loss or tie. Norm Bazin's team is still in contention for a share of the regular season title if it is able to sweep Boston College ... Second-place Boston University plays host to Notre Dame, who are currently tied with the Terriers in second place in the league table. The two-game set will have large implications in the playoff picture, as the Terriers could clinch a share of the regular-season title and the No. 1 seed or fall to fourth place. The Fighting Irish are also aiming for a share of the Hockey East crown, needing at least three points to secure a share of the title ... Providence will duel in a pair with UMass, as the Friars come off a 0-1-1 weekend in South Bend against the Fighting Irish. Providence can earn a top-four spot with at least two points and a Boston College sweep of UMass Lowell ... Vermont welcomes red-hot Merrimack to Burlington as the two programs jockey for playoff position, currently seeded sixth and seventh, respectively. The Warriors are 5-0-3 in their last eight games, including two wild, come-from-behind victories over Maine last weekend, using that undefeated streak to retain chances of finishing as high as the fifth seed in the Hockey East Tournament ... Northeastern and Maine square off in the final weekend, with the Black Bears locked into 11th place already and the Huskies seeking a spot as high as sixth ... Ninth-ranked New Hampshire and 10th-ranked UConn prepare for each other, separated but just two points in the standings and within reach of hosting the opening round.
---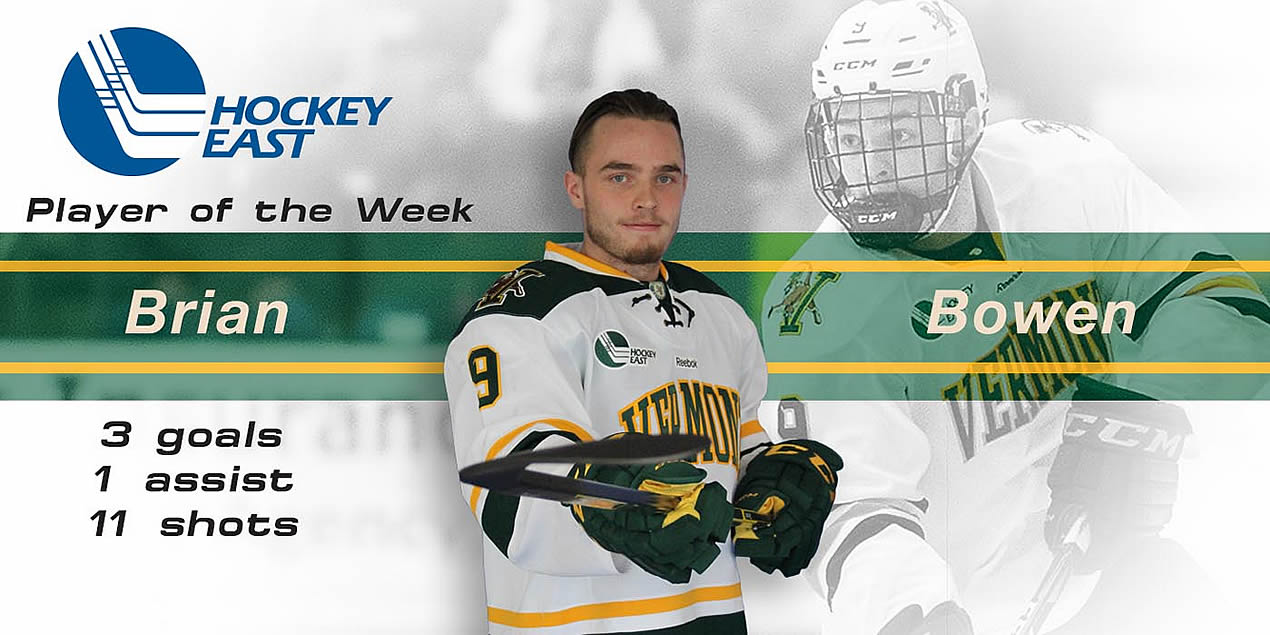 BRIAN BOWEN - VERMONT

Brian Bowen (Littleton, Mass.) posted three goals and an assist for a four-point weekend at first-place Boston College. He registered a goal and an assist in a 3-3 tie on Friday, then scored a pair of goals in Saturday's 2-2 tie. Bowen finished the series with a team-high 11 shots on goal and a plus-three rating.
---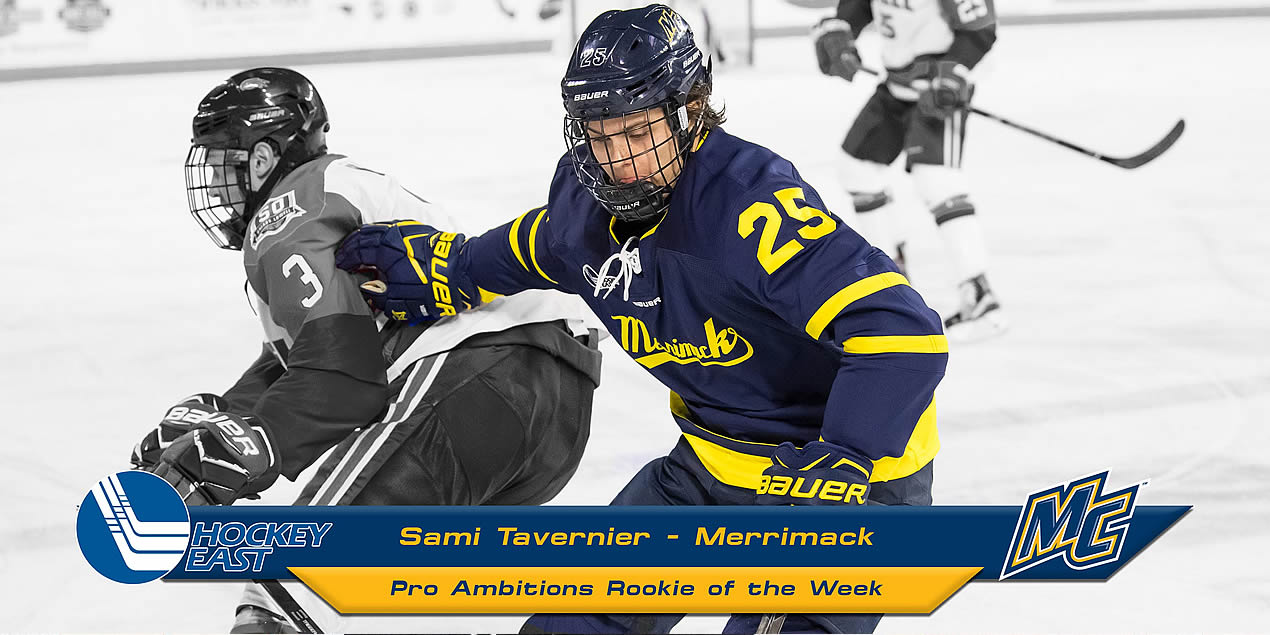 SAMI TAVERNIER - MERRIMACK

Sami Tavernier (Morzine, France) racked up four points (2g, 2a) in three games to help Merrimack extend its unbeaten streak to eight games (5-0-3). He dished out two assists in Tuesday's win at UMass, then scored against Maine each night to push the Warriors to a five-point week in Hockey East play.
---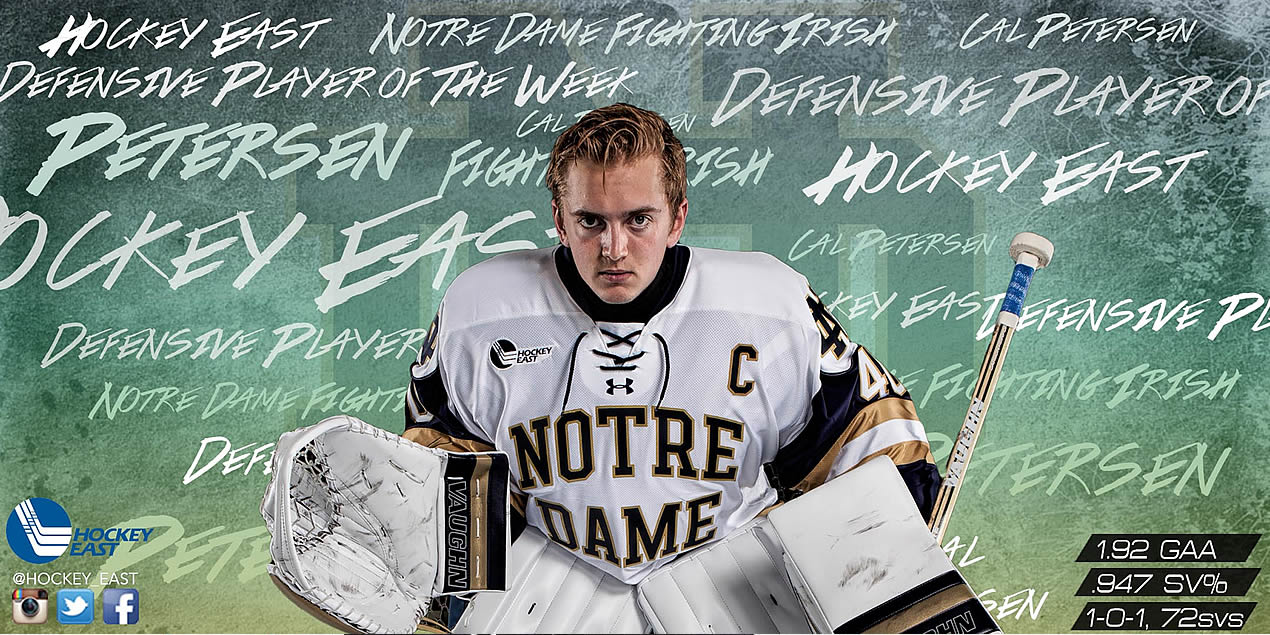 CAL PETERSEN - NOTRE DAME

Cal Petersen (Waterloo, Iowa), Notre Dame's Iron Man goaltender, backboned the Irish to a 1-0-1 weekend, ended Providence's nine-game winning streak. He stopped 72 of 76 shots in two games, helping his team move into second place in the Hockey East standings. He finished the weekend with a 1.92 goals against average and .947 save percentage.
---
HOCKEY EAST WEEKLY TOP PERFORMERS
Austin Cangelosi, BC (Sr., F; Estero, Fla.) Netted two goals and dished out one helper in the Eagles weekend series with Vermont. After winning 38 of 52 draws against the Catamounts, the senior continues his reign as the number one centerman out of all Division I players with a .653 faceoff percentage.
Bobo Carpenter, BU (So., F; N. Reading, Mass.) Registered two goals and two assists over three contests to extend his career-best point streak to seven games.
Clayton Keller, BU (Fr., F; Swansea, Ill.) Tallied five points (3g, 2a) on the week, including two goals in the Beanpot title game. He also recorded a goal and an assist in an 8-4 road win over UNH on Saturday and a helper the previous night in a 4-4 draw at home.
Charlie McAvoy, BU (Fr., D; Long Beach, N.Y.) Had two multi-point games and a combined plus-6 rating to help the Terriers take three of four points from UNH. He notched a goal and an assist in Friday's tie before adding two assists, including one on the game-winner, on Saturday.
Chase Pearson, ME (Fr., F; Alpharetta, Ga.) Notched one goal and two assists over the weekend against Merrimack College to go along with a plus-three rating and three shots on goal.
Jace Hennig, MC (Jr., F; Port Moody, B.C.) Finished with four points (3g, 1a) over three games last week, leading his team with three goals in that span. The junior forward scored his first career overtime winner in a Friday night comeback win against Maine. Hennig led the effort to secure Merrimack a three-point weekend with a two-goal performance on Saturday to help Merrimack skate to a 4-4 tie.
Ludvig Larsson, MC (So., F; Malmo, Sweden) Racked up four points (2g, 2a) in three games, scoring in back-to-back games against Maine over the weekend.
Chris LeBlanc, MC (Sr., F; Winthrop, Mass.) Led Hockey East with five assists over three games last week. LeBlanc recorded a point in all three games Merrimack played and recorded back-to-back, two-point nights in a weekend series against Maine.
C.J. Smith, UML (Jr., F; Des Moines, Iowa) Smith notched four points (1g, 3a) in UMass Lowell's 5-2 win at UMass on Saturday night. Smith has had a hand in each of UMass Lowell's last four game-winning goals (4a).
Tyler Wall, UML (Fr., G; Leamington, Ont.) Stopped 23 of 25 shots (.920) in UMass Lowell's 5-2 road victory at UMass on Saturday night.
Zach Aston-Reese, NU (Sr., F; Staten Island, N.Y.) Tallied three goals and two assists in three games, including his third hat trick of the season, in a four-point night against UConn on Saturday.
Anders Bjork, ND (Jr., F, Mequon, Wis.) Helped Notre Dame to a three-point weekend over 10th-ranked Providence by scoring a pair of goals to in Friday night's 4-1 win and then adding an assist in Saturday night's 3-3 tie.
Rob Hamilton, UVM (Sr., D; Calgary, Alta.) Scored a pair of goals against No. 11 Boston College on Friday night, including the game-tying goal late in the third period. He closed the weekend with seven shots on goal and a plus-three rating.