Monday, February 13, 2017
Weekly Release: Gustafsson Earns Player of the Week After Five-Point Outing
Providence Extends Win Streak to Nine Games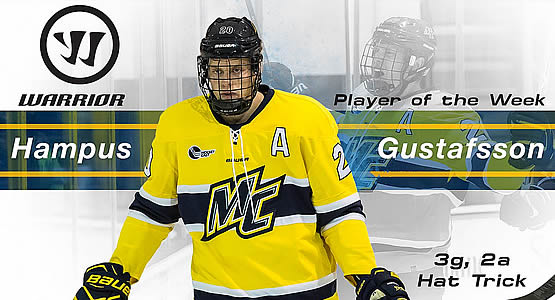 Warrior Hockey Player of the Week Hampus Gustafsson of Merrimack College
AROUND HOCKEY EAST: Merrimack enjoyed a historic weekend, winning, 6-3, at No. 7 Boston College for the first time since 1997, a streak that spanned 30 games (0-27-3), led by five points (3g, 2a) from Hampus Gustafsson (Ljungby, Sweden). The win also assured the Warriors their first unbeaten season in league play against both the Eagles (1-0-1) and Boston University (2-0-0) since joining Hockey East, as well as season series victories against both teams. The next-best year was in 2010-11, when Merrimack went 3-1-2 in the regular season against both schools ... No. 11 Providence College extended its win streak to nine games with a sweep of UConn, taking a 4-1 decision Wednesday and enjoying a 4-3 victory Friday thanks to four points (3g, 1a) from Erik Foley (Mansfield, Mass.). Foley now has eight points (5g, 3a) in his last four games ... No. 9 UMass Lowell picked up two wins over No. 3 Boston University and UMass, backboned by rookie netminder Tyler Wall (Leamington, Ont.), who improved his season record to 18-8-1 and 10-7-0 in league play. Wall kicked out 15 saves in the third period against the Terriers, helping to preserve a 3-2 victory ... The Terriers advanced to the Beanpot final with a 3-1 win over Boston College last Monday. Freshman Clayton Keller (Swansea, Ill.) extended his point streak in that game to 15 straight with a shorthanded goal before the run was snapped in the 3-2 setback to UMass Lowell Friday ... Northeastern fell at the hands of Harvard, 4-3, in last week's Beanpot semifinal, setting up Monday afternoon's tilt with Boston College. The Huskies went on to topple UMass, 6-2, Friday night at Matthews Arena. The reunited line of Zach Aston-Reese (Staten Island, N.Y./2g, 2a), John Stevens (Sea Isle City, N.J./3a), and Nolan Stevens (Sea Isle City, N.J./2g) connected for nine points in the outing ... Notre Dame earned four league points to keep pace with UMass Lowell on the Hockey East table with two victories at Maine. Friday saw the Fighting Irish jump out to a 3-0 lead off goals from Jack Jenkins (Lake Bluff, Ill.), Anders Bjork (Mequon, Wis.) and Andrew Oglevie (Fullerton, Calif.) and hang on to earn a 3-2 win. The next night, Cam Brown (Natick, Mass.) set up Blaine Byron (Ottawa, Ont.) and Brendan Robbins (Nashua, N.H.) to stake the Black Bears to a two-goal advantage that also saw the Black Bears captain record his 100th career point. The Irish battled back, getting two goals from Dylan Malmquist (Edina, Minn.) and a goal and an assist from Jordan Gross (Maple Grove, Minn.) to eventually earn a 4-2 win.
---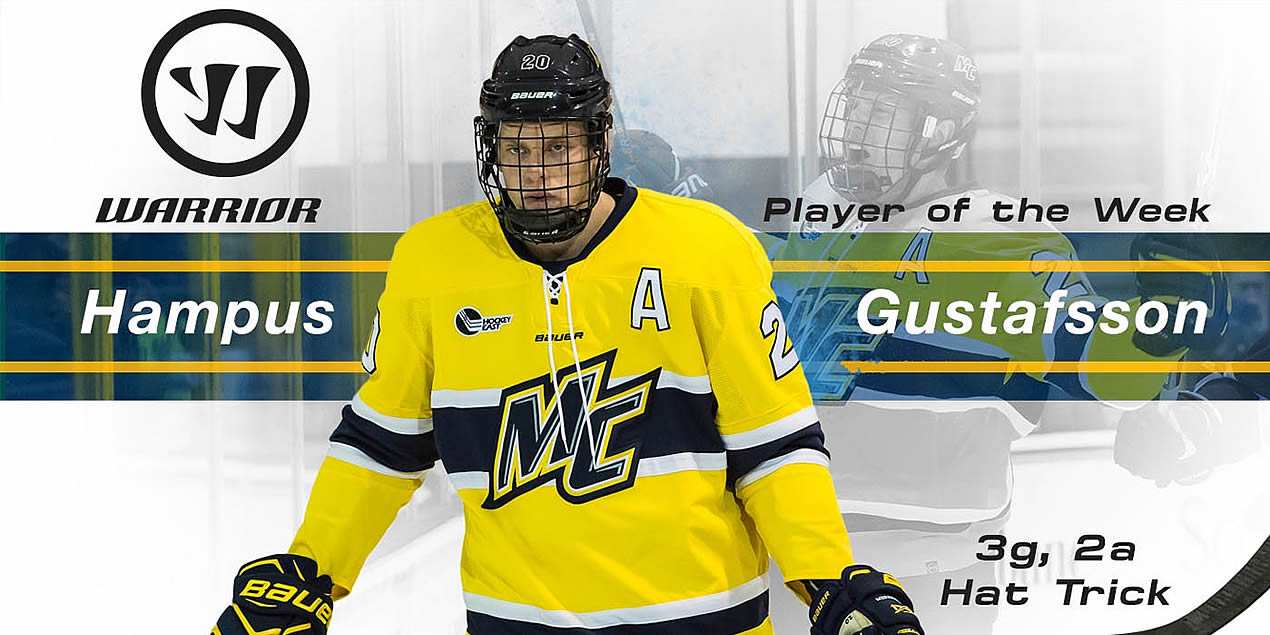 HAMPUS GUSTAFSSON - MERRIMACK

Hampus Gustafsson (Ljungby, Sweden) racked up a career-high five points (3g, 2a), including the Warriors' first hat trick in nearly six years, to power Merrimack past Boston College, 6-3, in Friday night's road contest. It marked the first time Merrimack downed the Eagles at Conte Forum since 1997, a stretch of 30 games (0-27-3).
---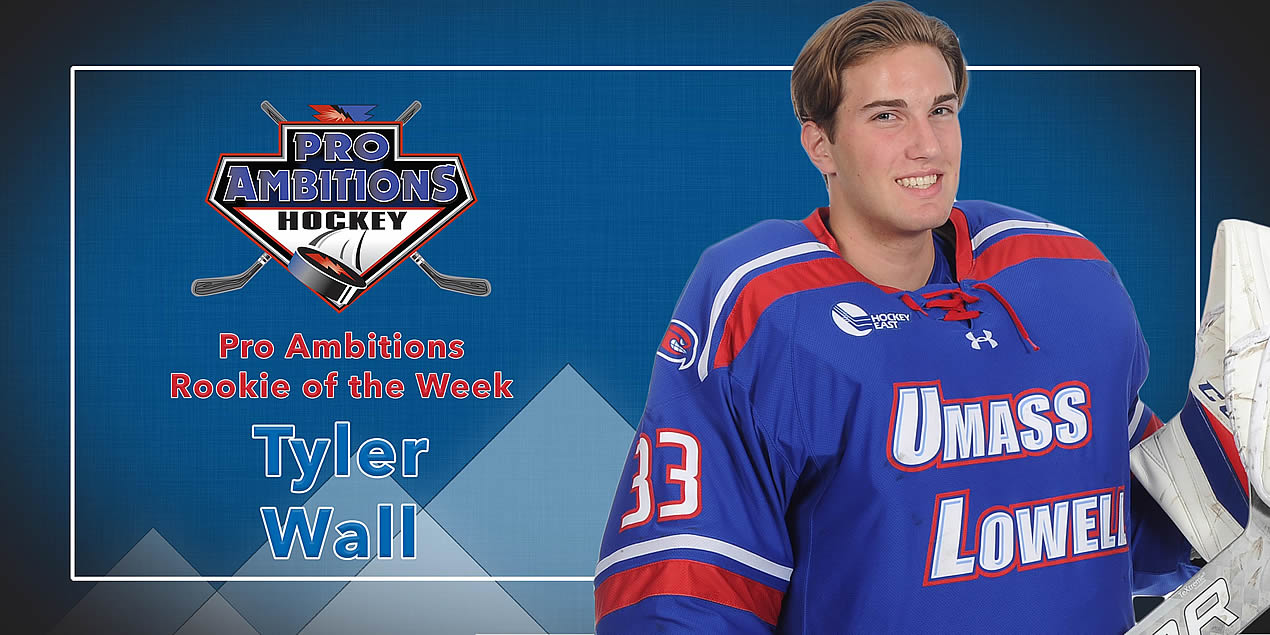 TYLER WALL - UMASS LOWELL

Tyler Wall (Leamington, Ont.) added two victories on the weekend, stopping 37 of 41 shots in games against No. 3 BU and UMass. He collected a 2.00 goals against average in the two tilts and made 15 saves in the third period against the Terriers.
---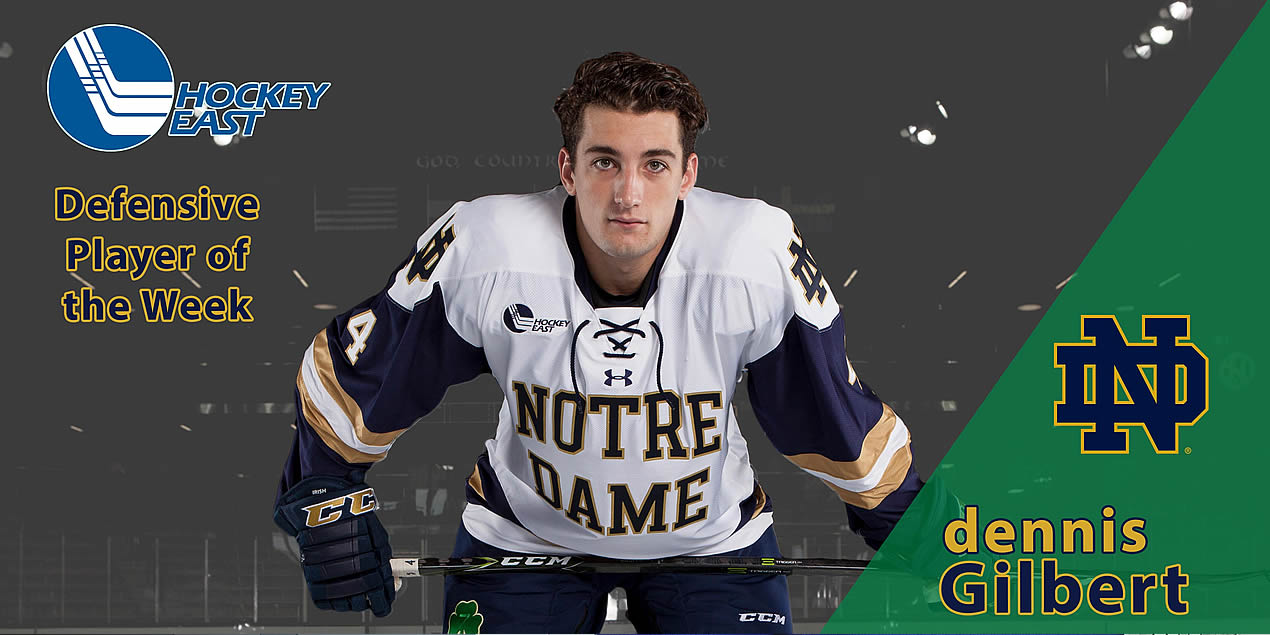 DENNIS GILBERT - NOTRE DAME

Dennis Gilbert (Buffalo, N.Y.) dished out three assists in a two-game series sweep of the Maine Black Bears in Orono last weekend and blocked nine shots over the two outings. The four league points helped Notre Dame climb into the third spot in the league standings with four games remaining against Providence and Boston University, who are competing to earn an opening round bye.
---
HOCKEY EAST WEEKLY TOP PERFORMERS
Bobo Carpenter, BU (So., F, North Reading, Mass.) Assisted on the eventual game winner in BU's Beanpot semifinal win over Boston College and scored a 3-on-5 shorthanded goal in Friday's loss at UMass Lowell.
Patrick Harper, BU (Fr., F, New Canaan, Conn.) Scored a goal in Friday's game at UMass Lowell after setting up BU's first goal in the Beanpot semifinal victory against Boston College.
Joe Gambardella, UML (Sr., F; Staten Island, N.Y.) Recorded three points (2g, 1a) in a weekend sweep, including the game-winning tally in a 4-2 victory over UMass Saturday.
Ryan Lohin, UML (Fr., F; Chadds Ford, Pa.) His two points (1g, 1a) contributed to two wins on the weekend for UMass Lowell, which extended its win streak to four games.
Brett Seney, MC (Jr., F; London, Ont.) Matched his single-game high with three points (3a) in a 6-3 win at Boston College.
Marc Biega, MC (Jr., D; Pointe-Claire, Que.) Dished out three helpers in Friday's road victory over the Eagles.
Erik Foley, PC (So., F; Mansfield, Mass.) Registered his first-career hat trick and added an assist as Providence defeated UConn, 4-3, Friday.
Vimal Sukumaran, PC (Fr., F; Montreal, Que.) Had his second career two-goal game, including the game winner, helping PC down UConn, 4-1, Wednesday.
Zach Aston-Reese, NU (Sr., F; Staten Island, N.Y.) Scored twice and added two assists in Friday's win over UMass, becoming the first player since 1989-90 to record 50 points in a season.
Andrew Oglevie, ND (So., F; Fullerton, Calif.) Potted a goal in each win against Maine in a two-game set, including Friday's game winner.
Mario Puskarich, UVM (Sr., F; Ft. Walton Beach, Fla.) Netted two goals in a 5-3 win over UNH, including his 50th career tally.
Anthony Petruzzelli, UVM (Jr., F; Federal Way, Wash.) Scored twice and added an assist in a weekend split with UNH, skating in his 100th career game Saturday.