Weekly Release: Boston University, Boston College Win At Frozen Fenway
UMass Lowell, Vermont Each Take A Pair of Victories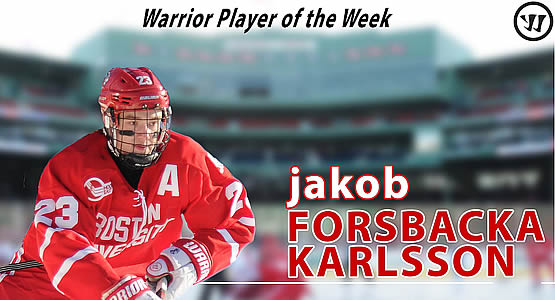 Warrior Hockey Players of the Week Jakob Forsbacka Karlsson of Boston University
AROUND HOCKEY EAST: Boston University had a successful two-win week starting with a thrilling 5-4 overtime victory over No. 10 Union at home on Thursday night. Jakob Forsbacka Karlsson (Stockholm, Sweden) scored with 2:51 left in the overtime frame to give the Terriers the victory, while also completing his first hat trick of the season. JFK continued his productive week by scoring twice at Fenway Park, leading BU to a 5-3 victory over UMass, giving the second-year forward seven points in his last three games … Boston College was able to outlast Hockey East rival Providence and complete its series sweep of the Friars in the second leg of Sunday's Frozen Fenway doubleheader. David Cotton (Parker, Texas) broke a 1-1 stalemate by burying a one timer for his seventh goal of the season. Joseph Woll (Dardenne Praire, Mo.) stopped 28 of the 29 shots he faced to get his 11th win of the season … Vermont and Northeastern started the week in non-conference play, where the Catamounts defeated No. 16 St. Lawrence, 4-3, and Northeastern fell to Yale, 5-4. The Catamounts and Huskies then battled at Gutterson Fieldhouse, where senior forward Brendan Bradley (Richboro, Pa.) netted a goal and an assist in a 4-3 UVM win… UMass Lowell earned two road wins over RPI and New Hampshire this week. On Tuesday, the River Hawks rolled past the Engineers by a score of 5-1. Both Nick Master (Broomall, Pa.) and Jake Kamrass (Atlanta, Ga.) tallied a goal and an assist in the non-conference victory. Norm Bazin's team continued to roll on the road and grabbed two points against New Hampshire Friday night at the Whittemore Center. The River Hawks scored twice in the first period and Tyler Wall (Leamington, Ont.) stopped 33 of 34 shots to give UMass Lowell a 2-1 victory over the Wildcats. New Hampshire would bounce back and take a 7-4 victory from Brown on Sunday. Tyler Kelleher (Longmeadow, Mass.) recorded five assists on the game, and now leads the nation in scoring with 40 points (14g, 26a) … Merrimack suffered a set back to ECAC Hockey foe Cornell at Lawler Rink. Collin Delia (Ranch Cucamonga, Calif.) stopped 17 of the 18 shots he faced, but Merrimack's offense was unable to find the back of the net in a 1-0 loss … Notre Dame split a home series with Michigan Tech over the weekend. The Fighting Irish took the opener over the Huskies, 3-1. Cal Petersen (Waterloo, Iowa) shined with a 27-save performance and Jack Jenkins (Lake Bluff, Ill.) netted the game-winner seven minutes into the third period. In the second game, Notre Dame's could not overcome two third-period goals from Michigan Tech and fell, 4-2 … UConn skated against in-state rival Yale Saturday at the XL Center and despite holding a 2-1 lead in the second period, the Huskies surrendered three-straight goals in a 4-2 loss. UConn's Adam Huska (Zvolen, Slovakia) had 37 saves in the losing effort ... Maine dropped its exhibition against the USA Hockey's National Team Development Program, 6-2, Saturday at Alfond Arena. Both Patrick Holway (Cohasset, Mass.) and Brendan Robbins (Nashua, N.H.) tallied a goal in the contest.
---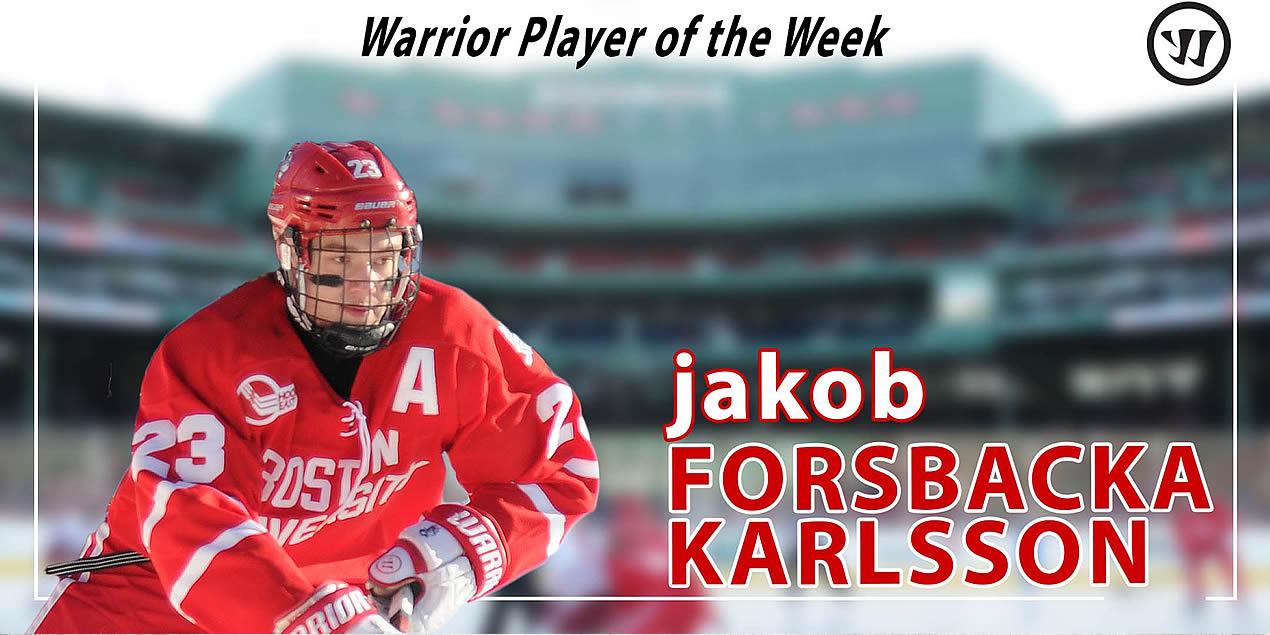 JAKOB FORSBACKA KARLSSON - BOSTON UNIVERSITY

Jakob Forsbacka Karlsson (Stockholm, Sweden) recorded his first NCAA hat trick Thursday, powering the Terriers to a 5-4 win over No. 10 Union with the game-tying and game-winning tallies. On Sunday, he followed up with a pair of goals at Frozen Fenway, pacing BU to a 5-3 win over UMass.
---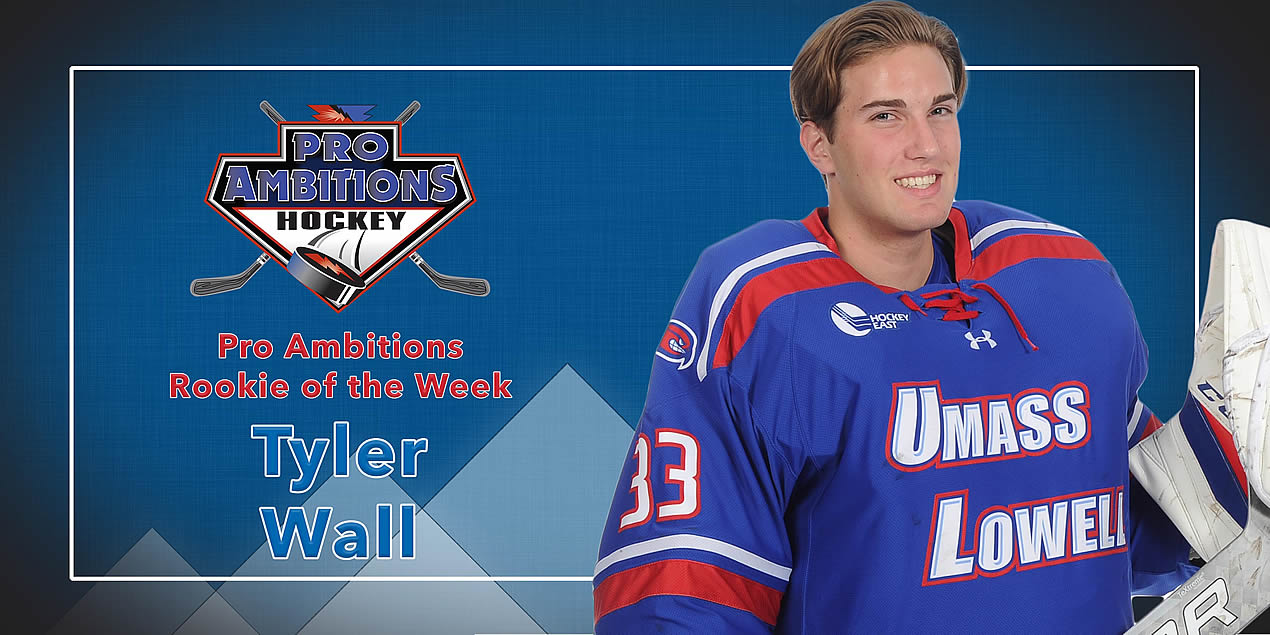 TYLER WALL - UMASS LOWELL

Tyler Wall (Leamington, Ont.) stopped 33 shots at New Hampshire on Friday to earn his 13th win on the season in a 2-1 victory. Wall held the conference's top scoring offense, operating at 4.00 goals per game in league play to just a single tally to preserve the River Hawk win.
---

MATIAS CLELAND - NEW HAMPSHIRE

Matias Cleland (Longmont, Colo.) registered four points on four assists in a 7-4 victory at Brown on Sunday afternoon. Cleland now ranks second among all NCAA skaters in assists with 23 on the year.
---
HOCKEY EAST WEEKLY TOP PERFORMERS
David Cotton, BC (Fr., F; Parker, Texas) Scored the game-winning goal with just over three minutes in regulation to help the Eagles to a 3-1 win over Providence at Frozen Fenway. It was his fourth decisive goal of the season.
Joe Woll, BC (Fr., G; St. Louis, Mo.) Woll returned to the BC lineup after winning gold with Team USA at the IIHF World Junior Championships, backstopping the Eagles to their third win outside at Fenway Park, denying 28 of 29 Friar shots on net.
Chad Krys, BU (Fr., F; Ridgefield, Conn.) Assisted on the game-tying goal and finished plus-three in Thursday's 5-4 overtime win against Union and scored his first game-winning goal Sunday at Frozen Fenway in a 5-3 win.
C.J. Smith, UML (Jr., F; Des Moines, Iowa) Notched his 100th career point Friday at UNH on an assist. He now has 46 goals and 54 assists in 101 career games.
Tyler Kelleher, UNH (Sr., F; Longmeadow, Mass.) Racked up five points (5a) in a 7-4 road win at Brown, becoming the first UNH player to record five assists in a game since 2011. He currently leads the NCAA with 40 points (14g, 25a).
Brendan van Riemsdyk, UNH (Fr., F; Middletown, N.J.) Potted a pair of goals to double his season total last week, once in each outing for UNH.
Adam Gaudette, NU (So., F; Braintree, Mass.) Had a team-high four assists in two outings last week.
Zach Aston-Reese, NU (Sr., F; Staten Island, N.Y.) Netted two goals in two games, moving into 27th on Northeastern's all-time scoring list with 119 points (54g, 65a). He is currently riding a nine-game point streak with 13 goals and seven assists in that span.
Andrew Peeke, ND (Fr., D; Parkland, Fla.) Dished out three helpers in a weekend split with Michigan Tech.
Brian Bowen, UVM (So., F, Littleton, Mass.) Picked up five points on three goals and two assists in a pair of wins over No. 16 St. Lawrence and Northeastern. He netted the game-winner on the power play against SLU and set up the decisive marker against Northeastern.
Derek Lodermeier, UVM (Fr., F; Brooklyn Center, Minn.) Posted a career-high three helpers in Saturday's 4-3 win over Northeastern.
Brendan Bradley, UVM (Sr., F; Warminster, Pa.) Enjoyed a four-point week with two goals and two assists in a pair of Catamount wins.