Thursday, January 19, 2017
Hockey East Weekend Preview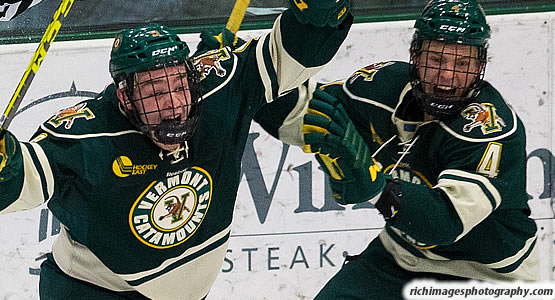 Vermont hosts UConn on Friday night in a game that will be televised by ASN and NESN
No. 3 Boston University vs. Maine/Merrimack – Fri. 1/20 at BU; Sat. 1/21 at ME; Tue. 1/24 at MC
- The Boston University Terriers are winners of six-straight, most recently coming off a series-sweep of No. 10 Boston College over the long weekend, winning 2-1 Friday and 3-0 Monday night.
- Jakob Forsbacka Karlsson (Stockholm, Sweden) has played a crucial role in the Terriers' recent run. The sophomore forward stretched his point streak to five games on Monday. His seven goals and two assists in that span has moved "JFK" atop the Boston University scoring list this season with 22 points (10g, 22a).
- Jake Oettinger (Lakeville, Minn.) has also enjoyed a prosperous new year. The BU rookie goaltender is 3-0-0 with a .956 save percentage in 2017. Most recently, Oettinger recorded a 34-save shutout of then-No. 8 Boston College Monday night.
- Maine is coming off a series split with UConn, as the Black Bears look to build off a 4-0 victory over the Huskies last Saturday at Frozen Fenway. Local product Rob McGovern (Weymouth, Mass.) will look to continue his success in front of a hometown crowd as the sophomore goaltender recorded his first career shutout in Saturday's win at Fenway Park, stopping all 31 shots he faced.

No. 5 UMass Lowell vs. Providence – Fri. 1/20 at UML; Sat. 1/21 at PC
- UMass Lowell is currently riding a nation-high seven-game winning streak, dating back to its win over Merrimack on December 9.
- Joe Gambardella (Staten Island, N.Y.) has been instrumental in the River Hawks' recent victories. The senior forward has recorded a point in six of the past seven UMass Lowell triumphs, having an eight-game point streak snapped last Saturday at UMass. The New York native leads the team in scoring, and ranks fourth amongst all Hockey East skaters with 33 points (11g, 22a).
- Tyler Wall (Leamington, Ont.) has won his last five starts for the River Hawks and is 7-2-0 dating back to November 13. The freshman goaltender ranks second in Hockey East in both goals against average (1.89) and save percentage (.927).
- Providence rookie forward Josh Wilkins (Raleigh, N.C.) has scored a goal in each of the Friars' past three wins, including two game-winning strikes, against then-No. 2 Denver, Yale, and No. 12 Vermont.
- In Providence's last five victories, the Friars have kept opponents to only one goal. Sophomore goaltender Hayden Hawkey (Parker, Colo.) currently ranks fourth in Hockey East with a 2.25 goals against average.

UConn vs. No. 10 Boston College/No. 12 Vermont – Fri. 1/20 at UVM; Tue. 1/24 at BC
- UConn will be playing two ranked opponents over the next week, facing off against No. 10 Boston College and No. 12 Vermont in league play. Mike Cavanaugh's team is 4-5-2 against ranked opponents this year.
- Spencer Naas (Minnetonka, Minn.) had a four-game point streak snapped on Saturday against Maine. The junior forward has been productive for the Huskies in the second half of the season, tallying six points on five goals and an assist dating back to UConn's appearance in the Desert Hockey Classic over the holiday break, a span of five games.
- The No. 12 Vermont Catamounts are winners of five of their past six. Offensive production has been key to Vermont in the second half of the season as Kevin Sneddon's team has scored three or more goals in each of their past five wins. Leading that charge has been forward Brendan Bradley (Warminster, Pa.). Since December 30, the senior has tallied nine points on three goals and six assists.
- This will be the second meeting between Boston College and UConn this year. The Eagles beat the Huskies, 5-2, in the series opener on November 22. JD Dudek (Auburn, N.H.) recorded a hat trick in the winning effort.

UMass vs. No. 10 Boston College – Fri. 1/20 at BC
- Boston College and UMass will square off for the second time this season on Friday night. In the previous contest on October 29, the Eagles went on the road and scored a season-high seven goals to beat the Minutemen, 7-4. The Eagles opened up with five-straight goals in the first and second period.
- Colin White (Hanover, Mass.) and Austin Cangelosi (Estero, Fla.) led the charge, each scoring twice in the victory for Boston College.
- UMass' Patrick Lee (Calgary, Alta.) led the Minutemen's offensive effort in that game, tallying a goal and an assist.

No. 14 Notre Dame vs. New Hampshire – Fri. 1/20, Sat. 1/21 at ND
- New Hampshire is unbeaten in its last three contests after taking three points against Northeastern, including a come-from-behind win at home and skating to a 2-2 draw at Frozen Fenway, and a non-conference win over Brown.
- Notre Dame has won six of its past eight match ups, most recently splitting a conference series at Merrimack.
- This weekend's series will feature two of the most prolific scorers in college hockey. Tyler Kelleher (Longmeadow Mass.) ranks third-nationally in scoring with a Hockey East-leading 40 points (14g, 26a). The senior forward leads the nation in a number of scoring categories, including total assists (26), power-play points (20) and points per game (1.82).
- For the Fighting Irish, Anders Bjork (Mequon, Wis.) ranks fifth amongst all NCAA skaters with 35 points (15g, 20). The junior forward sits third in total scoring amongst Hockey East skaters, and leads the conference with five game-winning goals.

Merrimack vs. Northeastern – Fri. 1/20 at NU; Sat. 1/21 at MC
- Zach Aston-Reese (Staten Island, N.Y.) is currently riding a conference-leading 11-game point streak. Over that span, Aston-Reese has tallied 25 points on 15 goals and 10 assists. The senior forward's 39 total points (21g, 18a) puts him fourth nationally in total scoring and second amongst Hockey East skaters. Aston-Reese leads the nation with in goals (21), power-play goals (10), short-handed goals (3), and hat tricks (2).
- Dylan Sikura (Aurora, Ont./12g, 21a) has recorded a point in 10 out of Northeastern's past 11 contests. The junior forward's 33 points put him in a three-way tie for seventh nationally in total scoring. Sikura also ranks fourth among all Hockey East skaters in the same category.
- Reigning Pro Ambitions Rookie of the Week Tyler Irvine (Livonia, Mich.) is coming off a multi-point outing (1g, 1a) in a victory against Notre Dame this past Saturday. The rookie forward paces Merrimack's freshman class with nine points (5g, 4a).
- Collin Delia (Rancho Cucamonga, Calif.) went 1-1-0 against the Irish last weekend, stopping 69 of the 73 shots he faced for a .945 save percentage on the weekend.