Weekly Release: Maine, UNH, NU Earn Crucial League Points at Frozen Fenway
Three Separate Weekend Series End in Splits; BU Downs BC in First Meeting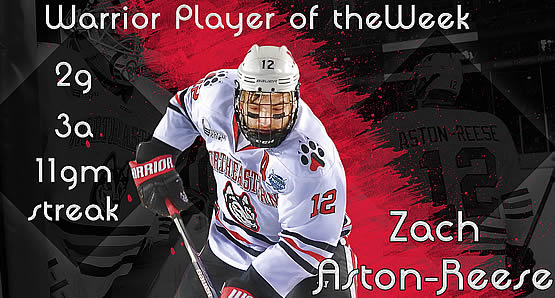 Warrior Hockey Players of the Week Zach Aston-Reese of Northeastern
AROUND HOCKEY EAST: New Hampshire and Northeastern dueled in a pair of tilts last weekend, including a stop at the 2017 Capital One Frozen Fenway Series. Thursday night at New Hampshire, the Huskies got out to a 3-1 lead before the Wildcats scored four unanswered goals to take a 5-3 victory. UNH freshman forward Liam Blackburn (Prince George, B.C.) had three assists in the effort while fellow classmate and forward Patrick Grasso (Ankeny, Iowa) had a pair of goals. In a 2-2 tie at Frozen Fenway on Saturday, Northeastern senior forward Zach Aston-Reese (Staten Island, N.Y.) had two assists, and racked up five points (2g, 3a) in the twogame set, to extend his point streak to 11 games, the second longest in Hockey East this year only to New Hampshire senior forward Tyler Kelleher's (Longmeadow, Mass.) 12-game point streak earlier this season ... UConn and Maine split a weekend series, with the Huskies earning a 6-3 win thanks to goals from five different goal-scorers. Sophomore forward Tage Thompson (Orange, Conn.) netted two markers and first-year netminder Adam Huska (Zloven, Slovakia) made 23 saves in the win. On Saturday, the Black Bears took a 4-0 win despite 40 saves from Huska at Frozen Fenway. Maine's top line of Blaine Byron (Ottawa, Ont./1g, 1a), Cam Brown (Natick, Mass./1g, 2a), and Brendan Robbins (Nashua, N.H./2a) all posted multi-point efforts in the win ... Boston University and Boston College clashed for the first time this season Friday night as the Terriers took a 2-1 win over their rival Eagles. BU's first-year netminder Jake Oettinger (Lakeville, Minn.) made 31 stops and rookie forward Clayton Keller (Swansea, Ill.) scored the game-winning goal in the second period for the Terriers. The teams will meet again Monday night at 7 p.m. at Boston College. The game can be seen live across the country on American Sports Network and on NESN in New England before they meet in the first round of the Beanpot on February 6 ... Notre Dame and Merrimack also split a two-game set in North Andover, Massachusetts over the weekend, giving Merrimack its first league points since a 5-2 win over Providence on November 25, 2016. In Friday's 2-1 Irish Victory, Notre Dame gave up a first period goal to Derek Petti (Tewksbury, Mass.) got back-to-back goals from Andrew Oglevie (Fullerton, Calif.) and Anders Bjork (Mequon, Wis.) with just 3:42 remaining in the third period to take the victory. The Warriors then posted a 4-2 triumph by way of four unique goal-scorers and nine players with at least one point. Junior goaltender Collin Delia (Rancho Cucamonga, Calif.) stopped 35 shots in the win ... Vermont and Providence traded wins in Rhode Island over the weekend. Despite getting only 14 shots on net, Catamounts held on to take a 4-3 decision Friday night thanks in part to two-point nights from Ross Colton (Robbinsville, N.J.), Trey Phillips (Okotoks, Alta.), and Matt Alvaro (Toronto, Ont.). The following evening, Providence used three third-period goals to down the Catamounts, 4-1.
---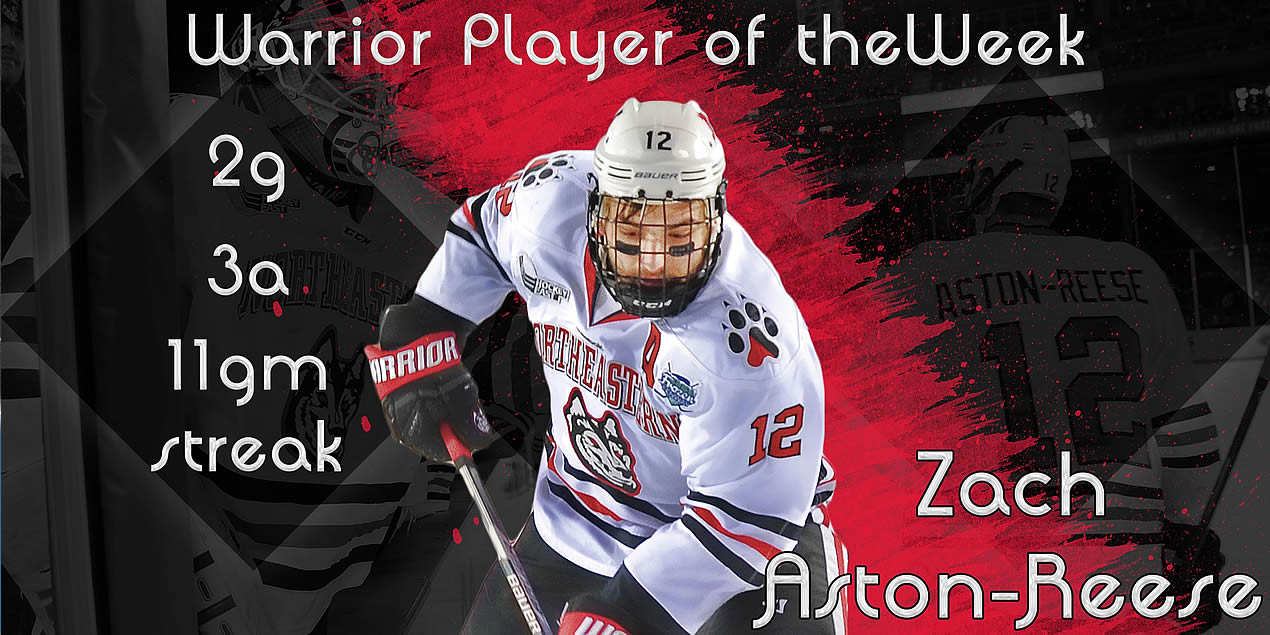 ZACH ASTON-REESE - NORTHEASTERN

Zach Aston-Reese (Staten Island, N.Y.) racked up five points (2g, 3a) in two games last week to extend his point streak to 11 games (15g, 10a). In addition to a three-point (2g, 1a) night Thursday against UNH, Aston-Reese dished out two two assists in a 2-2 tie with New Hampshire at Frozen Fenway Saturday.
---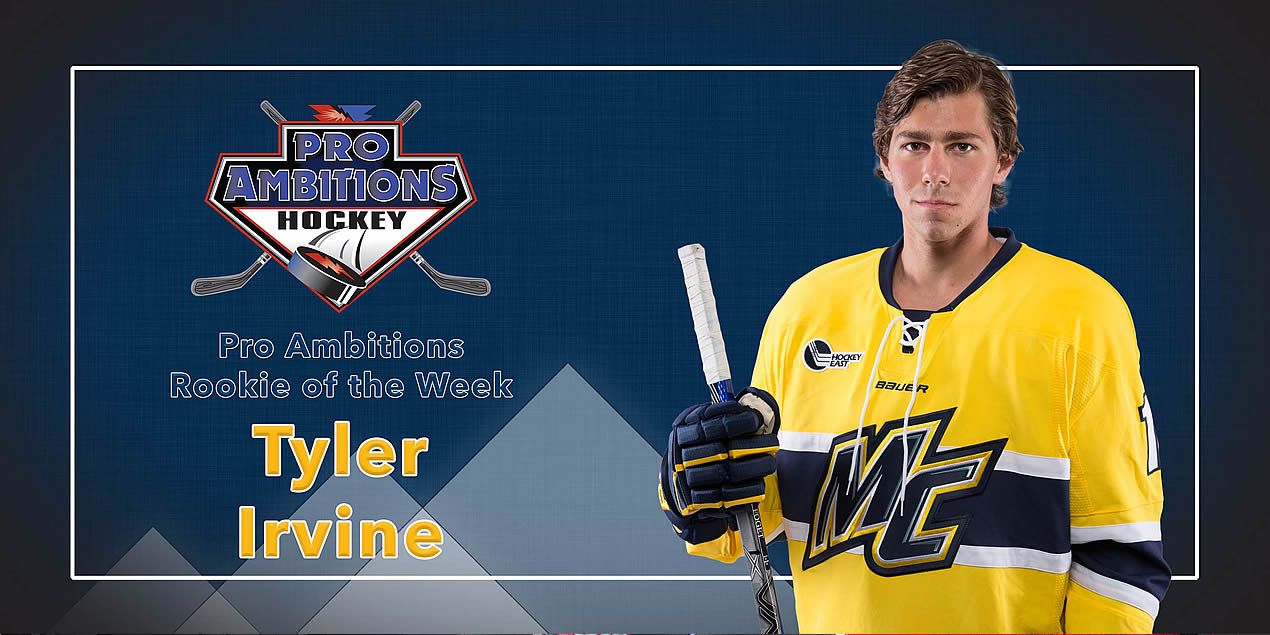 TYLER IRVINE - MERRIMACK

Tyler Irvine (Livonia, Mich.) registered the second multi-point game of his career after scoring and assisting in Merrimack's 4-2 win over Notre Dame on Saturday night. Irvine assisted on the game-winner and added a late insurance goal in the win.
---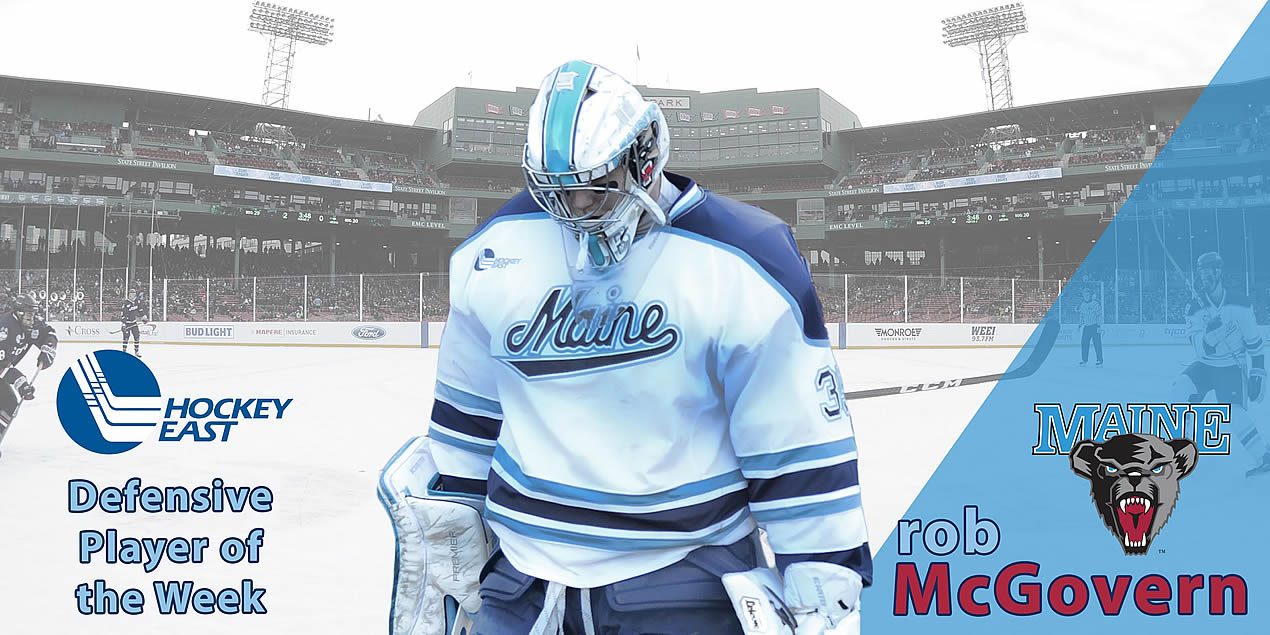 ROB MCGOVERN - MAINE

Rob McGovern (Weymouth, Mass.) turned in his first career shutout for the Black Bears by turning away 31 shots at Fenway Park against UConn, earning a 4-0 win for Maine.
---
HOCKEY EAST WEEKLY TOP PERFORMERS
Jake Oettinger (Fr., G; Lakeville, Minn.) Turned in 31 saves Friday night against Boston College in a 2-1 victory at Agganis Arena. The first-year netminder allowed just one tally to the second-most potent scoring offense in Hockey East, helping to lift his Terriers into fourth place in the league table in the process.
Clayton Keller (Fr., F; Swansea, Ill.) Scored the game-winning goal in BU's 2- 1 victory over rival Boston College on Friday
Cam Brown, ME (Sr., F; Natick, Mass.) Registered a pair of multi-point games, dishing out two assists Thursday at UConn before scoring a goal and chipping in with two more helpers in Maine's 4-0 win over the Huskies at Fenway Park on Saturday.
Ryan Lohin, UML (Fr., F; Chadds Ford, Pa.) Notched a career-high two points (1g, 1a) in a 2-1 win at UMass Saturday.
Jace Hennig, MC (Jr., F; Port Moody, B.C.) Netted his third of the season, the game-winner, Saturday against Notre Dame. He added an assist Friday.
Collin Delia, MC (Jr., G; Rancho Cucamonga, Calif.) Posted a .945 save percentage in two outings against Notre Dame, stopping 69 shots on 73 attempts by the Irish. He allowed four goals in the Warriors' split weekend.
Andrew Oglevie, ND (So., F; Fullerton, Calif.) Led Notre Dame with three points (1g, 2a) in a split with Merrimack.
Cal Petersen, ND (Jr., G; Waterloo, Iowa) Earned a 1-1-0 weekend record at Merrimack, stopping 21 of 22 shots Friday and posting 2.03/.918 numbers.
Vimal Sukumaran, PC (Fr, F; Montreal, Que.) Skated in a pair of games against Vermont, scoring two goals and adding an assist.
Ross Colton, UVM (Fr., F; Robbinsville, N.J.) Scored a goal and added two assists in a weekend split at Providence. He leads his team with nine goals on the year.
Trey Phillips, UVM (Jr., D; Okotoks, Alta.) Potted one tally and dished out an assist, including Friday's game-winning goal, in a split weekend at Providence to finish with a plus-three rating.