Thursday, January 12, 2017
Hockey East Weekend Preview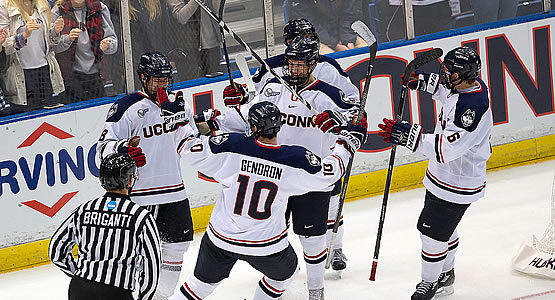 This Saturday's Frozen Fenway double-header starts at 1:30 p.m. with UConn facing off against Maine
Northeastern vs. New Hampshire – Thu. 1/12 at NU, Sat. 1/14 at Frozen Fenway
- Northeastern and New Hampshire will meet for 174th time on Thursday night, and the first time this season. Historically, the Wildcats own a 96-62-15 record over the Huskies.
- New Hampshire is winner of six of its past nine games, led by Tyler Kelleher (Longmeadow, Mass.) who leads the nation in scoring with 40 points (14g, 26a). Kelleher has at least a point in 16 of 20 games played, including 11 multi-point games and seven outings with at least three points.
- Northeastern's trio of Zach Aston-Reese (Staten Island, N.Y./19g, 15a), Dylan Sikura (Aurora, Ont./12g, 19a), and Adam Gaudette (Braintree, Mass./10g, 20a) rank fifth, eighth, and 10th nationally in scoring. Aston- Reese is currently riding a nine-game point streak, in which the senior has recorded 20 points (12g, 8a).
- UNH and Northeastern are both returning to Frozen Fenway for the second time. Previously, Northeastern defeated UMass Lowell, 4-1, in 2014 while New Hampshire was tripped up in overtime by Maine, 5-4, in its 2010 matchup.

UConn vs. Maine – Thu. 1/12, at Webster Bank Arena; Sat. 1/14 at Frozen Fenway
- Maine will be making its third appearance in a Frozen Fenway match up. The Black Bears are 2-0-0 all time when playing on Yawkey Way, with a 5-4 overtime victory over UNH in 2012, and a 7-3 victory over Boston University in 2014. This will be UConn's first appearance at America's oldest ballpark, as all 12 Hockey East teams will have now skated in a Frozen Fenway event.
- UConn's Spencer Naas (Minnetonka, Minn.) is on a three-game point streak in which he has recorded five points on four goals and an assist. UConn also welcomes back scoring leader Tage Thompson (Orange, Conn.) after his stint with Team USA at the IIHF World Junior Championship. The sophomore leads the team with 20 points (12g, 8a).
- Maine senior captain Cam Brown (Natick, Mass.) leads the team in points (21) and assists (18). Maine's freshman class is also a prolific scoring group; the class ranks fourth in the country in total scoring (29g, 29a, 58p).

No. 5 Boston University vs. No. 8 Boston College – Fri. 1/13 at BU; Mon. Jan 16, at BC
- The Battle of Comm. Ave renews hostilities for the 271st and 272nd time this weekend. Last season the Terriers and the Eagles split their season series, with each team winning on the road.
- No. 5 Boston University is currently riding a four-game win streak, defeating Vermont, Yale, Union and most recently UMass at Saturday's Capital One Frozen Fenway contest. In that time, Patrick Harper (New Canaan, Conn.) has compiled a four-game point streak, recording a goal and four assists. The freshman forward currently leads the team in scoring with 22 points (7g, 15a).
- Boston College leads the nation in a number of scoring categories, including total points (219) and assists (141) and is tied for first with hat tricks recorded (3).
- BC and BU boast two of the top Hockey East goaltenders in Joseph Woll (Dardenne Prairie, Mo.) and Jake Oettinger (Lakeville, Minn.). Woll leads all Hockey East netminders in conference goals against average (1.89), while Oettinger sits fifth (2.11). Woll (.932) and Oettinger (.926) rank second and third, respectively in conference save percentage. Both netminders recently captured the IIHF World Junior Championship gold medal with Team USA.

No. 6 UMass Lowell vs. UMass – Sat. 1/14 at UMass
- The River Hawks and Minutemen square off Saturday in a non-league game at Massachusetts. The two teams will clash in a pair of Hockey East contests later in the year, skating in a home-and-home series Feb. 11 and Feb. 18.
- UMass Lowell is currently riding a seven-game unbeaten streak dating back to Dec. 2, 2016, and are winners of six straight. In that span, the River Hawks are averaging four goals per game, while only allowing an average of 1.71 goals against per contest.
- River Hawks forward Joe Gambardella (Staten Island, N.Y./11g, 22a) is currently riding an eight-game point streak. In that time, the senior has tallied 14 points (4g, 10a). Gambardella's 33 points this season ranks him tied for third amongst Hockey East skaters.
- British Columbia natives Steven Iacobellis (Port Coquitlam, B.C.) and Austin Plevy (Langley, B.C.) share the scoring lead for UMass with 13 points, with each skater tallying five goals and eight assists.

No. 12 Vermont vs. Providence – Fri. 1/13, Sat. 1/14 at PC
- Vermont is winner of four straight, with victories over Bentley, St. Lawrence, and Northeastern. The Catamounts sit third in Hockey East with a 6-3-1 record against league opponents. On the other side, Providence is 4-1-2 in its last seven contests, after a five-game unbeaten streak was snapped by Boston College last Saturday at Frozen Fenway. The Friars are also coming off a 3-1 road victory over ECAC opponent Yale on Tuesday.
- A pair of freshmen pace Kevin Sneddon's squad in scoring as Ross Colton (Robbinsville, N.J./ 8g, 7a) and Derek Lodermeier (Brooklyn Center, Minn./ 4g, 11a) are tied for the team-lead with 15 points apiece.
- Providence rookie forward Josh Wilkins (Raleigh, N.C.) is currently riding a three-game point streak and has tallied a goal in each of the Friars' past three contests.

No. 13 Notre Dame vs. Merrimack – Fri. Jan 13, Sat. 1/14 at MC
- Notre Dame has gone 5-1-0 in its previous six contests, with a five-game winning streak snapped by Michigan Tech on Saturday night.
- Anders Bjork (Mequon, Wis.) had his six-game point streak snapped on Saturday against the Huskies. The junior forward ranks third in Hockey East in overall scoring with 33 points (14g, 19a).
- Merrimack's Brett Seney (London, Ont.) currently leads Merrimack in scoring with 16 points (6g, 10a) and has scored three of Merrimack's seven game-winning goals this season.