Thursday, December 8, 2016
Hockey East Weekend Preview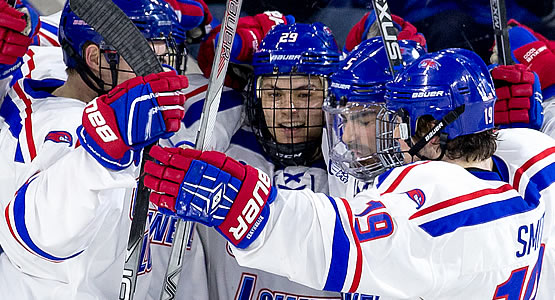 UMass Lowell and Merrimack will meet for the 124th and 125th times this weekend in a rivalry that dates back to when each program skated in Division II.
No. 3 Boston College vs. No. 13 Notre Dame – Sat. 12/10 at ND
- After a 5-3 win over Northeastern Tuesday night, Boston College is off to its best-ever start in Hockey East play. The Eagles sit atop the conference standings with a record of 8-0-1, highlighted by series sweeps over league rivals Maine and Northeastern.
- Senior forward Matthew Gaudreau (Carneys Point, N.J.) extended his point streak to eight games in Tuesday's win and currently leads the team with 22 points (6g, 16a).
- Notre Dame junior forward Anders Bjork (Mequon, Wis./11g, 15a) has recorded a point in 12 of the Irish's 16 games, including every victory. When Bjork is held pointless, the team is 0-3-1.
- Cal Peterson (Waterloo, Iowa) backbones the Irish to a 22-save shutout victory against UMass last Saturday. The junior goaltender has an overall save percentage of .914, and is tied for second in Hockey East with eight wins. For Boston College, Joe Woll (Dardenne Prairie, Mo.) leads the conference with a 1.86 goals against average on 204 total saves in Hockey East play.
- This is the first meeting between Boston College and Notre Dame this year. In previous seasons, the Eagles have maintained a 20-18-3 advantage over the Fighting Irish. The Irish will travel to Chestnut Hill on January 28 for series finale.

No. 5 Boston University vs. No. 12 Vermont, Yale – Fri. 12/9, Sat. 12/10 at UVM, Tues. 12/13 at BU
- Vermont is coming off a bye week after winning the Friendship Four tournament in Belfast, Northern Ireland Nov. 25-26. Meanwhile, Boston University earned a three-point weekend over conference foe Providence last week.
- Boston University has only allowed an average of 2.00 goals per game in conference play this season, placing them atop Hockey East in that category.
- This matchup will feature two of the top statistical goaltenders in Hockey East, both rookies. Vermont's Stefanos Lekkas (Elburn, Ill.) leads all Hockey East goaltenders in overall save percentage (.940), and goals against average (1.72). Behind him is Jake Oettinger (Lakeville, Minn.) who ranks second in both categories, stopping shots at a .924 clip while holding a 1.92 goals against average.
- Boston University has an NCAA-leading seven players named to U.S. National Junior Team preliminary roster, including Oettinger, Kieffer Bellows (Edina, Minn.), Jordan Greenway (Canton, N.Y.), and Patrick Harper (New Canaan, Conn.), Clayton Keller (Swansea, Ill.), Chad Krys (Ridgefield, Conn.), Charlie McAvoy (Long Beach, N.Y.). Dante Fabbro (New Westminster, B.C.) was also selected to Canada's preliminary camp.

No. 7 UMass Lowell vs. Merrimack – Fri. 12/9 at UML, Sat. 12/10 at MC
- UMass Lowell and Merrimack will meet for the 124th and 125th times this weekend in a rivalry that dates back to when each program skated in Division II. Since 1971, UMass Lowell leads the series, 75-37-11, including a 53-18-9 mark since Merrimack joined Hockey East.
- Merrimack enjoyed a bye week last weekend, with their last game coming in a 5-2 victory over Hockey East foe Providence Nov. 25. In that game freshman Tyler Irvine (Livonia, Mich.) took over with a four-point (2g, 2a) performance earning Pro Ambitions Rookie of the Week honors.
- Joe Gambardella (Staten Island, N.Y.) and C.J. Smith (Des Moines, Iowa) have recorded at least one point in each of the River Hawks' eight wins this season. Gambardella leads the team in scoring with 22 points (7g, 15a). Dylan Zink (Madison, Wis.), ranks second amongst Hockey East Defensemen in point-getting with 14 (2g, 12a).

UMass vs. UConn, Princeton – Fri. 12/9 at UConn, Tues. 12/13 at Princeton
- UConn and UMass are coming off weekends where they both beat nationally ranked opponents. UConn earned a three-point weekend in Hockey East play, taking a win and a tie from then-No. 3 ranked UMass Lowell while UMass split its series against then-No. 12 Notre Dame.
- Sophomore forward Tage Thompson (Orange, Conn.) leads the Huskies scoring effort with 18 points (10g, 8a) on the year. In 52 career games, he has 18 goals on the man advantage. As a freshman, he ranked second on the team with 32 points (14g, 18a), including 13 goals and six assist on the power play.
- UMass' scoring leader, Austin Plevy (Langley, B.C.), has helped the Minutemen capitalize on the power play as eight of the sophomore's 10 points (5g, 5a) have come while on the man advantage. He turned in a two-point outing (1g, 1a) in a 5-4 win over Notre Dame, both coming on a power play.
- UMass has won three-straight times against Princeton, with the last matchup a 4-0 Minutemen victory on Dec. 29, 2005. Overall, Princeton holds a 5-4-0 series lead.

New Hampshire vs. Dartmouth - Sat. 12/10 at DC
- New Hampshire looks to build off a weekend sweep of Main, as the Wildcats are now sitting second in the Hockey East standings. They also rank number two in overall scoring with 158 points recorded. Sixty-nine of those points have come on the power play, which ranks first in the conference.
- Tyler Kelleher (Longmeadow, Mass.) has amassed 30 points (12g, 18a) already this year, the second-highest total in all of NCAA hockey. The senior forward has recorded four multi-point games this season and has factored in on six game-winning goals. UNH is 0-3-0 when he does not record a point.
- Behind Kelleher is two-time Pro Ambitions Rookie of the Month Patrick Grasso (Ankeny, Iowa). The rookie forward leads all Hockey East rookies in scoring with 20 points and 11 goals.

Providence vs. RIT – Fri. 12/9, Sat. 12/10 at RIT
- Friday's matchup will mark the first time these two programs meet. Under Head Coach Nate Leaman, Providence is 5-3-0 against Atlantic Hockey teams.
- Over his past three outings, sophomore netminder Hayden Hawkey (Parker, Colo.) has posted a 1.96 GAA and .921sv%, going 1-1-1 in that span.
- Anthony Florentino (West Roxbury, Mass.) leads all Hockey East defensemen in goals scored with five tallies on the year.

Maine vs. American International – Fri. 12/9, Sat. 12/10 at Maine
- Maine will play American International for the fourth and fifth time this weekend. The Black Bears have won all three previous meetings against the Yellow Jackets, with the last wins coming in a two-game set Dec. 13-14, 2013 by a combined scored of 12-2.
- Senior captain Blaine Byron (Ottawa, Ont.) leads the Black Bears in a number of scoring categories, including points (15), goals scored (7) and power- play points (8).
- Mitchell Fossier (Alpharetta, Ga.) currently ranks third in amongst Hockey East rookies in scoring with 12 points (7g, 5a).