Thursday, December 1, 2016
Hockey East Weekend Preview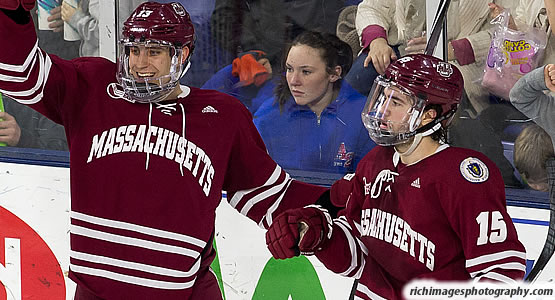 UMass hosts Notre Dame for a pair of games this weekend. Friday's contest will be televised on NESN in New England and American Sports Network.
No. 3 UMass Lowell vs. UConn – Fri. 12/2 at UML; Sat. 12/3 at UConn
- Last season, the Huskies swept the River Hawks in a home-and-home series, winning both games by a one-goal margin Dec. 5-6, snapping an eight-game losing streak. Overall, the River Hawks hold a series lead of 20-7-1 historically.
- UMass Lowell defenseman Dylan Zink (Madison, Wis./2g, 11a) leads all Hockey East blueliners in conference scoring, racking up 13 points and eight assists to date.
- UConn rookie goaltender Adam Huska (Svolen, Slovakia) is tied for first in Hockey East conference save percentage (.936) and boasts a record of 2-1-1 in league play.

No. 4 BC vs. No. 9 North Dakota/Northeastern - Sat. 12/3 at Madison Square Garden, Tues. 12/6 at BC
- The two winningest programs in college hockey over the last 10 seasons, Boston College and North Dakota, have met 23 times, with the series deadlocked in a 11-11-1 tie. The Eagles and the Fighting Hawks have met nine times in the NCAA tournament, with notable matchups coming in the 2000 and 2001 NCAA championship games. North Dakota won the 2000 matchup, 4-2, while Boston College earned a 3-2 overtime victory in 2001 for its first national title since 1949.
- Tuesday marks the second time this season that Jerry York and the Eagles will be facing Jim Madigan's Northeastern Huskies. Last Tuesday, Michael Kim (Toronto, Ont.) recorded his first goal of the season on a shorthanded wrist shot with 23 seconds remaining in the final period to life the Eagles to a 2-1 triumph. BC currently boasts a 12-4-1 record overall, the most wins in the country, and a 7-0-1 record in Hockey East to sit atop the standings.
- Goaltender Joseph Woll (Dardenne Prairie, Mo.) has backstopped the Eagles to all seven conference wins this season. The freshman leads the league in save percentage (.936) and goals against average (1.70) in eight games played.
- Northeastern's Dylan Sikura (Aurora, Ont./9g, 14a) and Zach Aston-Reese (Staten Island, N.Y./ 11g, 12a) are both tied for third nationally in points scored (23). Sikura leads the nation in points recorded on the power play with nine and earned Warrior Hockey East Player of the Week accolades for his four-point outing, including his first career hat trick, in a 6-4 topping of then-No. 8 Minnesota last week.

No. 5 Boston University vs. Providence – Fri. 12/2 at PC; Sat. 12/3 at BU
- Boston University and Providence have met 176 times in a series that dates all the way back to February 25, 1927, a 12-0 Terriers victory at the Rhode Island Auditorium. Since, the Terriers own the series lead with a record of 106-55-15. More recently, Providence has gone 2-0-2 in its last four meetings with Boston University, including the 2015 NCAA Championship game at TD Garden in Boston, where the Friars won their first title by beating the Terriers, 4-3.
- Providence freshman defenseman Jacob Bryson (London, Ont./2g, 8a) is currently riding a six-game point streak with one goal and seven assists in that span. His teammate, Brian Pinho (North Andover, Mass.) had his eight-game point streak snapped in Providence's last outing against Pinho's hometown team, Merrimack.
- Patrick Harper (New Canaan, Conn.) leads the Terriers in scoring with six goals and 11 assists. The rookie forward has recorded a point in 10 of his fist 12 games in a BU uniform.
- Last time out, Boston University downed Harvard, 5-3, at Agganis Arena. Freshman defender Dante Fabbro (New Westminster, B.C.) doubled his point total in the contest, posting a three-point effort (1g, 2a)

New Hampshire vs. Maine – Fri. 12/2 at UNH; Sat. 12/3 at Maine
- One of the most historic rivalries in college hockey, New Hampshire and Maine have faced off a total of 125 times, dating back to a 5-3 Maine win on December 15, 1979. Former Black Bear and current Columbus Blue Jackets coach John Tortorella scored the game-winning goal in that outing. Overall, the Black Bears hold the series lead, 63-55-7. New Hampshire will play Maine in three of its next four outings, with two Hockey East contests this weekend followed by a non-league game at SNHU Arena in Manchester, N.H. on Dec. 30.
- UNH have two of the most prolific scorers in college hockey this season. Senior forward Tyler Kelleher (Longmeadow, Mass./8g, 18a) leads nation in assists (18) and is second nationally in point-getting with 25 points. Rookie Patrick Grasso (Ankeny, Iowa/11g, 8a) ranks second amongst freshman in total scoring with 19 points and leads all first-year skaters in goals (11).

No. 12 Notre Dame vs. UMass – Fri. 12/2, Sat. 12/3 at UMass
- Notre Dame currently rides a four-game winning streak against the Minutemen, dating back to the 2015 Hockey East opening round. The last UMass win in the series proved to be the NCAA's longest game ever, lasting five overtimes. Cal Petersen (Waterloo, Iowa) made a record 87 saves in the outing.
- Notre Dame forward Anders Bjork (Mequon, Wis./9g, 14a) is tied for third nationally in points scored with 23. Bjork shares this rank with fellow Hockey East skaters Dylan Sikura and Zach Aston-Reese of Northeastern.
- UMass' freshman class has accounted for 41.4% of the Minutemen's goals this season, netting 12 of the team's 29 goals through 12 games. Jonny Lazarus (Syosset, N.Y./3g, 3a) and Shane Bear (Calgary, Alta./ 3g, 3a) lead the effort with six points each.