Monday, December 19, 2016
Weekly Release: Aston-Reese Hat Trick Lifts Northeastern Past Michigan State
Boston University Downs Yale With Switzer's First Two as a Terrier
Warrior Hockey Players of the Week Zach Aston-Reese of Northeastern
AROUND HOCKEY EAST: Northeastern traveled to East Lansing, Michigan for the first time since 1978 to face Michigan State and came away with a 6-2 victory thanks to Warrior Hockey East Player of the Week Zach Aston-Reese's (Staten Island, N.Y.) four-point night. Aston-Reese netted a hat trick and dished out an assist to power the Huskies offense, while sophomore netminder Ryan Ruck (Coto de Caza, Calif.) stopped 24 shots to earn the victory ... Boston University skated in its final game of 2016 Tuesday evening, a 5-2 win over Yale. Second-year defenseman Shane Switzer (Bloomfield Hills, Mich.) scored the first two tallies of his Terrier career in the game, coupled with freshman forward Clayton Keller's (Swansea, Ill.) three-point night to down the Bulldogs. Rookie netminder Jake Oettinger (Lakeville, Minn.) stopped 28 of 30 shots to pick up his eighth win of the season ... No. 10 Vermont dropped a pair of contests at Gutterson Fieldhouse to No. 12 Union, now winners of six straight, and fell to 10-6-2 on the year. Senior forward Brady Shaw (Ottawa, Ont.) scored twice in Saturday's 7-3 setback, but Union netted three goals in the final seven minutes to take the win. Vermont led much of Sunday's outing, 1-0, thanks to sophomore forward Brian Bowen (Littleton, Mass.). Union scored two third-period goals, including just 50 seconds into the period and with only 2:28 remaining in the game, to steal the series sweep ... UMass fell in each of its three outings last week. Tuesday night, freshman forward Jonny Lazarus (Syosset, N.Y.) and sophomore forward Kurt Keats (Winnipeg, Man.) each recorded a goal and an assist, but the Minutemen fell at Princeton. On the weekend, Arizona State strung together two 4-1 wins over UMass despite goals from senior forward Steven Iacobellis (Port Coquitlam, B.C.) and freshman forward Griff Jeszka (Muskego, Wis.).
---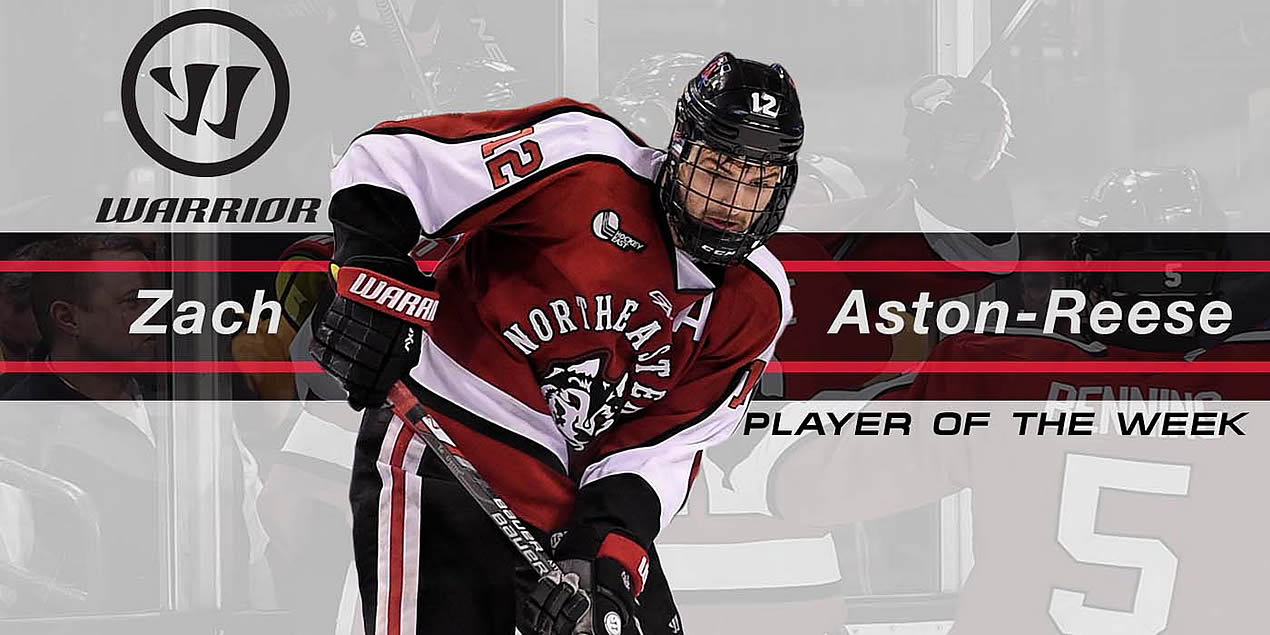 ZACH ASTON-REESE - NORTHEASTERN

Zach Aston-Reese (Staten Island, N.Y.) netted a hat trick and chipped in an assist for four points in a 6-2 victory at Michigan State Sunday. His point output lifted him into 33rd all-time at Northeastern with 114 points.
---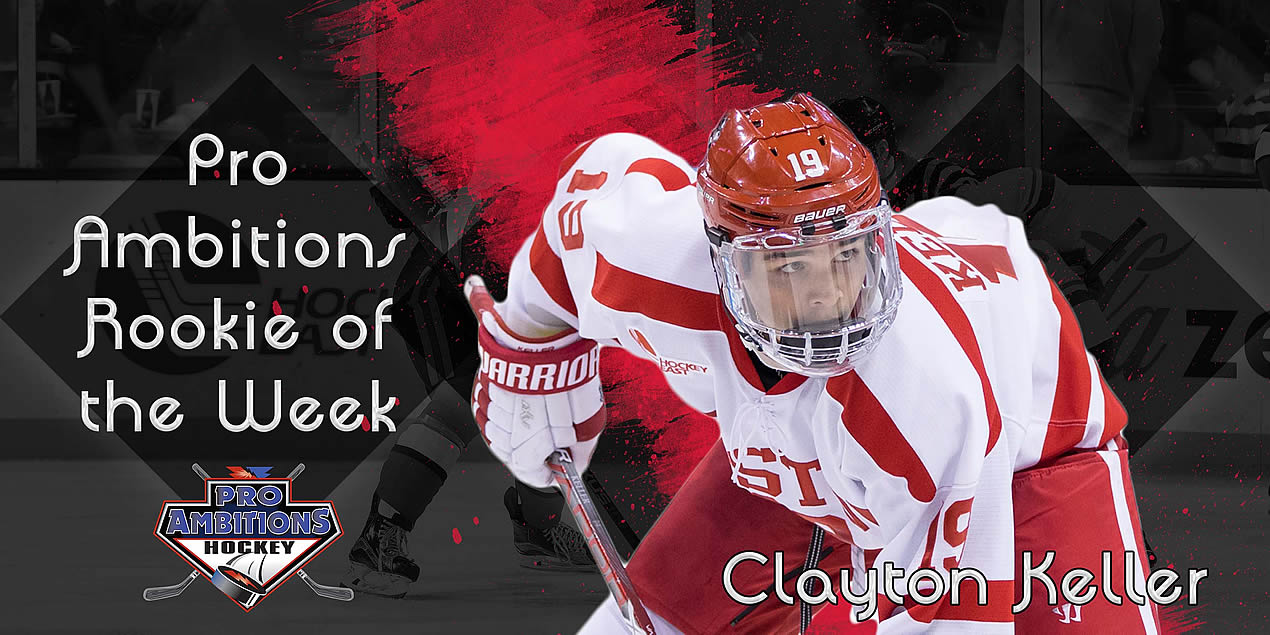 CLAYTON KELLER - BOSTON UNIVERSITY

Clayton Keller (Swansea, Ill.) potted one goal and added two assists in a 5-2 win over Yale on Tuesday. He is currently riding a fivegame point streak with four goals and six assists in that span, including a 2-4-6 line in three games since missing seven due to injury. He sits third on the team in total points with 15 (7g, 8a).
---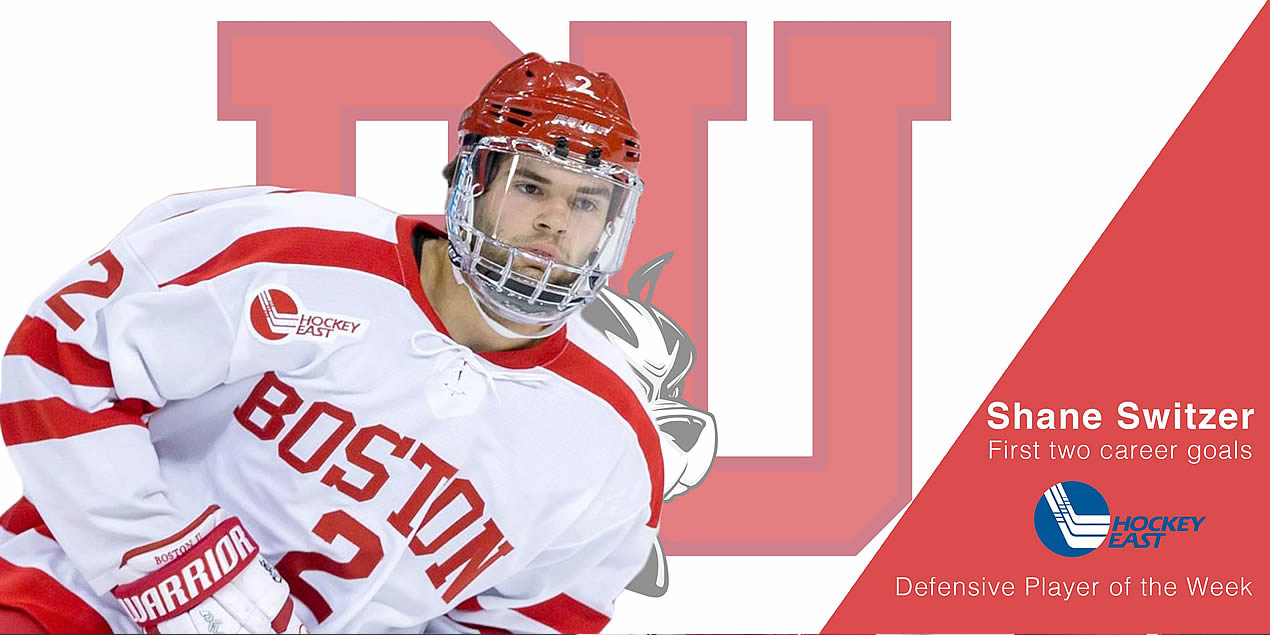 SHANE SWITZER - BOSTON UNIVERSITY

Shane Switzer (Bloomfield Hills, Mich.) scored the first two goals of his career as a Terrier Tuesday, helping lift Boston University to a 5-2 win over the Yale Bulldogs to end the 2016 calendar year for BU. The sophomore defenseman finished plus-two with four shots on net.
---
HOCKEY EAST WEEKLY TOP PERFORMERS
Jake Oettinger, BU (Fr., G; Lakeville, Minn.) Stopped 28 of the 30 shots he faced in Tuesday's 5-2 win over Yale for a .933 save percentage.
Ryan Ruck, NU (So., G; Coto de Caza, Calif.) Made 24 saves at Michigan State, earning a 6-2 win.
Jeremy Davies, NU (Fr., F; Ste-Anne-de-Bellevue, Que.) Dished out an assist and finished plus-three in Northeastern's 6-2 win against the Spartans.
Brady Shaw, UVM (Sr., F; Ottawa, Ont.) Scored two goals Saturday night against No. 12 Union, finished the twogame set with six shots on net.