Thursday, December 15, 2016
Hockey East Weekend Preview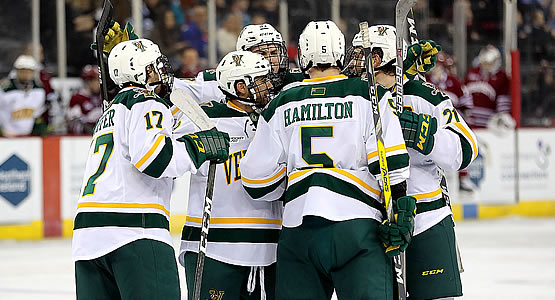 No. 10 Vermont hosts a pair of games against No. 12 Union this weekend
UMass vs. Arizona State - Fri. 12/16, Sat. 12/17 at UMass
- The UMass Minutemen (4-10-2/2-7-1 HEA) are coming off a two-loss week, dropping a 3-1 decision at UConn on Dec. 9 before traveling to Princeton on Dec. 13 where freshman netminder Ryan Wischow (Green Bay, Wis.) made 52 saves in a 4-3 setback. The rookie is the first Hockey East goaltender to make 50-plus saves in a regulation game since Notre Dame's Cal Petersen (Waterloo, Iowa) made 55 saves in a 3-1 over Boston College on Feb. 28, 2015. His save total was the highest for a UMass goaltender in regulation since 2001, when Mike Johnson stopped 60 against Boston College.
- UMass will enjoy a 13-day break after the two-game set with ASU, returning to the ice Dec. 30 against Alabama Huntsville at the Mariucci Classic on the campus of Minnesota. After the two-game tournament, UMass faces off against AIC Jan. 3 before facing all Hockey East opponents for the rest of the season, including Boston University at Frozen Fenway on Jan. 7, 2017.
- Arizona State has been in Massachusetts for the better part of a week, as the Sun Devils toppled American International in Springfield, 3-2, on Tuesday evening. ASU redshirt junior and former Yellow Jacket, David Norris, scoring the game-winning goal against his old team in that outing.

No. 10 Vermont vs. No. 12 Union - Sat. 12/17, Sun. 12/18 at UVM
- The Vermont Catamounts (10-4-2/5-3-1 HEA) split a weekend series with No. 4 Boston University in Burlington, taking a 4-2 win Friday night before dropping a 4-0 decision the following evening to end its seven-game unbeaten streak. The two contests were Vermont's first since returning from Northern Ireland, where the Catamounts captured the Friendship Four tournament title, winning games against UMass and Quinnipiac on Nov. 25-26.
- Friday night's win marked Vermont rookie netminder Stefanos Lekkas's (Elburn, Ill.) ninth win on the season as he made 20 saves in the outing. South Burlington, Vermont's Tom Forgione broke the 2-2 tie with a game-winning goal with just 12:29 remaining in regulation before Ross Colton (Robbinsville, N.J.) scored an insurance goal with an empty-net goal.
- No.12 Union has taken the last two games with Vermont, the last coming on Dec. 20, 2015 in a 3-2 overtime win, despite the Catamounts owning a 17-10-2 mark all-time against the Dutchmen. Against all Hockey East opponents, Union is 17-2-2 over its last 21 outings.
- Vermont Head Coach Kevin Sneddon served as the head coach of Union from 1998-2003 and owns a 4-3-0 record against his previous team.

Northeastern vs. Michigan State - Sun. 12/18 at MSU
- Northeastern has skated in just three contests since Thanksgiving, downing then-No. 8 Minnesota, 6-4, on Nov. 25 before dropping back-to-back tilts with Hockey East foe Boston College Nov. 29 (2-1) and Dec. 6 (5-3).
- This will be Northeastern's first trip to East Lansing, Michigan, to face MSU since Dec. 29-30, 1978.
- Husky senior forward Zach Aston-Reese (Staten Island, N.Y.) is currently riding a five-game point streak, scoring five goals and dishing out six assists for 11 points in that span. He's scored a goal in six of his last nine outings, including one game-winning tally Nov. 18 in a 5-4 win against Providence.
- Aston-Reese is tied atop the Northeastern scoring race, collecting 25 points overall (11g, 14a) alongside Dylan Sikura (Aurora, Ont.), who has netted 10 goals and registered 15 assists himself.
- This marks the second consecutive year the Huskies and Spartans have met after Northeastern took a 2-1 win at Matthews Arena on Dec. 19, 2015. Northeastern has taken the last three outings with Michigan State, including last season's victory, a 6-5 win on Oct. 27, 1996 and a 5-2 win on Dec. 30, 1978. Prior to those three wins, the Spartans downed Northeastern in the first three meetings of the programs dating back to 1961.