Thursday, November 3, 2016
Hockey East Weekend Preview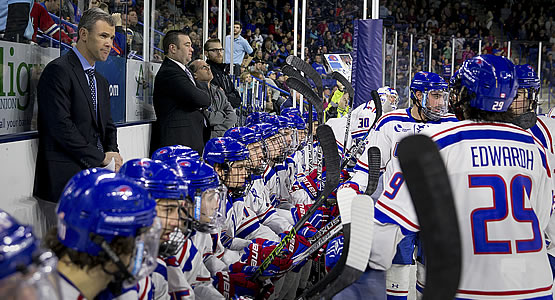 No. 6 UMass Lowell hosts No. 19 Vermont for a pair of games this weekend
No. 4 Boston University vs. Northeastern – Fri. 11/4 at NU, Sat. 11/5 at BU
- To date, Boston University and Northeastern have met 227 times dating back to a 4-3 Terriers victory on February 6, 1931. Overall, Boston University boats a record of 161-58-8 in a match up of the last two Hockey East Tournament champions.
- Freshman goaltender Jake Oettinger (Lakeville, Minn.) has been a defensive stalwart for the Terriers. The Stop It Goaltending Co-Goaltender of the Month carries a .947 save percentage and a scant 1.42 goals against average, which ranks fifth and sixth in the nation, respectively. Oettinger also recorded shutouts in the Terriers' last two games against Sacred Heart and then-No.4 Quinnipiac.

No. 5 Boston College vs. Maine/New Hampshire – Fri. 11/4 at Cross Insurance Arena, Sat. 11/5 at ME; Tues. Nov. 8 at BC
- Boston College and Maine have met 60 times since the series between the two programs began in 1979. Overall, the Eagles maintain a series lead of 46-65-9.
- Maine goaltender Rob McGovern (Weymouth, Mass.) and BC netminder Joe Woll (Dardenne Prairie, Mo.) both rank in the top five nationally in total saves. McGovern tops the list with 229 stops, while Woll ranks fifth with 201 saves.
- Casey Fitzgerald (North Reading, Mass.) and Michael Kim (Toronto, Ont.) both rank third in Hockey East in defensive scoring. The two defensemen each have seven points, which also has them ranked 12th nationally.
- Mitchell Fossier (Alpharetta, Ga.) has played the role of offensive savior for the Black Bears. The freshman leads the nation in game-winning goals, sending the Black Bears to victory in each of their three victories this year.

No. 6 UMass Lowell Vs. No. 19 Vermont – Fri. 11/4, Sat. 11/5 at UML
- Friday's match up marks be the 47th meeting between UMass Lowell and Vermont. The River Hawks are the winners of three-straight in the series, including a 3-0-3 record in the last six meetings, and are 23-16-7 overall.
- UMass Lowell has two players who rank in the top-10 nationally among point-getters. Senior forward Joe Gambardella (Staten Island, N.Y.) ranks fifth with 12 points (5g, 7a) while junior C.J. Smith (Des Moines, Iowa) ranks seventh with 11 points (5g, 6a).
- Vermont's Stefanos Lekkas (Elburn, Ill.) was named Hockey East's Co-Goaltender of the Month on Wednesday. The freshman goaltender has posted a 3-0-1 record in his first four collegiate appearances, all against ranked-opponents, and collected his first shutout against then-No. 11 Michigan.
- The Catamounts are currently ninth in the country in scoring margin, and rank second in Hockey East in scoring defense (2.17 goals per game).

Merrimack vs. No. 14 Providence/Mercyhurst – Fri. 11/4 at MC, Sat. 11.5 at PC
- Friday's matchup will mark the fifth matchup between Merrimack and Mercyhurst, the series is currently
- Twenty of Merrimack's 22 skaters have found the score sheet so far this season, paced by forwards Hampus Gustafsson (Ljungby, Sweden/4g, 2a) and Brett Seney (London, Ont./1g, 5a) who each have six points apiece.
- Providence retains an 85-31-10 series lead over Merrimack in a series that dates back to 1960. The two teams last clashed in last year's Hockey East quarterfinals, as the Friars took the series, 3-1 and 2-0.
- Friars junior defenseman Jake Walman (Toronto, Ont.) is ranked fifth nationally in shots on goal by a defenseman and fifth in Hockey East in defensive scoring with classmate Josh Monk (Langley, B.C.) with one goal and five assists. Walman also ranks 12th in the NCAA with six assists on the year.

UConn vs. UMass – Fri. 11/4 at UMass
- UMass leads UConn 34-11-2 overall in 47 games played. The two programs have split the four contests since UConn joined Hockey East in the 2014- 15 season, 2-2-0.
- UMass's second forward line of Patrick Lee (Calgary, Alta./2g, 4a), Dominic Trento (Brockport, N.Y./6a), and Jonny Lazarus (Syosset, N.Y./2g, 3a) have combined for 17 of UMass' 51 points so far (4g, 13a). Lee and Trento are also tied for the team lead in scoring, having both six points this season.
- Reigning Hockey East Defensive Player of the Week Adam Huska (Zvolen, Slovakia) ranks third in Hockey East, and 10th nationally with a .938 save percentage.

New Hampshire vs. Sacred Heart/Mercyhurst – Fri. 11/4; Sat. 11/5 at UNH
- This will be the first time that New Hampshire and Sacred Heart met and the third time this year that Sacred Heart takes on a Hockey East opponent. The Pioneers have split their games thus far against Hockey East foes, taking a 3-2 win from Merrimack before dropped a 7-0 decision to Boston University.
- Mercyhurst and New Hampshire line up against one another for the second time in program history. The Wildcats narrowly beat the Lakers, 5-4, on November 4, 2004.
- New Hampshire freshman Patrick Grasso (Ankeny, Iowa) had quite a week last weekend, netting four goals in a 6-2 victory over Merrimack. His efforts earned him a trio of accolades, including the Warrior Hockey East Player of the Week, Pro Ambitions Rookie of the Month, and the Hockey Commissioners' Association National Rookie of the Month. The rookie forward has recorded eight goals and two assists to begin his NCAA career, good enough to rank second nationally in goals scored and first in overall scoring among fellow freshman in Hockey East.
- New Hampshire Head Coach Dick Umile and Mercyhurst Head Coach Rick Gotkin have combined for 1,086 wins in 1,974 games behind the bench over a span of 56 combined seasons. Umile recorded his 350th victory in Hockey East play in Saturday's victory over Merrimack. Umile stands second all-time in Hockey East wins behind only former Boston University legend Jack Parker (421 wins) and is the leading active Hockey East coach in the category. Boston College's Jerry York ranks third all-time with 320 conference wins.