Thursday, November 24, 2016
Hockey East Weekend Preview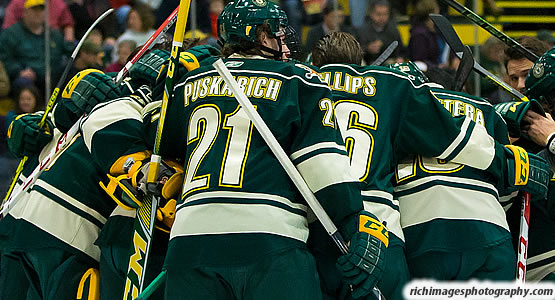 Vermont and UMass open the second annual Friendship Four tournament in Belfast, Northern Ireland. All four games of the rournament will be televised on NESN in New England and American Sports Network.
UMass vs. No. 20 Vermont /(No. 3 Quinnipiac or St. Lawrence) - Fri. 11/25, Sat. 11/26 in Belfast, Northern Ireland
- UMass and Vermont open the second annual Friendship Four tournament in Belfast, Northern Ireland in a game that will be television on NESN in New England and American Sports Network in the United States, while BBC will provide coverage overseas. Quinnipiac and St. Lawrence face off in the second game of the tournament. The two winners from each league game will meet Saturday for the Belpot Trophy while the other two teams play for third place.
- UMass will conclude a seven-game stretch against conference opponents Friday in a rematch of 2-1 loss to the Catamounts on Nov. 12. Sophomore Kurt Keats (Winnipeg, Man.) scored the Minutemen's only goal, while Vermont sealed victory with rookie Matt Alvaro's (Toronto, Ont.) strike with just 5:14 to play.

No. 3 Boston College vs. No. 8 Minnesota/Northeastern - Sun. 11/27, Tue. 11/29 at BC
- The Eagles welcome Minnesota to Conte Forum for a top-1o clash Sunday after the Thanksgiving break. Boston College is 10-1-1 in its last 12 games, including a five-game winning streak in Hockey East play to sit in first place in the league standings.
- Last time out, JD Dudek (Auburn, N.H.) netted a hat trick for BC to help down UConn, 5-2, registering career highs in goals (3), points (3), shots (7) and plus-minus (plus-two).
- Boston College and Northeastern last met in the 2016 Hockey East Semifinals March 18, a 5-4 Huskies victory that began at 10:36 p.m. due to a triple overtime game between UMass Lowell and Providence. The win propelled Northeastern to its first Hockey East Tournament title since 1988 as they toppled UMass Lowell the following night.

No. 11 Notre Dame vs. Holy Cross/(Clarkson or Yale) - Fri. 11/25, Sat. 11/26 at ND
- The Fighting Irish host the seventh edition of the Shillelagh Tournament in South Bend with Clarkson, Holy Cross and Yale all making their tournament debuts.
- Junior forward Anders Bjork (Mequon, Wis.) is tied for fifth in NCAA scoring with 20 points (8g, 12a).
- Notre Dame last won the Shillelagh Tournament in 2010.

Providence vs. Merrimack/Colgate - Fri. 11/25 at MC, Sat. 11/26 at Providence
- Friar rookies have registered 11 goals and 19 assists through 10 games this season, led by defenseman Josh Wilkins (Raleigh, N.C.) who picked up four points in last Saturday's win over Northeastern. It was PC's first Hockey East win of the year (4-4-2/1-2-1 HEA).
- Providence swept Colgate in a two-game set last year, paced by a Jake Walman (Toronto, Ont.) hat trick on Oct. 30, part of a four-point night. It was the first Friars hat trick by a defenseman since 1992.
- Last season, Merrimack was eliminated from the playoffs by Providence, a two-game sweep in the Hockey East Quarterfinals, part of a 4-0-0 Friars record over the Warriors in 2015-16. The teams tied, 2-2, Nov. 5 of this year.

Northeastern vs. No. 8 Minnesota/No. 3 Boston College - Fri. 11/25 at NU, Tue. 11/29 at BC
- Northeastern continues a set of nine consecutive games against ranked opponents, the longest such streak for the program since the 2000-01 season.
- The last time Minnesota entered Matthews Arena, the Golden Gophers were ranked No. 3 in the nation on Nov. 29, 2014. The Huskies got a late goal from Kevin Roy at 17:24 of the third to seal a 3-2 victory.
- Zach Aston-Reese (Staten Island, N.Y./ 9g, 11a), the reigning Warrior Hockey Co-Player of the Week, leads Northeastern with 20 points and has 11 career game-winning goals, good enough for third amongst all active skaters.

New Hampshire vs. Cornell - Sat. 11/26 at Madison Square Garden
- Goaltender Daniel Tirone (Trumbull, Conn.) is coming off a 25-save shutout against RPI this past weekend. The junior is currently 6-3-2 and has a save percentage of .919.
- Tyler Kelleher (Longmeadow, Mass./8g, 16a) has been red-hot for the Wildcats as of late. The senior forward has 24 points so far this season, ranking him second in the country, and is riding a nine-game point streak (5g, 14a). He's recorded multiple points in all but three of those nine outings.
- New Hampshire and Cornell have faced off 26 times, with the series at an even 13-13-0 split.

Maine vs. Brown - Sat. 11/26 at Cross Insurance Arena (Portland, ME)
- The Maine Black Bears welcome Brown to Cross Insurance Arena in Portland, Maine for one game Saturday, carrying a 10-2-0 record against the Brown Bears since 1979.
- Maine is coming off a six-game stretch in Hockey East play, going 1-4-1 in those tilts. That stretch was all against teams that are currently ranked nationally, including two-game sets with Boston College, UMass Lowell and Vermont.

UConn vs. Sacred Heart - Sat. 11/26 at UConn
- UConn welcomes in-state foe Sacred Heart, the former Atlantic Hockey rival for a one-game series Saturday, breaking up a period where nine of 12 games are against Hockey East opponents. Their last five games were all against ranked opponents (1-3-1), including the last three against top-5 teams.
- The Huskies are coming off a weekend split with Boston University and a dropped decision to Boston College, both ranked opponents. Against the Terriers, rookie netminder Adam Huska (Zvolen, Slovakia) backstopped his team to a 4-0 road victory to earn UConn's first ever win at Agganis Arena. He stopped all 37 shots he saw to pick up his first NCAA shutout. He has made at least 30 saves in six of the seven games he has started.
- In Tuesday's game against the Eagles, Max Kalter (Highland Park, Ill.) became the 16th Husky skater to score a goal this season.