Thursday, November 17, 2016
Hockey East Weekend Preview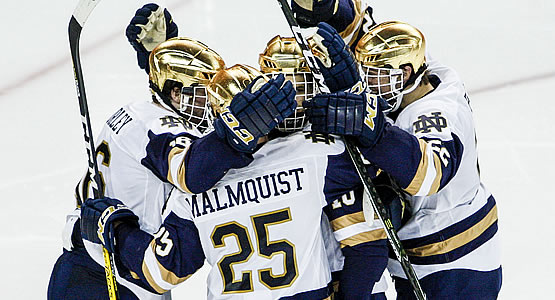 No. 9 Notre Dame hosts #5 UMass Lowell this weekend
No. 5 UMass Lowell vs. No. 9 Notre Dame – Thu. 11/17, Fri. 11/18 at ND
- This weekend series will mark the 11th and 12 time that UMass Lowell and Notre Dame will face each other; the series dates back to 2013, when the Fighting Irish joined Hockey East. The River Hawks have held the upper hand in this series up to this point, standing at 7-1-2.
- The series will feature four skaters ranked in the top-20 nationally in scoring. For Notre Dame, Anders Bjork (Mequon, Ill./7g, 11a) ranks third with 18 points, followed by Andrew Oglevie (Fullerton, Calif./9g, 5a), who ranks 16th with 14 points. The River Hawks are led by Joe Gambardella (Staten Island, N.Y./7g, 10a), ranking sixth with 17 points and C.J. Smith (Des Moines, Iowa/7g, 8a), who ranks 11th with 15 points. UMass Lowell also relies on the stick of defenseman Dylan Zink (Madison, Wis./ 2g, 11a). The junior leads Hockey East in defensive scoring, and ranks second nationally in the same category.

No. 4 Boston University vs. UConn, Harvard – Fri. 11/18 at UConn; Sat. 11/19, Tues. 11/22 at BU
- Boston University and Harvard first met during the presidency of Warren G. Harding, the initial contest resulting in a 2-0 Crimson victory on December 13, 1922. Since then, these Beanpot rivals have met 152 times, with the Terriers leading the series 78-68-6.
- In contrast, Boston University and UConn have only squared off five times, with the Terriers holding a 3-1-1 series lead. The last time these two teams met was a 5-2 UConn victory as forward Tage Thomson (Orange, Conn./7g, 7a) recorded a hat trick. The sophomore forward is coming off a five-point weekend (3g, 2a) and leads the Huskies in scoring with 14 points.
- Patrick Harper (New Canaan, Conn./5g, 9a) leads the Terriers in scoring with 14 points. The fifth-round Nashville Predators draft pick leads a very talented freshman class, including three first-round 2016 NHL draft picks. Boston University currently has the most NHL draft picks on any NCAA team, with 11 of its 23 skaters having already been picked. Two additional players are eligible for next year's 2017 NHL entry draft, including rookie goaltender Jake Oettinger (Lakeville, Minn.) who leads all of Hockey East and is seventh nationally in save percentage (.932).

Maine vs. Vermont – Fri. 11/18, Sat. 11/19 at UVM
- Friday's contest at Gutterson Fieldhouse will be the 82nd contest between these Hockey East foes, with the Black Bears clinging to a series lead of 24-23-4. Maine swept Vermont last season, winning by scores of 3-2 and 4-1 at Alfond Arena.
- UVM freshman netminder Stefanos Lekkas (Elburn, Ill.) boasts the top overall goals against average in Hockey East (1.72), and is second in the conference with an overall .932 save percentage. In the other net is Hockey East's busiest goaltender, Rob McGovern (Weymouth, Mass.). The Black Bears' junior netminder leads Hockey East in total overall saves with 316 stops on 343 shots faced.
- Senior forward Blaine Byron (Ottawa, Ont.), the reigning Warrior Hockey Player of the Week, is coming off a four-point weekend in which he recorded a hat trick for the Black Bears against fifth-ranked UMass Lowell.

No. 19 Providence vs. Northeastern – Fri. 11/18 at NU, Sat. 11/19 at PC
- A pair of Hockey East champions from last season, Providence and Northeastern have skated against each other 151 times, dating back to 1953. Providence carries the overall lead, 82-53-17.
- Northeastern forward Adam Gaudette (Braintree, Mass.) leads Hockey East in overall shots on goal with 55 attempts. The sophomore ranks 10th in the conference in total scoring with 13 points (6g, 7a). On the other side, Providence's Jake Walman (Toronto, Ont.) paces all Hockey East defenders in overall shots on goal per game, averaging 4.12 shots on net. The Friars also lead all Hockey East programs in shots on goal margin, averaging nearly 11 more shots on net each game than they surrender to opponents.

No. 3 Boston College vs. Harvard, UConn – Fri. 11/18 at Harvard; Tues. 11/22 at UConn
- On Friday, Boston College and Harvard will meet for the 83rd time outside of the annual Beanpot tournament. Overall, these two teams have met 125 times, dating back to a 7-2 Crimson win on January 19, 1919. At 75-45-5, the Eagles are a full 30 games over .500 in the series. Jerry York's teams have controlled the series in recent memory, winning 12 of their last 13 contests. Last season, the Eagles defeated the Crimson, 4-1, in the first round of the NCAA Tournament.
- Boston College and UConn have met four times since the Huskies joined Hockey East in 2014, including a 1-0 Huskies win that marked UConn's first-ever home Hockey East contest. Since that outing, Coach York has held the edge over his former associate head coach, Mike Cavanaugh, with a record of 2-0-1.
- Boston College currently hold the NCAA's longest unbeaten streak as the Eagles are 9-0-1 in their previous 10 contests. In that span, freshman goaltender Joe Woll (Dardenne Prairie, Mo.) has gone 6-0-1 with .924 save percentage. The rookie ranks third in Hockey East in total saves (277) and overall save percentage (.930). Woll also ranks top in Hockey East in conference wins, picking up four wins for the Eagles.
- UConn's senior goaltender Rob Nichols (Dallas, Texas) is coming off a weekend where he earned Hockey East Defensive Player of the Week for his performance on the road at No. 14 Ohio State. Nichols made a career-high 46 saves in a 3-3 stalemate, including stopping 24 shots in the second period alone.

New Hampshire vs. UMass/RPI – Fri. 11/18, Tues. 11/22 at UNH
- A series that began in 1926, New Hampshire and UMass have played each other 118 times entering the 2016-17 season. In that span, the Wildcats have taken a victory in 86 of those outings, leading the series with a record of 86-21-11. The Wildcats and the Minutemen have met once already this season, a 4-1 New Hampshire victory on the road that saw four different UNH skaters find the back of the net.
- This will mark the 47th matchup between New Hampshire and RPI. The Wildcats own a record of 24-22-0 against the Engineers, but have dropped the last three outings. The last New Hampshire win came on January 5, 2013 in a 5-2 decision.
- Forward Patrick Grasso (Ankeny, Iowa/9g, 7a) is currently riding a 10-game point streak. The freshman has recorded 16 points in his first 11 games as a Wildcat.
- Tyler Kelleher (Longmeadow, Mass./6g,11a) leads New Hampshire in scoring with 17 points. Kelleher and Grasso both rank in the top-10 nationally in point-scoring. Kelleher ranks sixth, followed by Grasso in ninth.

Merrimack vs. Wisconsin – Fri. 11/18, Sat. 11/19 at Wisconsin
- Merrimack and Wisconsin have only met once before, a 5-4 Badger victory on Jan. 2, 2010. Wisconsin is 1-1-0 against Hockey East teams this season after splitting a weekend series against No. 3 Boston College earlier in October.
- Sophomore goaltender Drew Vogler (Florissant, Mo.) leads Hockey East in minutes played (685:28), and ranks second in the conference in total saves with 321 stops.