Thursday, October 20, 2016
Hockey East Weekend Preview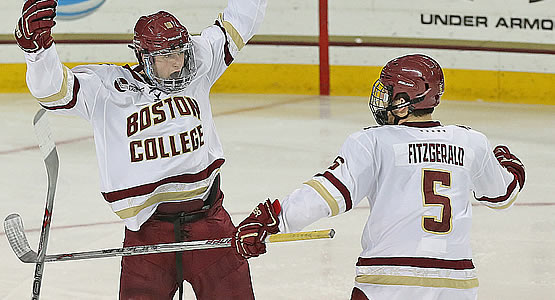 Boston College hosts Providence College on Friday night. The game will be telecast on ASN and NESN
No. 5 UMass Lowell vs. Omaha – Fri. 10/28, Sat 10/29 at Omaha
- Historically, Omaha holds a 2-0-0 series lead against UMass Lowell in the short series between the two programs. The last matchup came on October 10, 2009, where the Maverick narrowly defeated the River Hawks, 4-3, in the championship game of the 2009 Ice Breaker Tournament. In 2000, Omaha took a 5-2 win at the Alabama Huntsville Shootout.
- C.J. Smith (Des Moines, Iowa) is tied for fourth-nationally in points scored (10). The junior forward has four goals and six assists on the year.
- As a team, UMass Lowell ranks first among Hockey East programs and second in the NCAA with 25 goals scored, averaging 4.17 goals per game.

UConn vs. No. 6 Notre Dame – Thurs. 10/27, Fri. 10/28 at ND
- UConn and Notre Dame each open their respective Hockey East schedules with a Thursday night television tile. Previously, the Huskies and Irish have met four times, with Notre Dame carrying a 3-0-1 record.
- Notre Dame junior forward Anders Bjork (Mequon, Wis.) ranks third in the NCAA with 11 points (5g, 6a) while junior defenseman Jordan Gross (Maple Grove, Minn.) has recorded eight points (3g, 5a) this season, which ranks second in the country in points by a defenseman.
- The Irish are 2-1-0 in Hockey East openers, dropping a 2-1 decision at Vermont Nov. 1, 2013 and taking wins against the Catamounts on Oct. 31, 2014 and Huskies on Oct. 31, 2015.

No. 8 Boston College vs. No. 14 Providence/UMass – Fri. 10/28 at BC; Sat. 10/29 at UMass
- Friday's matchup will mark the 174th meeting between the Eagles and the Friars in a game featuring last year's Hockey East regular season co-champions. Boston College holds the series lead, with a record of 111-48-14. The game will be televised on American Sports Network and on NESN throughout New England and is a preview of the Frozen Fenway matchup on Jan. 7, 2017.
- Boston College and UMass the clash for the 77th time in their series history. The Eagles also lead the series, 59-13-4.
- Eagles freshman goaltender Joe Woll (Dardenne Prairie, Mo.) ranks third nationally in total saves (174).
- On Tuesday, Boston College opened their Hockey East season with a 2-2 draw at Merrimack that saw senior forward Ryan Fitzgerald (North Reading, Mass.) and senior defenseman Scott Savage (San Clemente, Calif.) find the back of the net. Last weekend, Casey Fitzgerald (North Reading, Mass.) netted the first three goals of his season, including both game-winners over Colorado College and Holy Cross.

Vermont vs. No. 11 Michigan/No. 16 Northeastern – Fri. 10/28 at UVM; Sun. 10/30 at NU
- Vermont and Northeastern will meet for the 59th time this weekend to open Hockey East play. The Catamounts hold on to the overall series lead, 29-23-6. Friday's meeting will mark the first-ever matchup between the Wolverines and the Catamounts.
- Reigning Hockey East Player of the Week Stefanos Lekkas (Elburn, Ill.), in his first two NCAA appearances, posted a .930 save percentage with 53 saves in two games at Omaha. Lekkas helped the Catamounts to a 1-0-1 weekend against the then-No. 20 Mavericks.

New Hampshire vs. Massachusetts/Merrimack – Fri. 10/28 at UMass; Sat. 10/29 at UNH
- The Minutemen and the Wildcats have met 187 times in the history of the programs, with New Hampshire holding an 85-21-11 record over Massachusetts.
- First-year UMass head coach Greg Carvel has seen a balanced score sheet from his squad, with 20 players recording at least a point in UMass' first four games, including 10 different goal scorers. Forwards Jonny Lazarus (Syosset, N.Y.) and Dominic Trento (Brockport, N.Y.) pace the Minutemen in points with five-apiece.

Merrimack vs. Cornell/New Hampshire – Fri. 10/28 at MC; Sat. 10/29 at UNH
- Merrimack and New Hampshire will meet for the 99th time in series history on Saturday. To-date, the Wildcats maintain a record of 68-20-10 over the Warriors.
- Merrimack and Cornell have met four times in with the Big Red holding a 3-1 series lead. This marks the first time that Cornell will travel to Lawler Rink and the first game on the 2016-17 schedule for the Big Red.
- The Warriors offense has been balanced to date. Through six games, 17 players have managed to record at least one point, led by junior forward Brett Seney (London, Ont.) who has collected one goal and four assists. Seney led the Warriors in 2015-16 with 26 points on eight goals and 18 assists.

Maine vs. Colgate – Fri. 10/28, Sat. 10/29 at Colgate
- Maine and Colgate will look to break their series stalemate this weekend. After 12 previous tilts, the series is locked at 5-5-2.
- Twenty of Maine's 46 points (43%) this season have been recorded by freshmen. Rookie forward Mitchell Fossier (Alpharetta, Ga.) leads Maine in scoring with nine points (6g, 3a), which also leads all freshmen nationally. Fossier has picked up at least a point in five of Maine's six games, including goals in four and netting three game-winning tallies.

No. 14 Providence College vs. Brown – Sun. 10/30 at Brown
- This will be the 31st annual Mayor's Cup game played between Providence and Brown. This year will feature a winner-take-all game as opposed to the two-game series used in the previous two seasons. In Mayor's Cup Play, Providence leads the series, 17-10-3.
- In total, the Friars and the Bears have met 97 times, with Providence leading the series, 48-46-3.