Weekly Release: Boston University Shuts Out Sacred Heart, Quinnipiac
Merrimack, Northeastern, Boston College All Collect Two Non-Conference Wins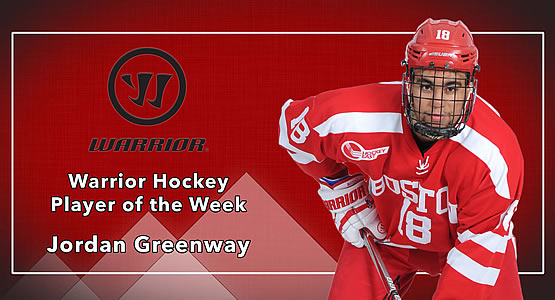 Warrior Hockey Player of the Week Jordan Greenway of Boston University
AROUND HOCKEY EAST: No. 8 Boston University picked up a pair of shutout wins against Sacred Heart (7-0) and No. 3 Quinnipiac (3-0). Freshman goaltender Jake Oettinger (Lakeville, Minn.) posted his first two career shutouts, stopping all 46 shots he faced to collect his first Pro Ambitions Rookie of the Week award. Sophomore forward Jordan Greenway (Canton, N.Y.) led the Terriers in scoring, tallying five points (2g, 3a) on the weekend to earn Warrior Hockey East Player of the Week honors … No. 10 Boston College broke out offensively this weekend, scoring 10 goals in a pair of wins against Colorado College (4-1) and Holy Cross (6-1). Sophomore forward Colin White (Hanover, Mass.) had two goals and an assist in Friday night's win over the Tigers while classmate Casey Fitzgerald (North Reading, Mass.) also netted two goals, including Saturday's game-winner over Holy Cross … UConn began their week with a 5-2 loss to No. 4 Quinnipiac Tuesday and skated to a 2-2 tie against American International Friday night. Senior forward Evan Richardson (Nanaimo, B.C.) had one goal and three assists on the week, good enough to lead the Huskies in scoring … Maine traveled to Miami this weekend for a two-game set with the Red Hawks. The two teams skated to a 3-3 tie in game one that after Black Bears freshman forward Mitchell Fossier (Alpharetta, Ga.) scored his sixth goal of the year, the most of any rookie in Division I hockey … UMass was able to fend off a third period rally to beat Army West Point, 3-2. Dominic Trento (Brockport, N.Y.) and Johnny Lazarus (Syosset, N.Y.) both had a pair of assists on the night for the Minutemen … UMass Lowell split two games against ECAC opponents Clarkson and St. Lawrence. The River Hawks opened the weekend with a 5-2 win over No. 12 St. Lawrence Friday night thanks in part to a River Hawk defense that allowed just 13 shots on goal. Junior forward C.J. Smith (Des Moines, Iowa.) recorded two goals the next night in a 4-3 setback to Clarkson … Merrimack bounced back with a weekend sweep against Colgate, their first two wins of the season. Sophomore Ludvig Larsson (Malmo, Sweden) recorded three points (1g, 2a), including the game-winner in Friday's 4-3 victory … New Hampshire dropped a narrow 4-3 decision to Colorado College on Saturday. Freshman forward Patrick Grasso (Ankeny, Iowa) scored his team-leading fourth goal of the season, and senior defenseman Dylan Maller (Parkland, Fla.) recorded two assists for the Wildcats … Northeastern dominated in its inaugural series against Arizona State with 5-2 and 6-1 victories over the Sun Devils. Sophomore Adam Guadette (Braintree, Mass.) led the Huskies with two goals and two assists on the weekend … No. 3 Notre Dame needed extra time twice in its weekend series against Penn State. The Fighting Irish and the Nittany Lions skated to a 3-3 tie in the first game, followed by an 3-2 Penn State overtime victory in Saturday's series finale. Notre Dame junior Jake Evans (Toronto, Ont.) had three points (1g, 2a) in the series … Providence went undefeated against ECAC opponents this weekend. On Friday the Friars skated to a 3-3 tie against Clarkson. Friars freshman forward Josh Wilkins (Raleigh, N.C.) scored the game-tying goal with under four minutes to go in the third period to send the game into overtime. In Saturday's matchup with No. 12 St. Lawrence, the Friars scored early and often, netting four-unanswered goals en route to a 6-3 win over the Skating Saints. Senior Anthony Florentino (West Roxbury, Mass.) led the Friars in scoring with a goal and two assists ... Vermont earned a hard-fought three points during a two-game set against No. 20 Omaha. Vermont sophomore Craig Puffer (New Canaan, Conn.) had a three-point performance (1g, 2a) in Vermont's 5-2 win on Saturday. The forward had also tallied an assist in Friday's 4-4 tie, to lead Vermont scoring with four points.
---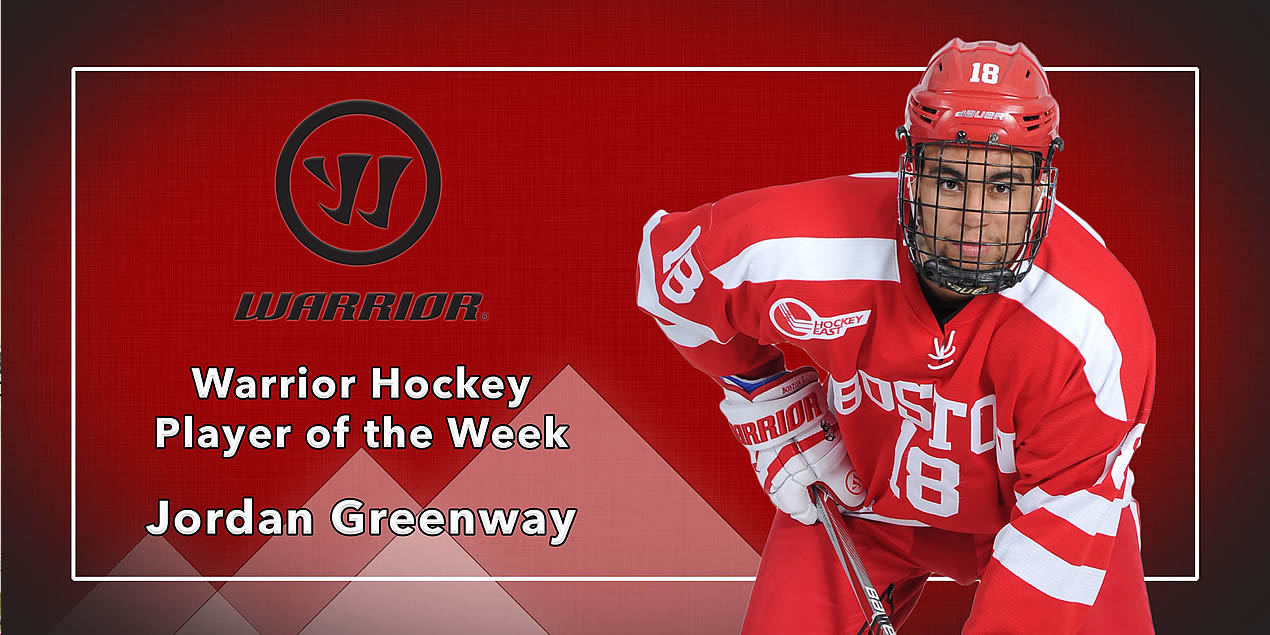 JORDAN GREENWAY - BOSTON UNIVERSITY

Jordan Greenway (So., F; Canton, N.Y.) racked up five points (2g, 3a), including both game-winning goals, in a 2-0-0 weekend for the Terriers. In Friday's 7-0 win over Sacred Heart, he netted three points (1g, 2a) for a new career high and followed it up with another goal and assist in a 3-0 victory over No. 3 Quinnipiac.
---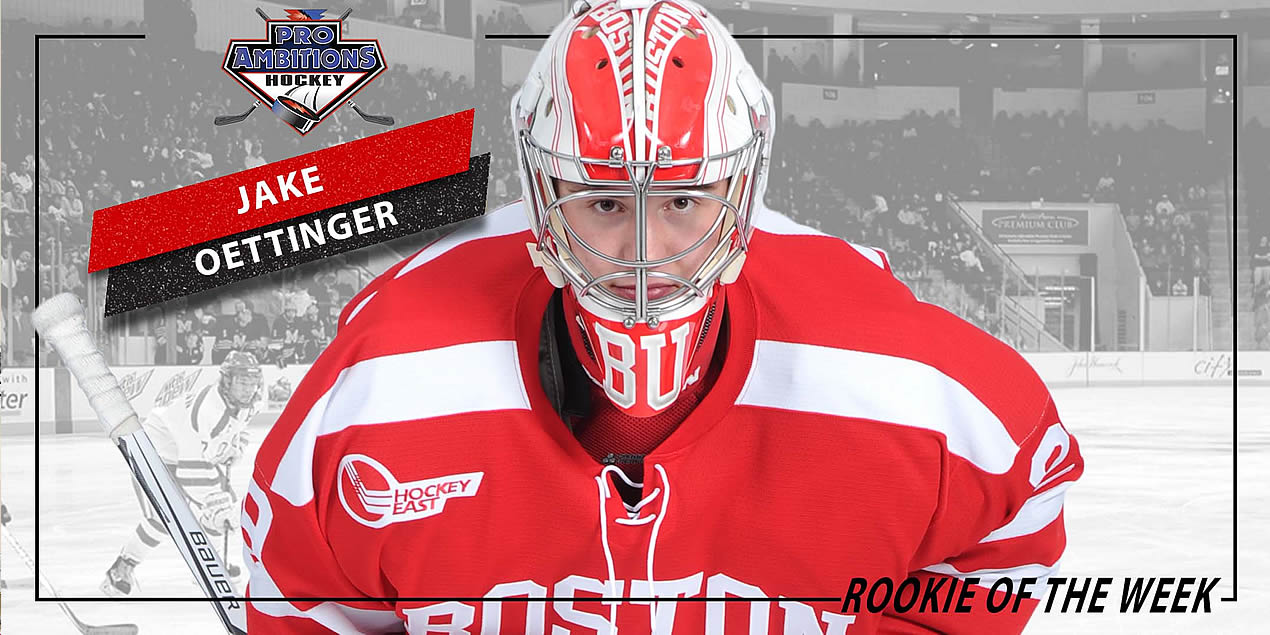 JAKE OETTINGER - BOSTON UNIVERSITY

Jake Oettinger (Fr., G; Lakeville, Minn.) stopped each of the 46 shots he saw on the weekend, earning his first two shutouts as a Terrier.
---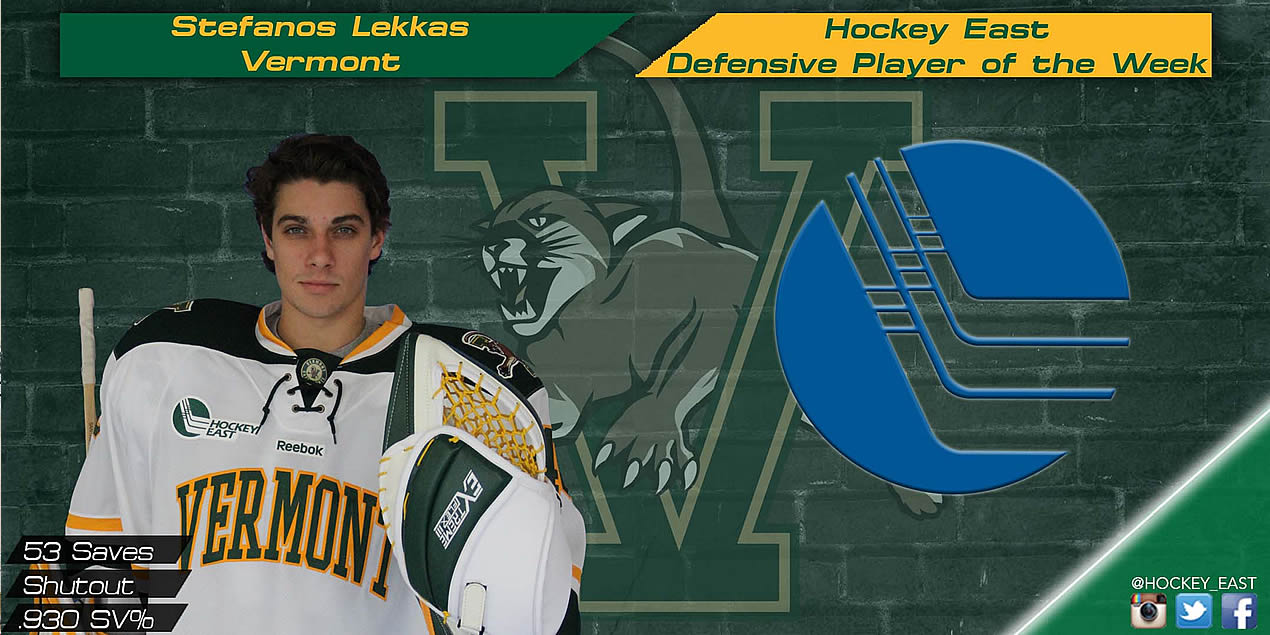 STEFANOS LEKKAS - VERMONT

Stefanos Lekkas (Fr., G; Elburn, Ill.) Posted a 1.99 goals against average and a .930 save percentage in his first two NCAA appearances at No. 20 Omaha, including 32 stops in his debut start as a Catamount and all 21 shots he faced in relief on Saturday in 56 minutes of play.
---
HOCKEY EAST WEEKLY TOP PERFORMERS
John MacLeod, BU (Jr., D; Dracut, Mass.) Dished out three assists and finished a plus-four in two wins on the weekend.
Ludvig Larsson, MC (So., F; Malmo, Sweden) Had one goal and two assists, including Friday's game-winner, in a weekend sweep of Colgate.
Logan Coomes, MC (Fr., F; Northville, Mich.) Tallied two assists in Merrimack's 4-3 win over Colgate Friday, the first two points of his career.
Drew Vogler, MC (So., G; Florissant, Mo.) Picked up a 2-0-0 weekend, finishing with 47 saves for a 2.50 GAA and .904 save percentage.
C.J. Smith, UML (Jr., F; Des Moines, Iowa) Posted three points (2g, 1a) in a weekend split with St. Lawrence and Clarkson. Finished with a plus-two rating and had 11 shots on net.
Mattias Goransson, UML (Fr., D; Slottsbron,Sweden) Had three helpers to finish plus-two with three shots on goal in two outings.
Adam Gaudette, NU (So., F; Braintree, Mass.) Registered four points (1g, 3a) to help the Huskies sweep Arizona State. Netted the game-winning strike Friday night and won 20 faceoffs over the two games.
Jeremy Davies, NU (Fr., D; Ste-Anne-de-Bellevue, Que.) Picked up his first goal as a Husky Saturday and finished a plus-four with nine blocked shots.
Garret Cockerill, NU (Jr., D; Brighton, Mich.) Had a goal and two assists Saturday against Arizona State.
Anthony Florentino, PC (Sr., D; West Roxbury, Mass.) Recorded three points (1g, 2a) in his lone appearance this weekend.
Josh Wilkins, PC (Fr., F; Raleigh, N.C.) Netted the first two goals of his career, including a late, third period marker to tie Friday's game against Clarkson.
Craig Puffer, UVM (So., F; New Canaan, Conn.) Picked up four points (2g, 2a) and was plus-four in two games at No. 20 Omaha.