Thursday, October 20, 2016
Hockey East Weekend Preview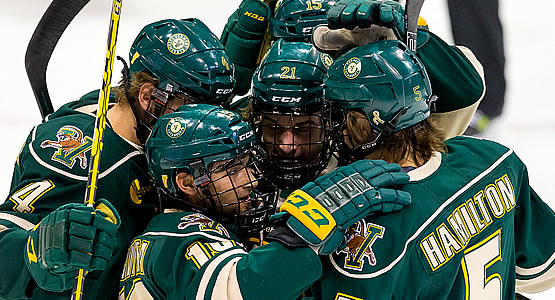 Vermont travels to Omaha this weekend. Friday's game will be telecast on ASN and NESN
No. 3 Notre Dame vs. Penn State - Fri. 10/21, Sat. 10/22 at ND
- In two prior meetings since Penn State elevated to an NCAA Division I program in 2012-13, the Fighting Irish hold a split record. Notre Dame took a 7-4 win Oct. 16, 2016 at Penn State before dropping a 5-3 decision then next day.
- Junior forward Anders Bjork (Mequon, Wis.) leads the nation in points recorded (5g, 5a) while his five goals on the year are tied for second in the nation. Overall, the Notre Dame offense is pumping in 4.75 goals per game, good for fourth in the NCAA, while Penn State's 4.67 goals per game ranks fifth.
- This weekend marks the final time the two programs will meet as non-conference opponents.

No. 5 UMass Lowell vs. Clarkson/No. 12 St. Lawrence - Fri. 10/21, Sat. 10/22 at UML
- UMass Lowell and Clarkson have clashed 25 times historically, with UMass Lowell leading the overall series 13-11-1, despite the River Hawks boasting an unbeaten 9-0-1 record against the Golden Knights since 2000.
- UMass Lowell and St. Lawrence have met just 20 times, with UMass Lowell leading the series, 11-8-1 and 6-3-1 in the last 10. Friday marks the first time these two teams have met since 2009, which was a 3-0 win for the River Hawks to open the 2009-10 season at the Ice Breaker Tournament in Omaha, Nebraska.
- Reigning Hockey East Defensive Player of the Week Tyler Wall (Leamington, Ont.) has begun his freshman campaign with a 2-0-1 record while posting a save percentage of .965 and a goals against average of just 1.09. In his last outing against Colorado College, Wall recorded his first career shutout, a 4-0 River Hawks victory in Colorado Springs.

No. 8 Boston University vs. Sacred Heart/No. 4 Quinnipiac - Fri. 10/21 at SHU, Sat. 10/22 at QU
- Friday will be the first-ever meeting between Boston University and Sacred Heart.
- Boston University and Quinnipiac have met only once before, a 4-1 Terriers win on December 12, 2015 that handed Quinnipiac its first loss of the 2015-16 season.
- This will be Quinnipiac's third series in a row where they play a Hockey East opponent this season. The Bobcats are 2-1-1, after two series with Northeastern (1-0-1) and Maine (1-1-0).
- Through the first three games of the 20161-17 season, the lauded BU freshman class has accounted for 12 of 27 total points (44%), the most of any other class on the roster. The Terrier rookies are paced by Patrick Harper (New Canaan, Conn.), who has recorded at least one point in all three contests and leads the team with five points (2g, 3a).

No. 10 Boston College vs. Colorado College/Holy Cross - Fri. 10/21 at BC, Sat. 10/22 at HC
- Boston College marks Colorado College's fifth straight Hockey East opponent, going 1-3-0 in series with UMass (0-3, 7-4) and UMass Lowell (8-5, 4-0). The Eagles and Tigers have met 20 times, with the Eagles maintaining the series lead, 14-5-1, and were unbeaten against the Tigers from 1968-1998, going 9-0-1 in that span.
- Historic football rivals, BC and Holy Cross have met 17 times on the ice, with the Eagles carrying the series lead, 15-2-0.
- Forward Christopher Brown (Bloomfield Hills, Mi.) is coming off a four-point performance in last Sunday's 8-5 win at Wisconsin. The sophomore recorded his first-career hat trick and tacked on an assist to propel the Eagles past the Badgers.

No. 15. Providence vs. Clarkson/No. 12 St Lawrence - Fri. 10/21 at PC, Sat. 10/22 at PC
- Providence will play both Clarkson and St. Lawrence for the first time since 2007, hosting the teams for the first time since 2006.
- Since 1994, the Friars have clashed with Clarkson on 12 occasions and dropped the decision in nine of those outings.
- In 12 contests against St. Lawrence at home, the Providence team boasts an 8-4 record against the St. Lawrence Saints, while the Friars last downed the Clarkson Golden Knights on Oct. 4, 2004.

No. 17 Northeastern vs. Arizona State - Fri. 10/21, Sat. 10/22 at NU
- This will be the first-ever matchup between the Huskies and the Sun Devils since Arizona State became a Division I program.
- Northeastern is coming off an offensive explosion in a 7-3 win over Bentley this past Saturday. Zach Aston-Reese (Staten Island, N.Y./2g, 2a) and Dylan Sikura (Aurora, Ont./4a) each had four points in the Huskies victory on the night Northeastern raised the 2016 Hockey East Tournament Championship banner.
- Arizona State is coming off its first win against a ranked opponent, beating No. 18 Air Force, 5-2, at home on Sunday.

UConn vs. AIC - Fri. 10/21 at UConn
- Friday marks the first meeting of the former Atlantic Hockey foes since UConn joined Hockey East in 2014-15. The Huskies took both games of a two-game set Jan. 24-25, 2014, 3-2 and 2-1. In the 3-2 win, Rob Nichols (Dallas, Texas) made 34 saves and the Huskies scored two third period goals to complete the comeback victory.
- UConn has posted a 2-1-2 record to begin the year, allowing 10 goals over that span. The Huskies' penalty-killing unit has been a critical part of their early success, only allowing two power-play goals in 23 chances.

Maine at Miami - Fri. 10/21, Sat. 10/22 at Miami
- Maine travels to Miami for a two-game set coming off an impressive series split against No. 4 Quinnipiac, in which the Black Bears came from behind to force both games into overtime.
- Two-time Hockey East Rookie of the Week Mitchell Fossier (Alpharetta, Ga.) has recorded eight points (5g, 3a) to begin his freshman season, including game-winning goals in each of his first three games. His point total leads all NCAA freshman, and is tied for second amongst all skaters, behind only Notre Dame's Bjork. Fossier's latest goal was the overtime game-winner in Maine's upset victory over Quinnipiac.
- The Black Bears carry a 5-1-0 record all time against Miami.

UMass vs. Army West Point - Fri. 10/21 at UMass
- UMass and Army West Point are meeting for the 46th time. The Black Knights hold a narrow series, 23-21-1.
- In their last meeting on Jan. 2, UMass toppled Army West Point in overtime, 2-1. Senior forward Steven Iacobellis (Port Coquitlam, B.C.) buried the game-winner just 22 seconds into the extra frame to give the Minutemen the win.

New Hampshire vs. Colorado College - Sat. 10/22 at UNH
- New Hampshire and Colorado College last faced each other in the 2014-15 season when Wildcats rolled past the Tigers, 6-2, in Durham on Oct. 25, 2014.
- Defending Hockey East Player of the Week Tyler Kelleher (Longmeadow, Mass.) turned in a four-point performance in New Hampshire's win against Clarkson last week. The senior forward leads the Wildcats in point-scoring with two goals and three assists through the team's first three outings.

Vermont vs. No. 20 Omaha - Fri. 10/21, Sat. 10/22 at Omaha
- Vermont and Omaha met for the first time last season in a two-game weekend series in Burlington. The Mavericks swept the Catamounts and lead the series, 2-0-0.
- The Catamounts have netted seven goals through two games this year, each from a different skater. In all, 15 of the 18 players have registered at least one point

Merrimack vs. Colgate/Boston College - Fri. 10/21, Sat. 10/22, Tue. 10/25 at MC
- Merrimack and Colgate last met in 2012, the contest ended in a 1-1 tie. The Warriors also kick off the 2016-17 Hockey East league schedule by welcoming Boston College on Tuesday. Last season, the Warriors were 0-1-1 against the Eagles, taking a 5-5 tie at Lawler Rink against a Boston College team that was ranked third in the nation at the time.
- This will be Colgate's third game in a row where they will play a Hockey East team; the Raiders lost to Boston University, 6-1, in the Terrier's season opener while Colgate tied with UConn, 4-4, this past Friday. Colgate then travels to Maine Oct. 28-29 to finish off a six-game stretch against Hockey East foes.