Thursday, October 13, 2016
Hockey East Weekend Preview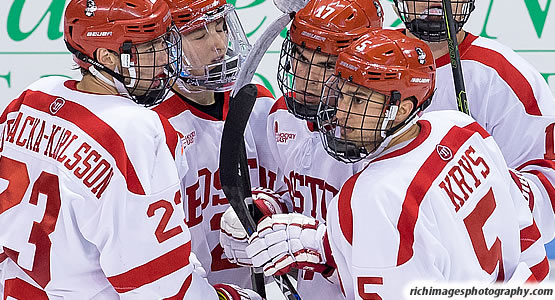 Boston University travels to Denver for a pair of games against the Pioneers
No. 2 Boston University vs. No. 10 Denver - Fri. 10/14, Sat. 10/15 at DU
- Boston University and Denver have met 31 times previously, with the Terriers leading the series 15-14-2.
- The last time these two teams met was last year's NCAA West Regional opening round, when the Pioneers topped the Terriers, 7-2.
- Boston University has been offensively propelled by its young skaters early in the year. Rookie forward Patrick Harper (New Canaan, Conn. burst onto the scene with eight goals in exhibition play, followed up by two more tallies in last week's game regular season opener, a 6-1 win at Colgate.

No. 6 Notre Dame vs. No. 4 Minnesota Duluth - Fri. 10/14, Sat. 10/16 at UMD
- Notre Dame hits the road this weekend for a top-10 matchup at Minnesota Duluth. The Fighting Irish are 21-15-6 against the Bulldogs, including last season's pair of 3-3 ties Oct. 23-24 in South Bend.
- The Irish were paced by Warrior Hockey East Player of the Week Anders Bjork (Mequon, Wis.) last weekend. The junior forward tallied seven points (4g, 3a) in a pair of games against Arizona State.
- Junior captain Cal Peterson (Waterloo, Iowa) was one of 20 goaltenders named to the Mike Richter Award watch list this past week. The award annually honors the top goaltender in NCAA Division I men's hockey. Last week, Peterson recorded two wins, stopping 33 of 36 shots.

No. 7 UMass Lowell vs. Colorado College- Fri. 10/14, Sat. 10/15 at CC
- UMass Lowell and Colorado College have met 11 times on the ice, the last game was October 20, 2012 which was a 3-1 River Hawks victory. Overall, the Tigers lead the series, 7-4-0.
- The River Hawks will look for a strong weekend from goalie Tyler Wall (Leamington, Alta.) The freshman goaltender made 40 saves in his collegiate debut, a 1-1 tie against No. 4 Minnesota Duluth this past Saturday.
- UMass Lowell will look to record its first decision of the season, the River Hawks skated to two ties against No. 4 Minnesota Duluth last weekend.

No. 9 Boston College vs. Wisconsin- Fri. 10/14, Sun. 10/16 at Wis.
- The Eagles head to Madison, Wis., to meet a familiar opponent in the Wisconsin Badgers. The Eagles are 14-9-0 all time against the Badgers and are currently riding a seven-game winning streak in the series.
- Boston College and Wisconsin have met twice in the NCAA National Championship game. Wisconsin took the 2006 title, 2-1, while Jerry York's squad blanked the Badgers in the 2010 National Championship game, 5-0.
- Senior forwards Austin Cangelosi (Estero, Fla.) and Ryan Fitzgerald (North Reading, Mass.) picked up where they left off last season, continuing their offensive output. Cangelosi accounted for three of BC's four goals in last week's Ice Breaker Tournament, while Fitzgerald has more career goals (54) than any other active NCAA hockey player, and ranks fifth in career points scored (102).

No. 11 Providence College vs. Holy Cross- Sat. 10/15 at DCU Center
- This weekend marks the 12th all time meeting between Providence and Holy Cross, with the Friars boasting 10-1-0 series lead.
- Friars All-American defenseman Jake Walman (Toronto, Ont.) led all defensemen in goals (13), points per game (1.04), power play goals (8), and game-winning goals (4) last season and picked up a pair of assists in last weekend's home split with Miami.
- Holy Cross forward T.J. Moore (Edina, Minn.) currently leads the nations in goals scored with six tallies. The junior recorded a hat trick in both of Holy Cross's games last weekend.

No. 14 Northeastern vs. Bentley - Fri. 10/14 at Bentley, Sat. 10/15 at NU
- Northeastern and Bentley previously have met six times, including twice last season. Bentley currently maintains a fourgame winning streak over the Huskies and leads the overall series, 4-2-0.
- Junior forward Nolan Stevens (Sea Isle City, N.J.) has scored 25 points (11g, 14a) in his last 16 games, dating back to last season.
- Northeastern will honor the 2016 Hockey East Championship team on Saturday as the school will raise the 2016 Hockey East Tournament Championship banner at Matthews Arena.

UConn vs. Colgate/RIT/Quinnipiac - Fri. 10/14 at Colgate; Sat. 10/15 at RIT; Wed. 10/19 at QU
- In eight prior encounters with the UConn Huskies, with the Raiders lead the overall the series, 6-2-0.
- UConn and RIT, former Atlantic Hockey foes, clashed 30 times on the ice between 2006-2014. Overall, RIT leads the series, 19-10-1.
- The last time UConn and Quinnipiac met was Nov. 17, 2015; the Bobcats won the game, 6-2, at the XL Center in Hartford, Conn.
- Husky goaltender Rob Nichols (Dallas, Texas) recorded two shutouts last weekend in a series sweep over Alabama Huntsville, just the second time in program history that UConn recorded back-to-back shutouts. The previous instance came Jan. 10 and Jan. 15, 2016 when Nichols blanked Arizona State and Maine in consecutive outings.
- Sophomore forward Tage Thompson (Orange, Conn.), a 2016 first-round NHL draft pick to St. Louis, recorded three goals and two assists in last weekend's series against the Chargers.

New Hampshire vs. No. 15 St. Lawrence/Clarkson - Fri. 10/14 at SLU; Sat. 10/15 at CU
- UNH holds a 31-17-1 record in the 49-game series with St. Lawrence, while the Wildcats boast a 23-22-2 record over Clarkson in 46 prior meetings.
- Both the Saints and the Golden Knights traveled to Durham last season and downed the Wildcats. Clarkson escaped with a 3-2 overtime victory Oct. 16, while St. Lawrence came out with a 4-3 win the following night.
- Senior forward Tyler Kelleher (Longmeadow, Mass.) is tied for first in the country in career assists (71) among active players and third in the nation in total points (104). Last season, Kelleher produced the most assists in Hockey East with 36, good for third in the nation.

Maine vs. No. 3 Quinnipiac - Fri. 10/14, Sat. 10/15 at ME
- Maine and Quinnipiac have met six times previously, as the series is currently deadlocked, 3-3-0.
- In October of last season, the Bobcats defeated the Black Bears, 4-0, before the two teams battled to a 3-3 tie in Orono on Jan. 19, 2016.
- Maine will hope to see continued production from its underclassmen, as the Black Bears' freshman class scored seven of Maine's nine goals in last weekend's series-sweep of RPI.
- Freshman forward Mitch Fossier (Alpharetta, Ga.) had four goals in the weekend series, and leads the nation in goals-scored by a freshman.

Merrimack vs. Clarkson/No. 15 St. Lawrence - Fri. 10/14 at CU; Sat. 10/15 at SLU
- In 11 previous meetings, the Warriors are winners of four-straight over Clarkson and hold an overall series lead of 6-5-0.
- Merrimack and St. Lawrence have met 17 times to date. Overall, the Saints pace the series, 14-2-1.
- Merrimack hosted the ECAC rivals last season, downing the Golden Knights and the Saints, 7-1, and 3-1 respectively to begin their season.
- Junior Aaron Titcomb (Charlestown, Mass.) had a career-high three points against Clarkson last season, all coming on assists. The defenseman also helped to set up Merrimack's lone goal in last week's contest against Sacred Heart.