Weekly Release: UConn Opens Regular Season With Two Shutouts
Maine Wins Two Over RPI; Notre Dame Sweeps Arizona State Behind Bjork's Seven Points
Warrior Hockey Player of the Week Anders Bjork of Notre Dame
AROUND HOCKEY EAST: UConn opened the season with a home series against Alabama Huntsville. The Huskies blanked the Chargers, 6-0 and 4-0 to sweep the series. Senior goalie Rob Nichols (Dallas, Texas) recorded both shutouts, saving a total of 44 shots on goal. Sophomore Tage Thompson (Orange, Conn.) and senior Evan Richardson (Nanaimo, B.C.) each scored three goals in the series ... Maine began its season with a series sweep against RPI. Freshman Mitchell Fossier (Alpharetta, Ga.) recorded a hat trick in game one, and finished the series with four goals ... No. 3 Boston University finished its preseason on a high note, beating the USNTDP, 8-2. Sophomore Bobo Carpenter (North Reading, Mass.) tallied five points on two goals and three assists. Freshman Patrick Harper (New Canaan, Conn.) recorded another hat trick, and finished exhibition play with eight goals. The Terriers then traveled to Hamilton, N.Y. and defeated Colgate in their season opener, 6-1. Harper again led the Terriers with two goals, and 13 Terriers score sheet ... No. 9 Boston College began its season at the annual Ice Breaker Tournament in Denver, Colo. The Eagles opened with a 2-1 loss to Air Force, with senior Austin Cangelosi (Estero, Fla.) netting the lone goal. In the consolation game, the Eagles defeated No. 4 Denver, 3-1. Cangelosi again lead the Eagles in scoring with two tallies while freshman David Cotton (Parker, Texas) recorded the game-winning goal ... UMass opened up with a series split against Colorado College at home. The Minutemen won the opening game, 3-0, behind the effort of freshman goaltender Ryan Wischow (Green Bay, Wis.) who recorded his first career shutout, stopping 31 shots Friday ... No. 7 UMass Lowell finished the weekend with two draws against No. 5 Minnesota Duluth. Senior forward Joe Gambardella (Staten Island, N.Y.) led the River Hawks with two goals and an assist. In game two, freshman goalie Tyler Wall (Leamington, Ont.) led the defensive effort, stopping 40 of 41 shots in a 1-1 tie ... Merrimack dropped its season opener against Sacred Heart Sunday, 2-1. Junior defenseman Jared Kolquist (Hermantown, Minn.) scored the Warriors' lone goal late in the third period ... New Hampshire dropped its opening game, 5-1, against Bentley. Sophomore forward Ara Nazarian (Boxford, Mass.) scored the lone goal for the Wildcats ... No. 8 Notre Dame swept its opening weekend series against Arizona State, 9-2 and 4-2. The Fighting Irish were led by junior forward Anders Bjork (Mequon, Wis.) who totaled seven points in the series (4g, 3a) and recorded both game-winning goals ... No. 14 Northeastern traveled to No. 2 Quinnipiac this weekend for a two-game series. Junior forward Nolan Stevens (Sea Isle City, N.J.) scored a game-tying goal in the final minute of play to allow the Huskies to skate to a 2-2 tie in the opening game on Friday night ... No. 10 Providence split its opening series against Miami. The Friars opened the series with a 4-3 win on Friday night; Junior forward Brian Pinho (North Andover, Mass.) recorded a shorthanded goal and the game-winning goal for the Frairs. In Saturday's game, sophomore forward Bryan Lemos (East Providence, R.I.) scored the lone Friars goal in a 2-1 loss ... Vermont split a weekend home-and-home series with Clarkson. The Catamounts won the opening game, 5-2, with junior forward Travis Blanleil (Kelowna, B.C.) leading the way with a goal and an assist. The Catamounts fell the second game, 3-2.
---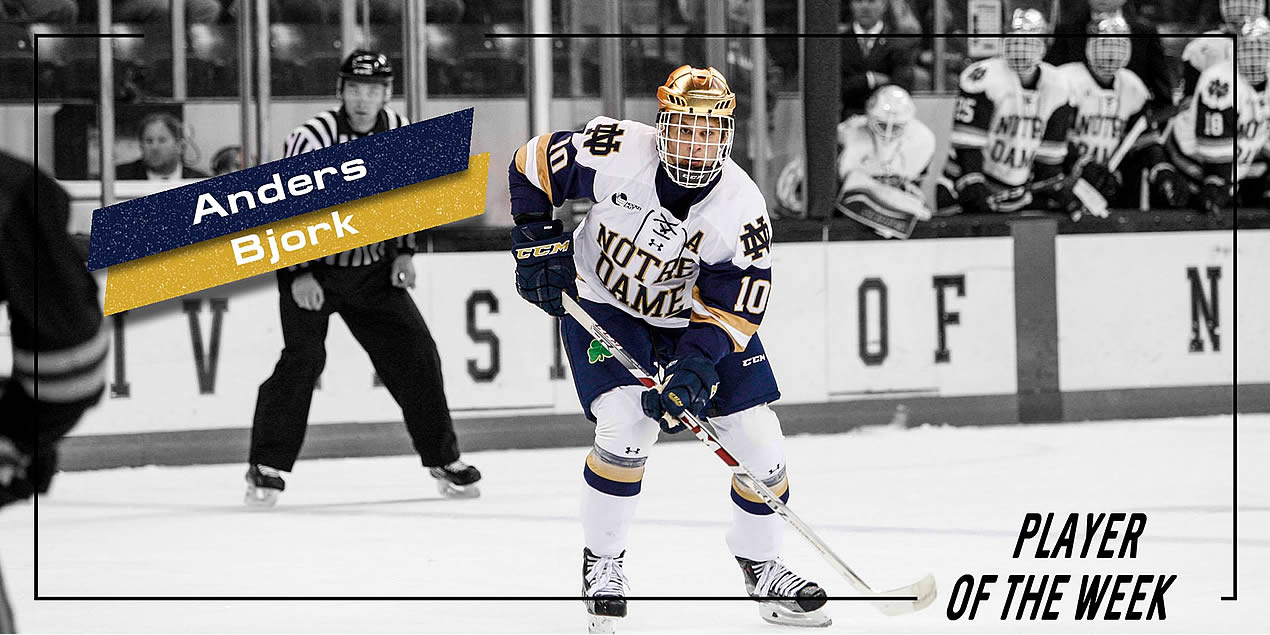 ANDERS BJORK - NOTRE DAME

Anders Bjork (Mequon, Wis.) began his junior season with an explosive seven-point opening weekend. In the two-game series against ASU, Bjork found the back of the net four times, recorded both game-winning goals, and chipped in three assists to help the Irish to a pair of wins.
---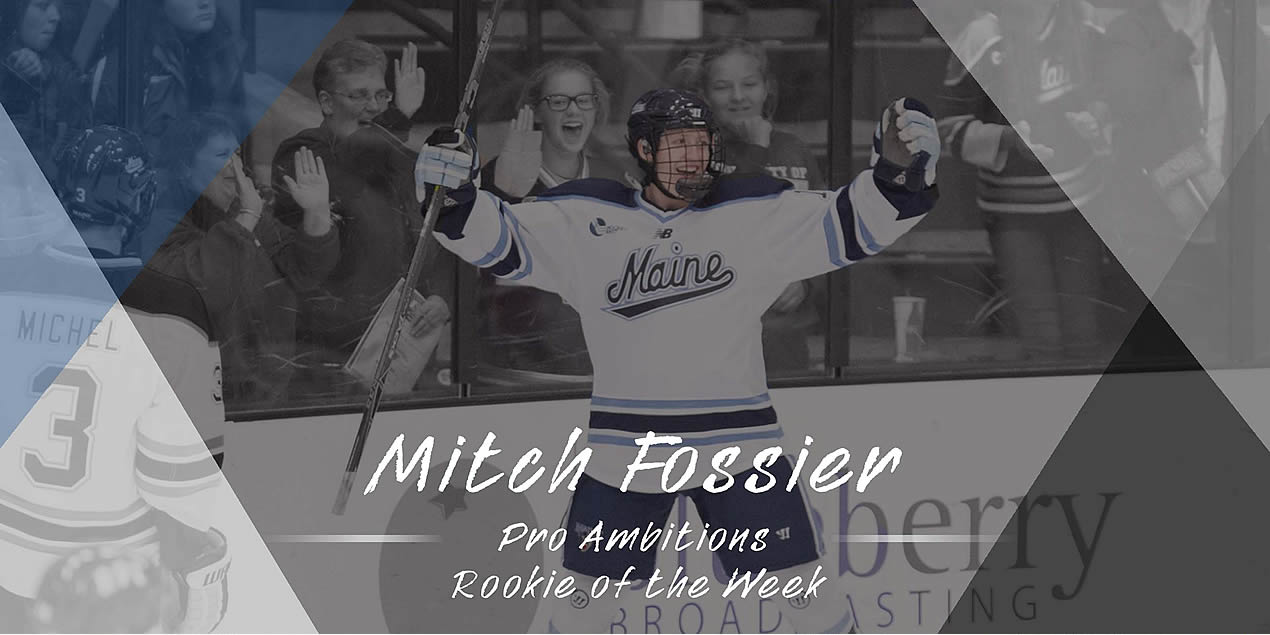 MITCH FOSSIER - MAINE

Mitch Fossier (Alpharetta, Ga.) began his Black Bear career by netting a hat trick in a 5-1 win over RPI and followed that performance by scoring the game-winning marker in a 4-2 Maine victory the next night.
---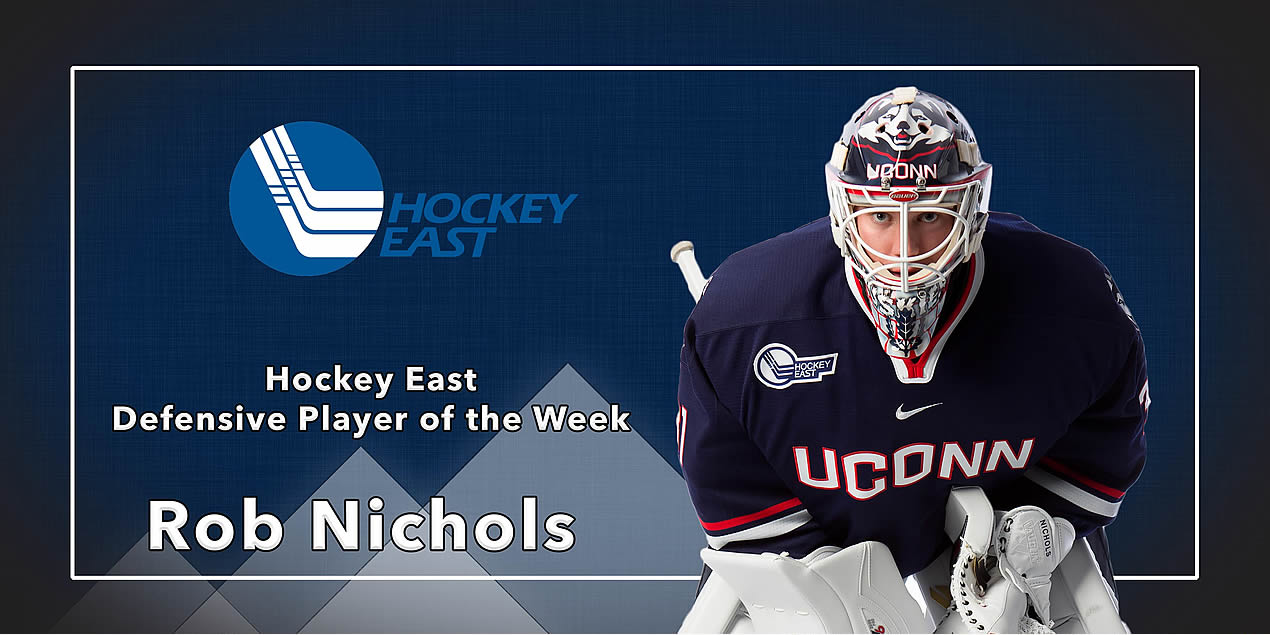 ROB NICHOLS - UCONN

Rob Nichols (Dallas, Texas) kicked out back-to-back shutouts for the second time in his career and just the second time in UConn program history with consecutive blankings of Alabama Huntsville. The senior netminder stopped 44 shots in the two wins, his ninth and 10th career shutouts.
---
HOCKEY EAST WEEKLY TOP PERFORMERS
Austin Cangelosi, BC (Sr., F; Estero, Fla.) Cangelosi scored three goals in two games and was named to the Ice Breaker All-Tournament Team for his three-goal showing.
Joe Woll, BC (Fr., G; Dardenne Prairie, Mo.) Stopped 64 of 67 shots in the Ice Breaker Tournament, going 1-1-0 with .955/1.51 numbers.
Patrick Harper, BU (Fr., F; New Canaan, Conn.) Continued hot start with a hat tick in the Terriers' final exhibition game against the NTDP U18 team on Thursday. In Saturday's regular season opener at Colgate, Harper also tallied two goals in 6-1 win at Colgate.
Clayton Keller, BU (Fr., F; Swansea, Ill.) Netted a goal and and added an assist in his Terrier debut, helping BU to a 6-1 win at Colgate.
Jake Oettinger, BU (Fr; G; Lakeville, Minn.) Stopped 29 of 30 shots at Colgate in his first NCAA game, a 6-1 victory.
Rob McGovern, Maine (So., G; Weymouth, Mass,) Led Maine to a sweep of RPI. In two games, McGovern combined for 68 saves on 71 shots, a .958 save percentage and a 1.50 GAA.
Tage Thompson, UConn (So., F; Orange, Conn.) Finished a two-game set with three goals and two assists, including a career-high four-point night Friday on two goals and two assists.
Wyatt Newpower, UConn (Fr., D; Hugo, Minn.) Scored his first career goal, a game-winning strike, in Friday's 6-0 win over Alabama-Huntsville.
Ryan Wischow, UMass (Fr., G; Green Bay, Wis.) Became the first goaltender in UMass' history to post a shutout in his collegiate debut, making 31 saves in a a 3-0 victory over Colorado College.
Joe Gambardella, UML (Sr., F; Staten Island, N.Y.) Gambardella had three points (two goals, one assist),in Friday night's game against No. 5 UMD.
Tyler Wall, UML (Fr., G; Leamington, Ont.) Wall stopped 40 of 41 shots (.976 save%) in his first collegiate start vs. No. 5 ranked UMD on Saturday night. The game resulted in a 1-1 tie.
Bobby Nardella, ND (So., D; Rosemont, Illinois) Narrdella finished the weekend series against Arizona State with two goals and two assists, including a career-high two goals in Friday night's win.
Dylan Sikura, NU (Jr., F; Aurora, Ont.) Recorded a team-high three points in two games against Quinnipiac, assisting on three of NU's four goals.
Josh Wilkins, PC (Fr., F; Raleigh, N.C.) Picked up three helpers in the Friars' 4-3 win over Miami Friday and finished with a plus-two rating.
Brady Shaw, UVM (Sr., F; Ottawa, Ont.) Scored a goal and added an assist on a team-high eight shots on net in a two-game set with Clarkson.
Ross Colton, UVM (Fr., F; Robbinsville, N.J.) Potted his first career goal Saturday, firing off six shots on net.
Mike Santaguida, UVM (Sr., G; Mississauga, Ont.) Stopped 62 of 67 shots he saw in a two-game set with Clarkson.