Record Number of Hockey East Players Taken in NHL Draft
Total of 24 Current or Future Players Selected in 2016 Entry Draft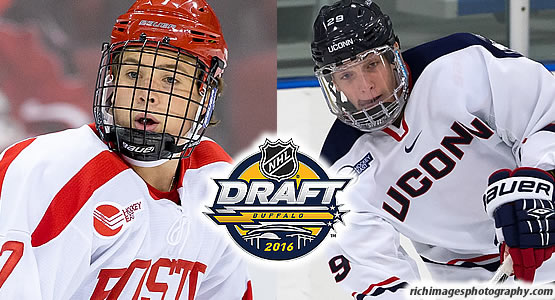 Charlie McAvoy and Tage Thompson were both selected in the first round
WAKEFIELD, MASS. - A record 24 current or future Hockey East players were selected in the 2016 National Hockey League Entry Draft in Buffalo, New York. A full list can be found below.
Eight of the 12 Hockey East institutions were represented, including Boston College (3), Boston University (6), Connecticut (2), Northeastern (3), Notre Dame (3), Providence (4), UMass Lowell (2), and Vermont (1). The Terriers led all schools with their six picks, including four in the first round, which also tied a record for first-rounders by one team (Minnesota, 2006).
In total, the 24 players represent 39% of the 61 current or future NCAA players selected at the draft.
The Hockey East Association is a 12-team Division-I college men's hockey conference founded in 1984 and also sponsors a nine-team Division-I women's league which began play in 2002-03.
| | | | | | |
| --- | --- | --- | --- | --- | --- |
| Rd. | Pick | Team | Player | 2015-16 Team | NCAA Team |
| 3 | 86 | BUF | Casey Fitzgerald | Boston College | Boston College |
| 5 | 149 | EDM | Graham McPhee | US NTDP (USHL) | Boston College |
| 3 | 62 | TOR | Joseph Woll | US NTDP (USHL) | Boston College |
| 1 | 19 | NYI | Kieffer Bellows | US NTDP (USHL) | Boston University |
| 1 | 7 | ARI | Clayton Keller | US NTDP (USHL) | Boston University |
| 5 | 138 | NSH | Patrick Harper | Avon Old Farms | Boston University |
| 1 | 14 | BOS | Charlie McAvoy | Boston University | Boston University |
| 1 | 17 | NSH | Dante Fabbro | Penticton (BCHL) | Boston University |
| 2 | 45 | CHI | Chad Krys | US NTDP (USHL) | Boston University |
| 6 | 181 | PIT | Joseph Masonius | Connecticut | Connecticut |
| 1 | 26 | STL | Tage Thompson | Connecticut | Connecticut |
| 5 | 125 | STL | Nolan Stevens | Northeastern | Northeastern |
| 3 | 67 | CAR | Matt Filipe | Cedar Rapids (USHL) | Northeastern |
| 7 | 192 | NJ | Jeremy Davies | Bloomington (USHL) | Northeastern |
| 2 | 34 | CBJ | Andrew Peeke | Green Bay (USHL) | Notre Dame |
| 6 | 161 | COL | Nathan Clurman | Culver Military Academy | Notre Dame |
| 2 | 40 | COL | Cam Morrison | Youngstown (USHL) | Notre Dame |
| 4 | 106 | MIN | Brandon Duhaime | Tri-City (USHL) | Providence |
| 7 | 203 | CHI | Jake Ryczek | Waterloo (USHL) | Providence |
| 2 | 61 | PIT | Kasper Bjorkqvist | Blues Jr. (Finland) | Providence |
| 7 | 183 | EDM | Vincent Desharnais | Providence | Providence |
| 6 | 174 | NYR | Tyler Wall | Leamington (GOJHL) | UMass Lowell |
| 7 | 208 | TB | Ryan Lohin | Waterloo (USHL) | UMass Lowell |
| 4 | 118 | TB | Ross Colton | Cedar Rapids (USHL) | Vermont |