Jerry York Named Recipient Of USA Hockey's Distinguished Achievement Award
Boston College head coach be honored at ceremony in Colorado Springs, Colorado on June 10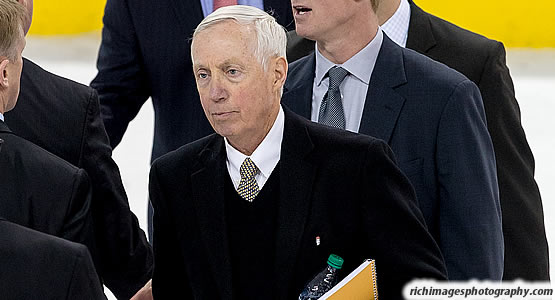 Boston College head coach be honored at ceremony in Colorado Springs, Colorado on June 10
Boston College men's head coach Jerry York has been named the recipient of USA Hockey's Distinguished Achievement Award, it was announced today by the national governing body. York will be honored at a ceremony in Colorado Springs, Colorado on June 10 during the annual President's Awards Dinner.
The Distinguished Achievement Award is presented to a U.S. citizen who has made hockey his or her profession and has made outstanding contributions on or off the ice to the sport in the United States.
Jerry York first arrived at Boston College as a player in 1963 and enjoyed a decorated
collegiate career that was highlighted with personal awards and team success. His leadership was evident almost immediately and he became captain his senior year.
Following his time as a player, York emerged into the coaching ranks as an assistant coach at Clarkson University for two years. It was there in 1972, at just 26 years old, that he was named head coach and began an illustrious career that has spanned 44 years. He spent his first seven years helping enhance the program at Clarkson before taking the next step in his career in 1979, joining Bowling Green State University as head coach where he spent 15 years guiding the team to new heights, including an NCAA Championship in 1984.
York moved on to Boston College in 1994 and began his current tenure with his alma mater. Throughout his time at the helm of the Eagles, he has become the winningest coach in college hockey history. This past season, he became the first coach to reach and surpass 1,000 coaching victories. York has had significant success at each stop in his career and is one of only three coaches in NCAA history to lead two different schools to national titles, winning the pinnacle of college hockey five times in all.
His effort behind the bench has earned countless honors including the 1977 Spencer Penrose Award, presented annually to the NCAA Coach of the Year, as well as the New England Coach of the Year twice, Hockey East Coach of the Year on three occasions, and CCHA Coach of the Year in 1981-82. He also received the Lester Patrick Trophy in 2010, presented for outstanding service to hockey in the United States, and was inducted into the Bowling Green State University Athletic Hall of Fame in 2013. In addition, his Boston College jersey was retired on April 12, 2010.