Seven Hockey East Players Named CCM Hockey Division I All-Americans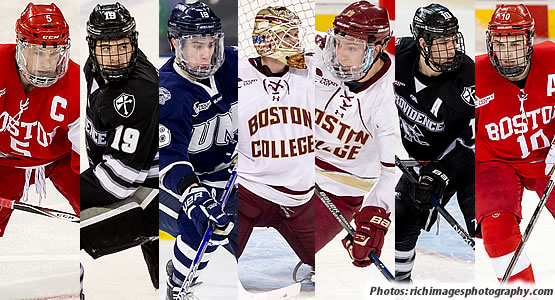 Seven Hockey East Players Named CCM Hockey Division I All-Americans
TAMPA, FL — Thirteen different Division I hockey-playing schools can celebrate players honored as CCM Hockey All-Americans for the 2015-16 season. The nation's top 24 college hockey players were announced tonight at the NCAA Men's Division I Frozen Four in Tampa, Florida. Michigan and North Dakota each claimed four honorees while Boston College, Boston University, Providence, St. Cloud State and Yale each had two selections.
Noteworthy this year:
- Six players had been recognized previously, all a year ago in the East.
- There are 19 players from nine different U.S. states and five Canadian players hailing from two different provinces.
- The sources of the most players: four each from Massachusetts, Michigan and Minnesota.
- Eight of the honorees are seniors. Of the other 16, 10 are juniors, four are sophomores and two are freshmen.
- The conference breakdown: seven each from Hockey East and the NCHC, five from ECAC Hockey, four from the Big Ten and one from the WCHA.
- 21 players participated in the NCAA Tournament. Eight of them advanced to the NCAA Frozen Four in Tampa.
The CCM HOCKEY ALL-AMERICAN ICE HOCKEY TEAMS are sponsored by CCM HOCKEY and chosen by members of the AMERICAN HOCKEY COACHES ASSOCIATION. CCM is the legendary hockey brand dedicated to the endless pursuit of performance by delivering game-changing, head-to-toe innovative hockey equipment to players worldwide.
First Team East
Alex Lyon, JR, Yale University*
(Baudette, MN)

Goalie

Matt Grzelcyk, SR, Boston University*
(Charlestown, MA)

Defense

Jake Walman, SO, Providence College*
(Toronto, ON)

Defense

Sam Anas, JR, Quinnipiac University@
(Potomac, MD)

Forward

Andrew Poturalski, SO, New Hampshire
(Williamsville, NY)

Forward

Jimmy Vesey, SR, Harvard University*
(North Reading, MA)

Forward


Second Team East
Thatcher Demko, JR, Boston College
(San Diego, CA)

Goalie

Gavin Bayreuther, JR, St. Lawrence University
(Canaan, NH)

Defense

Rob O'Gara, SR, Yale University*
(Nesconset, NY)

Defense

Ryan Fitzgerald, JR, Boston College
(North Reading, MA)


Forward

Mark Jankowski, SR, Providence College
(Dundas, ON)


Forward

Danny O'Regan, SR, Boston University
(Needham, MA)

Forward


First Team West
Charlie Lindgren, JR, St. Cloud State University
(Lakeville, MN)

Goalie

Ethan Prow, SR, St. Cloud State University
(Sauk Rapids, MN)

Defense

Zach Werenski, SO, University of Michigan
(Grosse Pointe, MI)

Defense

Brock Boeser, FR, University of North Dakota
(Burnsville, MN)

Forward

Kyle Connor, FR, University of Michigan
(Shelby Township, MI)

Forward

Tyler Motte, JR, University of Michigan
(St. Clair, MI)

Forward


Second Team West
Cam Johnson, SO, University of North Dakota
(Troy, MI)

Goalie

Will Butcher, JR, University of Denver
(Sun Prairie, WI)

Defense

Troy Stecher, JR, University of North Dakota
(Richmond, BC)

Defense

Drake Caggiula, SR, University of North Dakota
(Whitby, ON)

Forward

J.T. Compher, JR, University of Michigan
(Northbrook, IL)

Forward

Alex Petan, SR, Michigan Technological University
(Delta, BC)

Forward


* First Team in 2014-15 @ Second Team in 2014-15