Hockey East Weekend Preview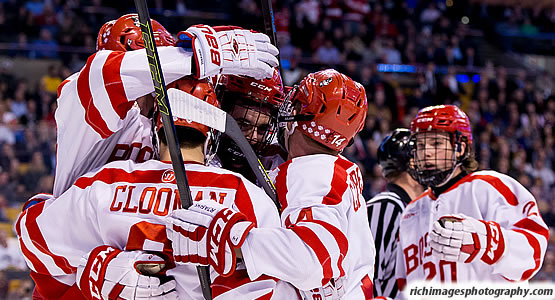 Boston University hosts Massachusetts in an opening round playoff series
No. 12 Massachusetts vs. No. 5 Boston University - Fri. 3/4, Sat. 3/5, Sun. 3/6 (if necessary)
- Massachusetts enters the opening round of the Hockey East Tournament as the 12 seed after falling twice to by Providence last weekend. The Minutemen fell on Friday night, 4-1, and 6-0 on Saturday night. However, the Minutemen went into last seasons opening round in a similar situation and force three games against a tough Notre Dame team, defeating the Irish in the first game but eventually falling in three.
- The Minutemen will look for production from team leading point-getter senior Shane Walsh (West Roxbury, Mass.) who has 17 goals, 11 assists, and 28 points on the year. Junior goaltender Nick Wakaluk (Bellevue, Alt.) was named third star of the game in Friday night's 4-1 setback after making 31 saves.
- Boston University welcomes UMass coming off a split in South Bend with Notre Dame. The Terriers defeated The Irish, 3-2 Friday night before falling, 1-0, on Saturday to slip to the No. 5 seed. Senior Sean Maguire (Powell River, B.C.) put aside 33 pucks in Friday night's victory to improve to 11-5-1 on the year. Senior Danny O'Regan (Needham, Mass.) tallied three assists in the game and now is third in Hockey East in points with a 10-18-28 stat line.
- Boston University swept the season series against UMass, 2-0-0. Their last meeting was a 6-3 Terrier victory on February 5th. Historically, BU is 6-0 all-time in the Hockey East playoffs against the Minutemen, with all six wins coming in the quarterfinal round of play. The two programs last met in the postseason in 2006.

No. 11 Maine vs. No. 6 Northeastern - Fri. 3/4, Sat. 3/5, Sun. 3/6 (if necessary)
- Maine and Northeastern will be back at it again this weekend after battling in a weekend series at Matthews Arena last weekend. The Huskies came away with two victories at home, defeating the Black Bears, 5-3, on Friday night, and following it up with a 7-1 victory on Saturday.
- The Huskies were led by strong offensive performances by Zach Aston-Reese (State Island, N.Y.) and Warrior Hockey East Player of the Month Nolan Stevens (Sea Isle City, N.J.). Aston-Reese tallied two goals and four assists for a six-point weekend while Stevens racked up a goal and four assists. Stevens now has points in seven straight tilts.
- Northeastern enters the postseason with the top power-play unit in Hockey East, operating at a 25.3 clip. Maine ranks eighth in Hockey East at 15.3% with the man advantage. Maine has the fifth best penalty-kill in Hockey East at 82.5%, while Northeastern ranks eighth in the league at 78.3%.
- The Black Bears turn to their upperclassmen to rebound from last weekend. Will Merchant (Eagan, Minn.), second on the team in point production with 13-18--21, registered two points last weekend in the sweep at Northeastern.
- After starting the year 2-12-3, Northeastern is 14-1-2 in its last 17 games and has won its last seven.
- This occasion marks the seventh all-time postseason meeting between the two squads, with Maine boasting a 6-1 record in the previous six series.

No. 10 New Hampshire vs. No. 7 Merrimack - Thurs. 3/3, Fri. 3/4, Sun. 3/6 (if necessary)
- New Hampshire heads into the best-of-three series with Merrimack after falling to UConn in back-to-back tilts last weekend. The Wildcats fell Friday night, 4-1, at the XL Center before dropping a 5-4 overtime decision. Michael McNicholas (Manhattan Beach, Calif.) tallied two points on a goal and an assist in the overtime loss on Saturday night.
- New Hampshire boasts top Hockey East point-getter Andrew Poturalski (Williamsville, N.Y.), who has racked up 12 goals and 19 assists for 31 points on the year. Poturalski tallied two points this past weekend.
- Merrimack entered last weekend on the outside of the top eight and needing four points for a chance to host the opening round. The Warriors did just that, defeating Vermont, 4-1, on Friday night and following up with a 2-0 victory on Saturday.
- Chris LeBlanc (Winthrop, Mass.) got the scoring started for Warriors on Friday night en-route to a 4-1 victory. LeBlanc's goal was his sixth on the year. Drew Vogler (Florissant, Mo.) posted a 26-save shutout in Saturday's 2-0 victory over Vermont to earn Hockey East Defensive Player of the Week honors.
- New Hampshire is 1-0-1 against Merrimack on the year; their last meeting was a 3-3 tie on November 14.
- The last time the two teams met, it was on TD Garden ice in the 2011 Hockey East semifinals, where Merrimack advanced to the championship game for the first and only time in program history.

No. 9 Vermont vs. No. 8 Connecticut - Fri. 3/4, Sat. 3/5, Sun. 3/6 (if necessary)
- Connecticut will host Vermont in the opening round of the Hockey East Tournament in the team's second year as a Hockey East member. UConn entered last weekend outside of the top eight spots to host the opening round on home ice, but a four-point weekend propelled the Huskies into the eighth seed.
- Shawn Pauly (Bellingham, Wash.) had a three-point night Friday, helping the Huskies to a 4-1 victory.
- Rookie defenseman Joseph Masonius (Spring Lake, N.J.) had a goal and four assists on the weekend.
- Sophomore Corey Ronan (Franklin, Mass.) netted the game-winner for the Huskies to lift them over New Hampshire in overtime on Saturday night.
- Vermont went into last weekend with a hold on the seventh slot but two dropped decisions last week saw the Catamounts slip into the ninth spot.
- Goaltender Mike Santaguida (Mississauga, Ont.) returned to the lineup for the Catamounts after being sidelined for much of the season due to injury. Santaguida made 23 saves on 25 shots in the defeat at Merrimack.
- Vermont swept the season series against UConn, defeating the Huskies, 4-2, January 22, and taking a 2-1 decision on November 13.
- The two teams match-up closely on paper. The Huskies rank ninth in Hockey East team-scoring with a 2.21 goals per game, while the Catamounts rank tenth with 2.18 goals per game. Vermont ranks seventh in Hockey East team scoring defense, allowing 3.00 goals per game, while the Huskies ranked eighth in Hockey East with 3.18 goals per game.