NBCSN to Televise Hockey East Championship Weekend
Hockey East Championship Game to Air Saturday, March 19 at 7 p.m. ET on NBCSN,
Coverage of Hockey East Semifinals Begins Friday, March 18 at 5 p.m. ET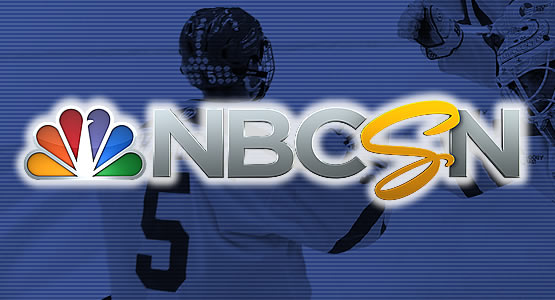 NBCSN to Televise Hockey East Championship Weekend
WAKEFIELD, Mass. – Hockey East and NBCSN announced today that NBCSN will present more than eight hours of live coverage of the Hockey East Men's Championship for the fourth consecutive year. Coverage of the Championship Game and Semifinal rounds will be televised on NBCSN and will also be streamed on NBC Sports Live Extra – NBC Sports Group's live streaming product for desktops, mobile devices, and tablets.
NBCSN and NBC Sports Live Extra's coverage of the Hockey East Men's Championship begins Friday , March 18 at 5 p.m. ET with Game 1 of the Semifinals, from TD Garden in Boston, Mass. Coverage continues that evening at 8 p.m. ET with Game 2 of the Semifinals. Winners of the two semifinal games will then move on to the 32nd annual Hockey East Championship Game, Saturday, March 18 at at 7 p.m. ET on NBCSN.
Steve Schlanger will manage play-by-play duties for all Hockey East Championship games on NBCSN and NBC Sports Live Extra, and will be joined by analyst Anson Carter.
NBCSN and NBC Sports Live Extra combined to deliver 16 Hockey East games during the 2015-16 re gular season, with 10 games being televised on NBCSN and an additional six games streamed live via NBC Sports Live Extra. Across New England, the New England Sports Network will produce and air the Hockey East championship weekend from TD Garden once again. The first semifinal will game will be shown on NESN in its entirety beginning at 5 p.m., while the second semifinal begins at 8 p.m. on NESN and NESNplus before moving exclusively to NESNplus at 9 p.m. when NESN begins coverage of the Boston Bruins. The title game is set to be played at 7 p.m. Saturday night and shown on NESN. Alex Faust and Billy Jaffe will handle the call for NESN during the entire tournament championship.
Tickets for the 2016 Hockey East Championship Tournament at the TD Garden on are sale now at the TD Garden Box Office. Tickets can also be purchased online at www.ticketmaster.com or by calling Ticketmaster at (800) 745- 3000.
NBC SPORTS LIVE EXTRA ONLINE & APP
For desktops, NBC Sports Live Extra can be accessed at NBCSports.com/liveextra. The NBC Sports Live Extra app for mobile devices and tablets is available at the App Store for iPhone, iPad and iPod touch, and on select Android handset and tablet devices within Google Play.
ABOUT HOCKEY EAST
The Hockey East Association is a 12-team Division I college men 's hockey conference founded in 1984 and a nineteam Division I women's league which began play in 2002-03. The men's league has won nine NCAA champion - ships in the past 22 years, including in 2015 when Providence College captured the title at TD Garden in Boston. Since 1999, Hockey East has won seven NCAA Championships with 15 NCAA Championship Game appearances, while placing 23 teams in the Frozen Four and 55 teams in the NCAA Tournament during that time.