Hockey East Weekend Preview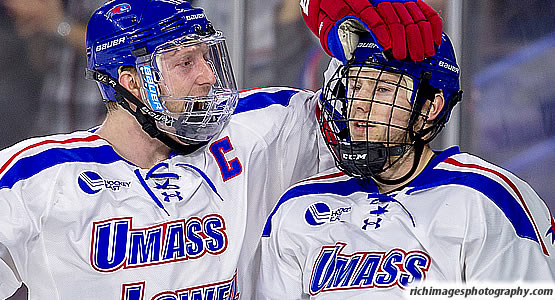 UMass Lowell hosts Boston University in quarterfinal play. Friday's game will be televised by ASN and NESN
No. 9 Vermont vs. No. 1 Boston College - Fri. 3/11, Sat. 3/12, Sun. 3/13 (if necessary) at BC
- Vermont advanced to the quarterfinals for the second straight season after sweeping UConn at the XL Center last weekend. The Catamounts defeated UConn, 2-1, Friday night and followed that up with a 4-3 victory on Saturday night.
- The Catamounts got a full team effort this weekend as six different Catamounts netted a goal in the sweep. Mike Santaguida (Mississauga, Ont.) recorded the victory both nights, making 32 stops Friday night and turning out a 24-save effort Saturday.
- Boston College enjoyed a bye last weekend due to their top seeding in the tournament an co-regular season champion title. The Eagles carry an 11-1-4 record since the calendar turned to 2016. The only Boston College loss in the new year was a 3-1 loss at UMass Lowell in the final regular season contest.
- Boston College was prolific on offense and had one of the most stingy defenses during the regular season, ranking at or near the top in the league in team scoring offense (1st: 4.14 g/gm), team defense scoring (4th: 2.05 g/gm), and penalty kill percentage 2nd: 88%).
- Last year, the Eagles and Cats also met in the quarterfinals in Chestnut Hill. That series was the first time Vermont defeated Boston College in the postseason, improvi ng its all-time Hockey East Tournament record against the Eagles to 7-2-0 and advancing to the se mifinals. In the regular season, the Eagles traveled to Burlington, Vermont for a pair of games Feb. 19-20 and took two victories away from Gutterson Fieldhouse.

No. 7 Merrimack vs. No. 2 Providence- Fri. 3/11, Sat. 3/12, Sun. 3/13 (if necessary) at PC
- Merrimack overcame a one-game series deficit to defeat New Hampshire in the opening round last weekend. Merrimack was defeated Thursday night, 3-1, but was able to rebound and defeat New Hampshire Friday night in overtime, 3-2, and then, 2-1, on Sunday night.
- Freshman Derek Petti (Tewksbury, Mass.) scored a goal in each game for the Warriors. The combination of Petti and junior Chris Leblanc (Winthrop, Mass.) proved pivotal for the Warriors' series victory. Leblanc had two assists, including a helper to set up the game-winning goal to Ludvig Larsson (Malmo, Sweden) in Friday night's overtime win. The Warriors offense was in attack-mode all series, producing 46 shots Friday, 50 on Saturday, and 42 on Sunday. Merrimack ranked fourth in the regular season with 1,142 shots on goal.
- Providence finished the year on an eight-game winning streak, all in Hockey East play.
- Senior Mark Jankowski (Dundas, Ont.) ranks fifth in Hockey East points with a 11-15--26 stat line. Jankowski is currently on an seven-game point streak with 3-8--11 during that stretch.
- Providence took each of the two regular-season contests from Merrimack, Dec. 4-5, en route to earning a share of the Hockey East regular season title for the first ti me in school history.

No. 6 Northeastern vs. No. 3 Notre Dame - Fri. 3/11, Sat. 3/12, Sun. 3/13 (if necessary) at ND
- Northeastern swept an opening round series with Maine last weekend defeating the Black Bears twice in overtime, taking a 3-2 decision Friday night, and a 4-3 victory on Saturday.
- Northeastern enters the weekend riding a nine-game winning streak. The Huskies opened the season 2-12-3, but have gone 16-1-2 in their last 19 games since returning from the Friendship Four in Belfast, Northern Ireland.
- Warrior Hockey East Player of the Week Kevin Roy (Lac-Beauport, Qué.) led the Northeastern offensive charge, tallying three goals and an assist for four points on the weekend. His total included the game-winning goal in overtime Saturday night. Roy now has points in three straight games (4-2--6)
- Northeastern's Nolan Stevens (Sea Isle City, N.J.) is currently on a nine-game point streak with 7-10--17 through that stretch.
- Northeastern owns Hockey East's best power play with a 25.3% mark in Hockey East play (24 of 95) and are tied for second in Hockey East scoring offense (3.41 GPG). The Huskies are challenged by the strong penalty kill unit of Notre Dame, which is also the best in Hockey East (88.8%).
- Notre Dame finished the season third in Hockey East and earned an opening round bye. The Irish finished the season hosting Boston University, dropping the first game, 3-2, but earning a 1-0 victory behind a 39-save shutout from Cal Petersen (Waterloo, Iowa).
- Petersen ranks second in Hockey East in goals against average (1.77) and third in save percentage (.937) and winning percentage (.727).
- Notre Dame sophomore Anders Bjork (Mequon, Wisc.) finished the year with the second highest plus-minus ranking in Hockey East (+18).
- Northeastern has played four straight overtime games in the postseason dating back to last year and nine straight one-goal games in the Hockey East Tournament. In the regular season, Notre Dame claimed a 1- 0-1 record over the Huskies at the Compton Family Ice Arena Nov . 12-13.

No. 5 Boston University vs. No. 4 UMass Lowell - Fri. 3/11, Sat. 3/12, Sun. 3/13 (if necessary) at UML
- Boston University swept Massachusetts last weekend at Agganis Arena in the opening round of the Hockey East playoffs. Bobo Carpenter (North Reading, Mass.) scored both goals of a 2-1 overtime win and Danny O'Regan (Needham, Mass.) turned in a four-point (2g, 2a) night Saturday to pace the Terriers in a 5-4 victory to sweep of the Minutemen.
- Jakob Forsbacka Karlsson (Stockholm, Sweden) also netted two goals in Saturday's 5-4 victory, including the game-winner.
- Special teams figure to play a role this weekend, as both teams rank near the top in the league in power play and penalty kill. Boston University owns the second best power-play unit in Hockey East (22.7%) while UMass Lowell owns the third-best penalty kill unit in Hockey East (84%).
- Boston University is ranked second in scoring offense (3.41 GPG) while UMass Lowell ranks first in scoring defense (1.68 GPG).
- UMass Lowell secured the fourth seed and earned a weekend bye last weekend. Last time out for the River Hawks was a 3-1 victory against Boston College in the final game of the regular season, Feb. 27.
- UMass Lowell goaltender Kevin Boyle (Manalapan, N.J.) ranks tops in Hockey East goals against average (1.62), save percentage (.941), and is fifth win percentage (5th: 63.6%).
- This series is a rematch of the 2015 Hockey East championship game, where the Terriers earned the eighth title in program history. BU is 9-2-0 all time against UMass Lowell, including a 2-1-0 record in the quarterfinals. During the 2015-16 regular season the two programs split a home-and-home series Feb. 12-13 while the two jockeyed for playoff position, and the final opening round bye, until the final weekend of the season. Friday night's contest, slated for 7:30 p.m., will be shown nationwide on American Sports Network and on NESN in New England.