Monday, February 29, 2016
Weekly Release: Hockey East Opening Round Set to Begin Thursday
Boston College, Providence Share Regular Season Crown; Notre Dame, UMass Lowell Secure Byes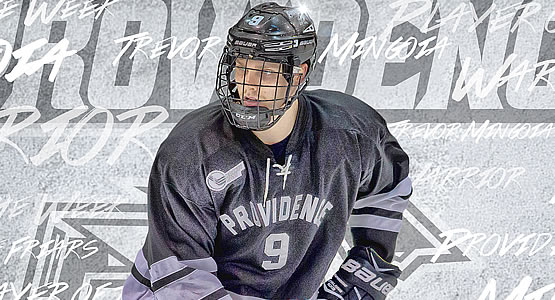 Warrior Hockey Player of the Week Trevor Mingoia of Providence College
AROUND HOCKEY EAST: The Hockey East Association announced the pairings for the opening round of the 32nd annual Hockey East Tournament Saturday night. Opening round games begin Thursday (March 3) for eight teams while No. 1 Boston College, No. 2 Providence, No. 3 Notre Dame and No. 4 UMass Lowell each earned byes into the quarterfinals ... No. 5 Boston University welcomes No. 12 Massachusetts to Agganis Arena after the Terriers swept the season series, 2-0-0. Historically, BU is 6-0 all-time in the Hockey East playoffs against the Minutemen, with all six wins coming in the quarterfinal round of play. The two programs last met in the postseason in 2006 ... No. 6 Northeastern locked up the sixth spot, drawing No. 11 Maine in playoffs for the first time since 2001 quarterfinals when the Black Bears knocked off the Huskies in two straight games. The programs finished the regular season with a two-game set at Northeastern Feb. 26-27, with the Huskies taking each of those tilts. After starting the year 2-12-3, Northeastern is 14-1-2 in its last 17 games and has won its last seven. This occasion marks the seventh all-time postseason meeting between the two squads, with Maine boasting a 6-1 record in the previous six series ... No. 7 Merrimack plays host to No. 10 New Hampshire after the teams shuffled spots over the last weekend of play. New Hampshire emerged victorious over the Warriors in the regular season, taking a 1-0-1 record. The Wildcats command an 8-1 record all-time in the postseason against Merrimack. The last time the two teams met, it was on TD Garden ice in the 2011 Hockey East semifinals, where Merrimack advanced to the championship game for the first and only time in program history ... No. 8 UConn earned the right to host a Hockey East playoff series in just the second season of play in the league and will face off with No. 9 Vermont. In the first appearance in the Hockey East playoffs in 2015, UConn fell twice in the opening round to New Hampshire. Vermont has advanced out of the opening round each of the two times it has drawn into the first weekend of postseason play. Last season, the Catamounts topped Maine in three games before toppling then-No. 3 Boston College in a threegame set to advance to the semifinals at TD Garden. ... The Hockey East Tournament will culminate with the 32nd annual championship weekend to be held at TD Garden in Boston, Massachusetts, March 18 and 19. For tickets to the championship and complete playoff information, visit HockeyEastOnline.com/HEAChamps
---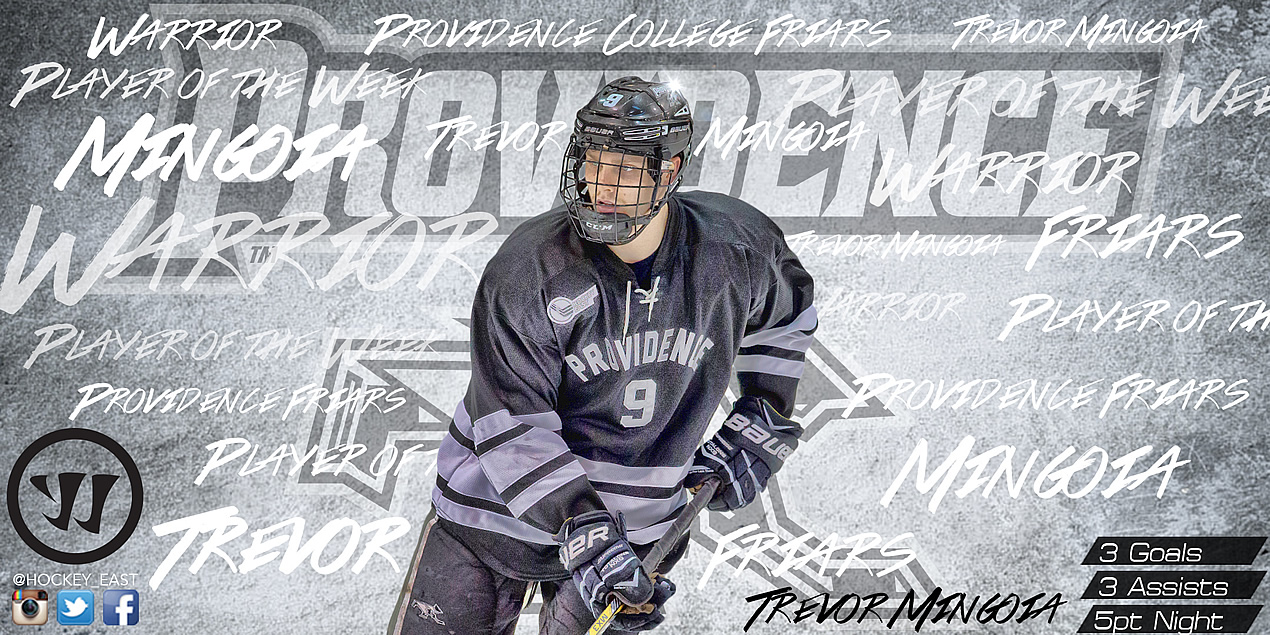 TREVOR MINGOIA - PROVIDENCE

Trevor Mingoia, PC (Sr., F; Fairport, N.Y.) racked up six points (3g, 3a) in two wins over Massachusetts last weekend, including a five-point outing Saturday. This offensive outburst helped lead Providence to a share of the Hockey East regular season title, the first-ever for the school.
---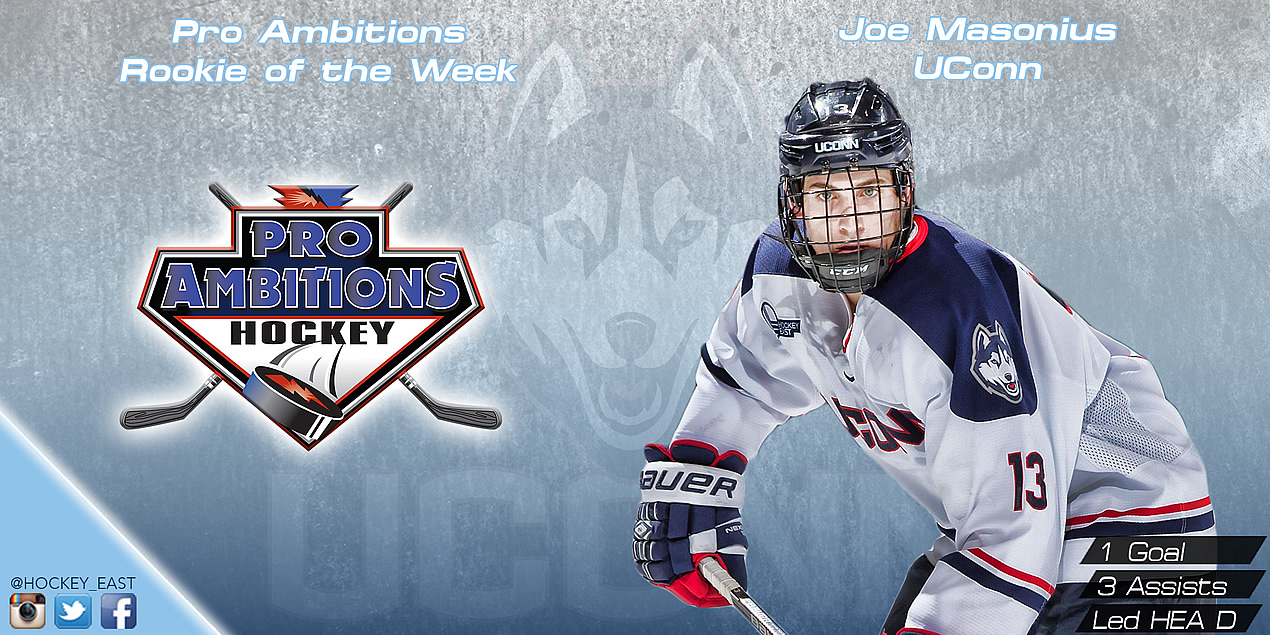 JOSEPH MASONIUS - UCONN

Joseph Masonius (Fr., D; Spring Lake, N.J.) led league defensemen with four points (1g, 3a) in two games over the weekend to ensure home ice for UConn in the Hockey East opening round. Masonius ranks fourth in team scoring with 20 points (6g, 14a). He is now tied for ninth among HEA defensemen in scoring and is 12th among league rookies.
---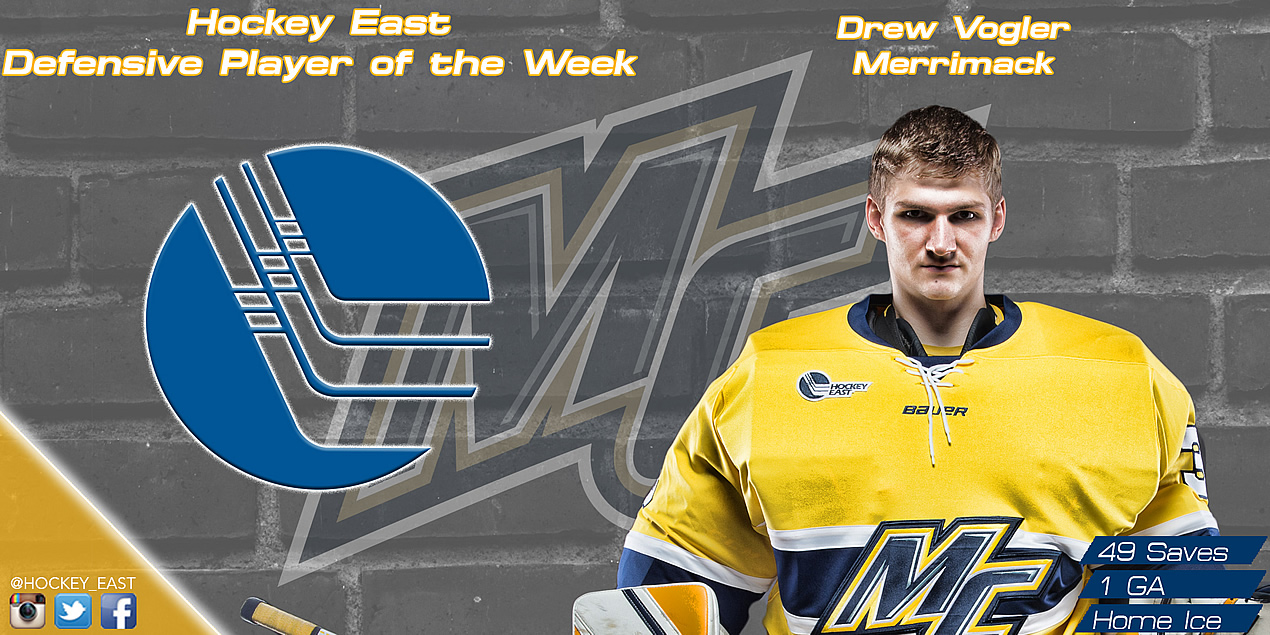 DREW VOGLER - MERRIMACK

Drew Vogler (Fr., G; Florissant, Mo.) backed Merrimack to a weekended sweep of Vermont to clinch the No. 7 seed and home ice in the Hockey East opening round. Vogler stopped 49 of 50 shots in two games on the weekend, posting 0.50/.980 numbers.
---
HOCKEY EAST WEEKLY TOP PERFORMERS
Ryan Fitzgerald, BC (Jr., F; N. Reading, Mass.) Potted two goals in a 3-1 win against UMass Lowell Friday night, his second straight two-goal outing.
Danny O'Regan, BU (Sr., F; Needham, Mass.) Assisted on two strikes, including the decisive goal in Friday's 3-2 win, to bring his career total to 148 points, the most by a Terrier since Chris Drury.
Charlie McAvoy, BU (Fr., D: Long Beach, N.Y.) Scored the game-winning tally in Friday's 3-2 win at Notre Dame.
Sean Maguire, BU (Sr., G; Powell River, B.C.) Stopped 60 of 63 shots by the Irish in a weekend split for 1.52/.952 numbers.
Corey Ronan, UConn (So., F; Franklin, Mass.) Returned after missing eight games to help UConn to a weekend sweep of UNH and home ice in the playoffs with two goals, including the overtime game-winner Saturday.
Tage Thompson, UConn (Fr., F; Orange, Conn.) Had three points (1g, 2a), pushing his point streak to five games and has a point in 18 of his last 24 contests.
John Edwardh, UML (So., F; Calgary, Alta.) Picked up two points (1g, 1a) in a 3-1 win against No. 2 BC Saturday.
Kevin Boyle, UML (Sr., G; Manalapan, N.J.) Carried a 1-1-0 record in two games against BC, stopping 39 of 42 shots to collect 1.51/.929 numbers.
Hampus Gustafsson, MC (Jr., F; Ljungby, Sweden) Posted three assists en route to an MC sweep to clinch the No. 7 seed.
Ben Bahe, MC (Sr., F; Stillwater, Minn.) Led MC with two goals in two games against Vermont.
Zach Aston-Reese, NU (Jr., F; Staten Island, N.Y.) Racked up five points (2g, 3a) in a two-game sweep of Maine.
Adam Gaudette, NU (Fr., F; Braintree, Mass.) Netted two goals and added two assists against the Black Bears, while blocking a team-high five shots.
Ryan Ruck, NU (Fr., F; Coto de Caza, Calif.) Went 2-0-0 with 2.16/.933 numbers, stopping a career high 34 shots Friday.
Nick Ellis, PC (Jr., G; Millersville, Md.) Picked up 0.68/.969 numbers in two wins over the Minutemen last weekend.
Jordan Gross, ND (So., D; Maple Grove, Minn.) Helped Notre Dame to a weekend split with BU and an opening round bye by dishing out three assists.
Dylan Malmquist, ND (Fr., F; Edina, Minn.) Picked up an assist and potted the game-winning goal on the power play to secure the No. 3 seed for Notre Dame.
Cal Petersen, ND (So., G; Waterloo, Iowa) Backboned the Irish to a split, including a 39-save shutout Saturday night.