Monday, February 15, 2016
Weekly Release: Playoff Picture Tight With Two Weekends Left in League Play
Five Teams in the Hunt for Opening Round Byes; Races for Home Ice Set to Heat Up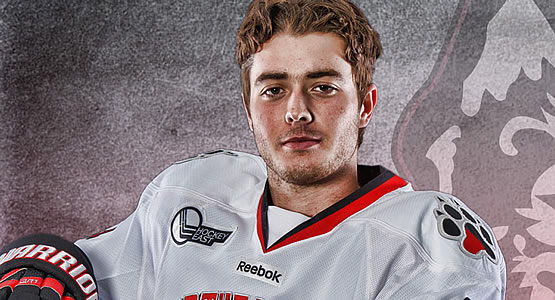 Warrior Hockey Player of the Week Nolan Stevens of Northeastern
AROUND HOCKEY EAST: With two weekends remaining in Hockey East regular season play, the playoff picture has begun to take shape. Five teams enter then penultimate week with hopes for an opening-round bye, with Notre Dame (first, 30 points), Boston College (second, 29 points), Providence (third, 27 points), UMass Lowell (fourth, 26 points), and Boston University (fifth, 23 points) all chasing one of the top four seeds. Three of the remaining two-game series on the league schedule will feature two of these teams in the top five slots. Similarly, seeds five through eight will be decided in the coming weeks, with seven teams battling to secure home-ice in the opening round. There remains a multitude of possible outcomes and tie-breakers, a preliminary list of which can be found in the following pages ... Boston College secured the 20th Beanpot title in school history Monday, downing Boston University, 1-0, in overtime off the stick of sophomore Alex Tuch (Baldwinsville, N.Y.) ... BU went on to split a crucial weekend series with UMass Lowell, winning 2-1 in overtime Friday night before dropping a 6-3 decision Saturday evening. The split kept the fourth and fifth place teams in a tight battle for an opening round bye ... Notre Dame moved into sole possession of first place in the league standings with a sweep over Maine. The Irish are 13-1-3 over the last 17 contests, dating back to Nov. 28. Notre Dame faces two series against Boston University and Providence which will largely shape the playoff picture ... Providence took four points from UConn in a home-and-home series, propelling the Friars into third-place in Hockey East standings. Rookie netminder Hayden Hawkey (Parker, Colo.) recorded his first collegiate shutout in just his second career start Friday night ... Northeastern continued its hot streak with a trio of wins, first over Harvard, 5-1, in the Beanpot and then with a sweep of UMass in a home-and-home. Sophomore Nolan Stevens (Sea Isle City, N.J.) racked up five points (3g, 2a) in the two wins over the Minutemen ... Vermont took three points from New Hampshire in a two-game set as the two teams jockey for position entering the postseason, now sitting in seventh and eighth with 15 and 13 points, respectively.
---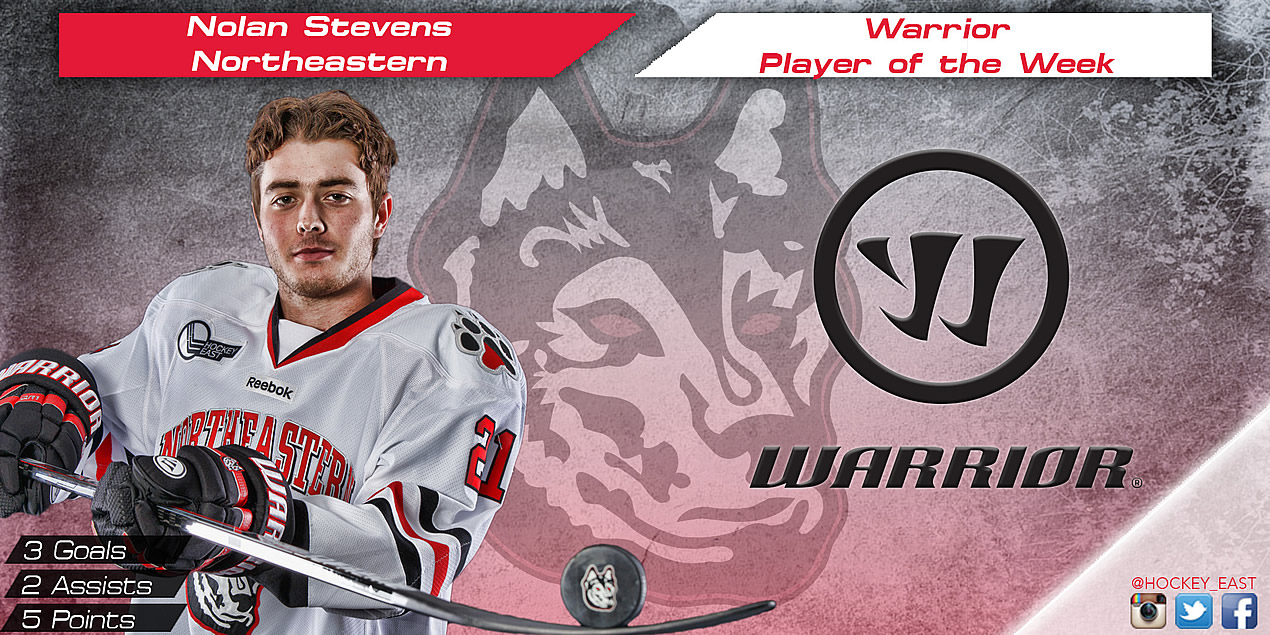 NOLAN STEVENS - NORTHEASTERN

Nolan Stevens, NU (So., F; Sea Isle City, N.J.) the second-year forward scored three goals and added two assists for the Huskies in a weekend sweep of Massachusetts, earning a crucial four points in Hockey East play for the Huskies.
---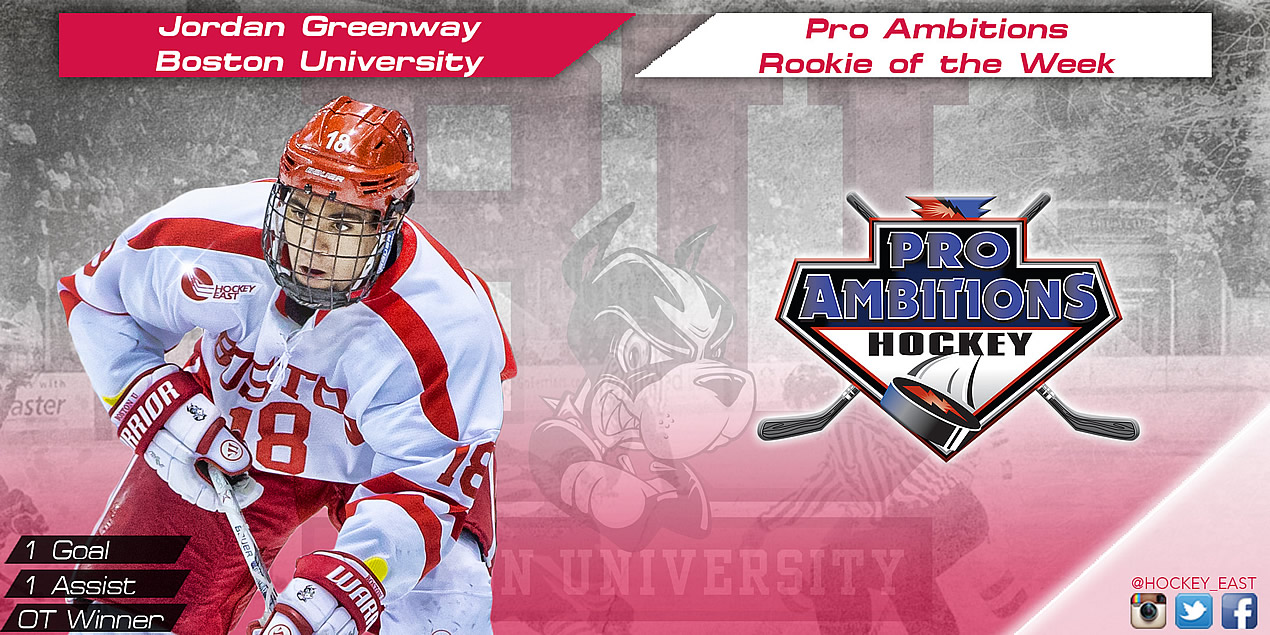 JORDAN GREENWAY - BOSTON UNIVERSITY

Jordan Greenway, BU (Fr., F; Canton, N.Y.) scored the overtime, game-winning goal Friday night against No. 11 UMass Lowell to keep the Terriers in the hunt for a playoff bye. Greenway added to his point total with an assist Saturday in a 6-3 setback.
---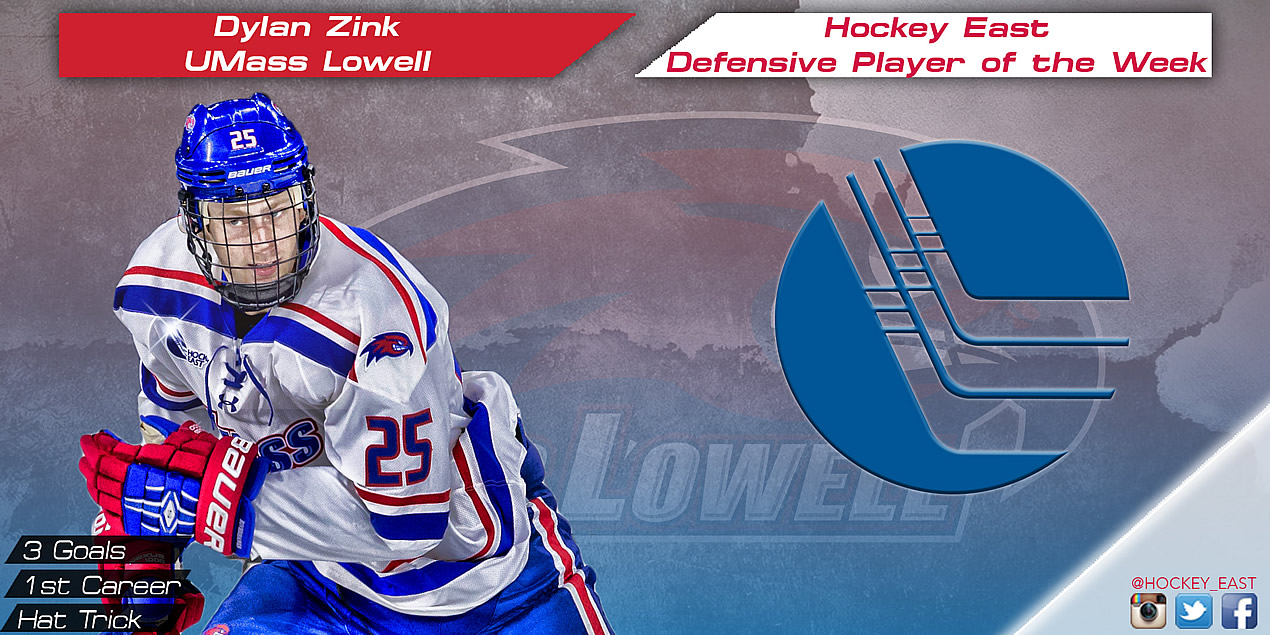 DYLAN ZINK - UMASS LOWELL

Dylan Zink, UML (Jr., D; Madison, Wis.) notched his first career hat trick in a 6-3 win Saturday against No. 7 Boston University to help the River Hawks earn a weekend split. The win helped UML stay in the hunt for an opening round bye in the Hockey East playoffs, keeping UML in the fourth spot while BU remained in fifth.
---
HOCKEY EAST WEEKLY TOP PERFORMERS
Ahti Oksanen, BU (Sr., F; Kirkkonummi, Finland) Assisted on three of five BU goals last week, including an OT winner Friday against UML.
Sean Maguire, BU (Sr., G; Powell River, B.C.) Posted 2.03/.942 numbers in three games, including a 41-save performance in the Beanpot championship to earn tournament MVP honors.
Ryan Dmowski, UML (Fr., F; East Lyme, Conn.) Dished out three helpers in a weekend split with the Terriers.
Kevin Boyle, UML (Sr., G; Manalapan, N.J.) Split the weekend thanks to 63 saves on 68 shots for 2.49/.926 numbers.
Brett Seney, MC (So., F; London, Ont.) Led the Warriors with four points (4a) in a 0-1-1 home-and-home weekend with No. 3 BC.
Mathieu Foget, MC (Fr., F; Orleans, Ont.) Racked up his first two-goal outing in a 5-5 draw with the Eagles Saturday.
Marc Biega, MC (So., D; Pointe-Claire, Que.) Scored twice Friday night en route to a three-point weekend (2g, 1a).
Jared Kolquist, MC (So., D; Hermantown, Minn.) Finished with three points (1g, 2a) in two games on a 0-1-1 weekend.
Andrew Poturalski, UNH (So., F; Williamsville, N.Y.) Had a goal and two assists in a 0-1-1 weekend with Vermont, including helping out on both UNH goals in Friday's 4-3 loss and sparking a two-goal rally in Saturday's 2-2 draw.
Tyler Kelleher, UNH (So., F; Longmeadow, Mass.) Tallied his 99th and 100th career points Friday with a goal and an assist.
Ryan Ruck, NU (Fr., G; Coto de Caza, Calif.) Went 2-0-0 with 1.00/.944 numbers against UMass, including a 16-save shutout Friday.
Garret Cockerill, NU (So., D; Brighton, Mich.) Had two goals and two assists in a pair of wins, including a three-point outing Friday (1g, 2a).
Thomas DiPauli, ND (Sr., F; Caldaro, Italy) Scored two goals and added two assists in a weekend sweep of Maine.
Jack Jenkins, ND (Fr., F; Lake Bluff, Illinois) Notched the decisive goal Friday night before adding an assist Saturday.
Cal Petersen, ND (So., G; Waterloo, Iowa) Stopped 61 of 63 shots from the Black Bears in two wins, including a 40-save performance in Saturday's 5-1 win, collecting 1.00/.968 numbers.
Hayden Hawkey, PC (Fr., G; Parker, Colo.) Recorded his first collegiate shutout in just his second start, making 24 saves Friday.
Conor O'Neil, UVM (Fr., F; Hummelstown, Pa.) Scored his first career game-winning goal in Friday's 3-2 triumph over UNH and added an assist in Saturday's 2-2 tie.
Packy Munson, UVM (Fr., G: Hugo, Minn.) Kicked out 44 of 48 shots he faced on the weekend in a 1-0-1 set at UNH.