Thursday, February 11, 2016
Hockey East Weekend Preview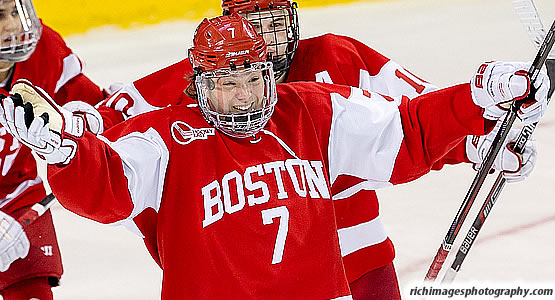 Boston University plays a home-and-home series against UMass Lowell this weekend
No. 3 Boston College vs. Merrimack- Fri. 2/12 at BC, Sat. 2/13 at MC
- Boston College defeated New Hampshire last Friday night, 4-3. Michael Kim (Toronto, Ont.) recorded his first-career goal in the victory at the Whittemore Center.
- The Eagles carried a nine-game unbeaten streak into the Beanpot Monday night, extending it to 10 games (7-0-3) by way of winning the 20th Beanpot title in school history. Sophomore Alex Tuch (Baldwinsville, N.Y.) broke a scoreless stalemate less than two minutes into overtime with his 11th goal of the season against Boston University. Thatcher Demko (San Diego, Calif.) recorded his ninth shutout of the year and now holds the Boston College single-season record for shutouts.
- Boston College (11-1-4) heads into a weekend series with Merrimack tied for first in Hockey East play with 26 points. Merrimack (2-8-6) enters the weekend tied for 10th in the table with 10 points, but is just two points out of sixth place.
- Merrimack tied UConn in its only game of the weekend, 2-2, at Lawler Rink on Saturday. The Warriors out-shot UConn in the contest, 45-23.
- Junior forward Hampus Gustafsson (Ljungby, Sweden) dished out two assists in the game, including the game-tying goal to Brian Christie (West Chester, Pa.) with less than 57 seconds remaining in regulation.

No. 5 Providence College vs. UConn - Fri. 2/12 at PC, Sat. 2/13 at UConn
- Providence swept a weekend series at Alfond Arena in Orono, Maine last weekend. The Friars grabbed a 1-0 overtime victory Friday night and followed that up with a 4-2 victory Saturday.
- Nick Saracino (St. Louis, Mo.) scored the overtime winner for the Friars Friday night, his ninth of the year. Saracino sits fourth on the team in scoring with 24 points on nine tallies and 15 assists.
- Providence (10-3-3) prepares for a home-and-home series with UConn, currently tied for fourth in the Hockey East standings with 23 points. After a draw at Merrimack last weekend, UConn (4-8-4) is in a four-way tie for sixth place with 12 points.
- Husky freshman Max Letunov (Moscow, Russia) was honored as Warrior Player of the Week for his two goals on the weekend. Letunov extended his point streak to eight games and goal streak to six games, with seven goals and two assists in that span. His 15 tallies on the year are a new UConn Div. I program record.

No. 8 Notre Dame vs. Maine - Fri. 2/12, Sat. 2/13 at ND
- Notre Dame traveled to Gutterson Fieldhouse last weekend and picked up four points in league play against the Catamounts to remain in first place in Hockey East.
- Notre Dame defenseman Jordan Gross (Maple Grove, Minn.) was named Defensive Player of the Week for his efforts last weekend, picking up a goal and three assists in the two victories. Gross recorded the assist on the game-winning goals in both victories and is now third on the team in points with a 8-18--26 stat line.
- Notre Dame (12-2-2) hosts a weekend series with Maine, currently tied for first with 26 points. Maine (4-10-2) heads to South Bend tied for 10th with 10 points, sitting just two points away from sixth place.
- Maine fought hard in both games last weekend, but was unable to walk away with any points after two setbacks to Providence.
- Maine goaltender Matt Morris (Ridgewood, N.J.) recorded 50 saves Friday night in a 1-0 overtime loss before following that up with a 34-save effort Saturday night.

No. 11 UMass Lowell vs. No. 7 Boston University/vs. American International - Fri. 2/12 at BU, Sat. 2/13 at UML, Tues. 2/16 at AIC
- UMass Lowell skated to a 2-2 tie with Northeastern last weekend at the Tsongas Center. UML goaltender Kevin Boyle (Manalapan, N.J.) made 30 stops in the game.
- Despite out-shooting New Hampshire, 45-16, the River Hawks fell to the league-rival Wildcats, 3-2, at the Tsongas Center Saturday night. Nick Master (Broomall, Pa.) had a goal and an assist for two points in the loss to New Hampshire.
- After picking up only one point last weekend, the River Hawks fall to third place in Hockey East with 24 points. They sit only point ahead of Providence, which claims the in the fourth spot with 23 points. Boston University (9-4-3) has the potential to jump from fifth to third in the standings, currently with 21 points and squaring off twice with UML.
- Boston University defeated UMass, 6-3, Friday night before entering the Beanpot final against Boston College on Monday. Jordan Greenway (Canton, N.Y.) (2g) and Ahti Oksanen (Kirkkonummi, Finland) (2a) both had multi-point efforts in the victory at the Mullins Center.
- Senior goaltender Sean Maguire (Powell River, B.C.) made 41 saves for the Terriers in the Beanpot final, but despite his efforts the Terriers were unable to break through Boston College's defense, surrendering the Beanpot trophy to the Eagles in a 1-0 overtime loss at the TD Garden. Maguire was awarded the Eberly Trophy as the goaltender with the highest save percentage in the Beanpot and also was honored with Most Valuable Player accolades


UMass vs. Northeastern - Fri. 2/12 at UMass, Sat. 2/13 at NU
- UMass was swept in a weekend series with Maine last weekend, falling to the Black Bears, 5-2, Friday night, and 5-4 on Saturday night.
- The Minutemen were able to rebound in a Tuesday night title, defeating American International, 4-3, in overtime at the MassMutual Center in Springfield, Mass. Ben Gallacher (Calgary, Alta.) scored the overtime-winner for the Minutemen in the mid-week victory.
- Ray Pigozzi (Evanston, Ill.) now has points in five straight games (1-6--7).
- UMass (2-12-4) is set for a home-and-home series, currently in 12th place with eight points. Northeastern (4-8-4) sits in a four-way tie for sixth place with 12 points. Points will be at a premium in the coming weeks, as seven teams are separated from sixth place, and home-ice advantage in the playoffs, and 12th place by just four points.
- Northeastern tied UMass Lowell, 2-2, last Friday night at the Tsongas Center before following that up with a 5-1 victory over then-No. 9 Harvard in the consolation game of the Beanpot.
- Adam Gaudette (Braintree, Mass.) tallied three points in the Beanpot victory on a goal and two assists.
- Northeastern remains one of the hottest teams in the country, going 8-1-2 since December 19.

New Hampshire vs. Vermont - Fri. 2/13, Sat. 2/13 at UNH
- New Hampshire fell in a tight matchup to Boston College, 4-3, Friday night, but rebounded with two league points at the Tsongas Center, downing UMass Lowell Saturday, 3-2.
- Wildcats sophomore goaltender Daniel Tirone (Trumbull, Conn.) made 77 saves in the two games, including several highlight reel stops, to backbone the Wildcats.
- New Hampshire (4-8-4) and Vermont (5-9-2) are both part of a four-way tie for sixth place with 12 points each in Hockey East play. With home-ice advantage on the line as the playoffs near, the Wildcats and Catamounts play for a crucial four points in league play.
- Vermont hosted Notre Dame last weekend, suffering a sweep at the hands of the Fighting Irish. The Catamounts fell Friday night, 2-1, and Saturday night, 3-1.
- Leading Catamount point-getter Mario Puskarich (Fort Walton Beach, Fl.) (8-15--23) picked up his eighth goal of the year in Friday night's defeat.