Thursday, January 7, 2016
Hockey East Weekend Preview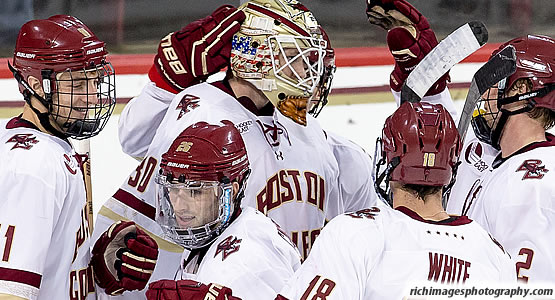 Boston College and Providence meet-up for a Top-10 weekend series
No. 3 Providence vs. No. 7 Boston College- Fri. 1/8 at BC, Sat. 1/9 at PC
- Providence and Boston College will wrap up a stretch of three tilts against each other in two weeks as the teams are set to kick off a home-and-home series in Hockey East play. The Eagles sit third in Hockey East (6-1-1) while the Friars are just behind in fourth (4-0-2).
- The last time the two teams met was Dec. 29 in Estero, Florida at the Florida College Classic third place game. The Friars took that contest, 2-1, after dropping their first game of the 2015-16 season to Cornell, 2-1, in overtime. Brandon Tanev (Toronto, Ont.) scored the game-winner for the Friars at the 9:51 mark of the third period against Boston College.
- The Friars went on to suffer a setback to Brown in the final game of the Mayor's Cup, 4-3, on Jan. 3. Providence netminder Nick Ellis (Millersville, Md.) made 42 saves in the game. On Jan. 6, Ellis was named Stop It Goaltending Goaltender of the Month for December 2015, collecting four wins and posting a league-leading 0.99 goals against average and .968 save percentage.
- In the opening round of the Florida College Classic, Boston College fell to Ohio State, 3-2. Zach Sanford (Auburn, N.H.) tallied a goal and an assist for the Eagles in that contest. Jerry York will welcome back leading point-getter Colin White (Hanover, Mass.) Friday night in his return to the Eagles' lineup after winning the bronze medal with Team USA at the 2015 IIHF World Junior Championships in Finland.
- In the last 12 matchups between Boston College and Providence on Kelley Rink, the Eagles have emerged victorious 11 times, last falling on March 2, 2013, 5-1.

No. 10 UMass Lowell vs. New Hampshire - Fri. 1/8 at UNH
- UMass Lowell competed in the Three Rivers Classic over the winter break in Pittsburgh, Pa. The River Hawks defeated Clarkson, 3-0, in the first game of the tournament. Kevin Boyle (Manalapan, N.J.) made 25 saves in the game and recorded his fourth shutout on the year. Joe Gambardella (Staten Island, N.Y.) tallied a goal and an assist and followed that up with another goal in UMass Lowell's 5-3 loss to Robert Morris in the championship tilt.
- New Hampshire faced off with Hockey East rivals Maine and Vermont over the holiday break in a set of non-conference games. The Wildcats defeated Maine, 5-4, at Cross Insurance Arena in Portland, Maine, and then again, 7-0, back in New Hampshire at Verizon Wireless Arena in Manchester. The Wildcats would eventually fall at Gutterson Fieldhouse against the Catamounts, 3-2.
- Tyler Kelleher (Longmeadow, Mass.) extended his point streak to 12 games, tallying five assists in the three games. Kelleher leads the nation in assists with 28 through 19 games while his teammate and Warrior Hockey East Player of the Month Andrew Poturalski (Williamsville, N.Y.) leads the nation with 36 points on 18 goals and 18 assists.

No. 11 Boston University vs. No. 4/5 Harvard/UMass - Thu. 1/7 at Harvard, Sat. 1/9 at BU
- Boston University travels across town to take on No. 4/5 Harvard this Thursday night. The game will be broadcast on NESNplus from the Bright-Landry Hockey Center.
- The last time the Terriers took the ice was a 4-1 victory over then-undefeated Quinnipiac Dec. 12. Coincidentally, Harvard is riding a seven-game unbeaten streak after falling to the Bobcats, 4-1, Nov. 13.
- The Terriers and Crimson last met in the opening round of the 2015 Beanpot. The overtime win ended off the stick of Matt Grzelcyk (Charlestown, Mass.) as he pushed the Terriers into the championship game. All time, Boston University holds a record of 77-68-6 over Harvard.
- After facing the Crimson, the Terriers look to get Hockey East play started by hosting UMass for a 7:05 pm contest at Agganis Arena Saturday (Jan. 9).

UConn vs. Michigan Tech/vs .No 12 Yale or Arizona State - Fri. 1/8, Sun. 1/10 at Gila River Arena
- UConn stayed busy with tournament travel over the holiday break, moving west for a pair of tournament appearances. First, the Huskies competed in the Mariucci Classic at Mariucci Arena on the campus of the University of Minnesota. UConn fell to the Golden Gophers, 3-2, in the opening round and was tripped up by Ferris State, 5-2, in the third place game. Senior forward Shawn Pauly (Bellingham, Wash.) dished out two assists in the opener for the Huskies while rookie sensation Max Letunov (Moscow, Russia) also had a goal and two assists in the tournament.
- The Huskies continued on their road trip west to Arizona to compete against Arizona State before entering into the Desert Hockey Classic. UConn defeated the Sun Devils Tuesday night, 5-2. The Desert Hockey Classic kicks off Friday with Yale, Michigan Tech, and Arizona State also competing.
- Tanner Creel (Arlington Heights, Ill.) made his first start in goal for the Huskies win over Arizona State. Creel recorded the victory on 20 saves. Senior Patrick Kirtland (Rocky Hill, Conn.) netted two goals for the Huskies in that contest.

Maine vs. Colgate - Fri. 1/8, Sat. 1/9 at Maine
- The Maine Black Bears take to the ice this weekend for the first time since being swept by New Hampshire December 29-30, 2015 in a pair of non-Hockey East contests. Maine fell to the Wildcats, 5-4, at Cross Insurance Arena in Portland, Maine and then 7-0 at Verizon Wireless Arena in Manchester, New Hampshire.
- Defenseman Dan Renouf (Pickering, Ont.) tallied a goal and an assist in the first game and is now third on the team in points with a 4-7-11 stat line.
- This weekend marks the 13th and 14th all-time meeting between the Maine and Colgate programs, with the record knotted at 5-5-2 for each team. The last meeting came at the 2014 Florida College Classic tournament as Colgate came away with a 2-1 overtime win.

Merrimack vs. No. 9 Cornell - Fri. 1/8, Sat. 1/9
- Merrimack travels to Cornell for a weekend series in Ithaca, New York.
- Merrimack has lost three straight since defeating Canisius, 4-1, on Dec. 20. First the Warriors traveled to West Point, New York and fell to the Army Black Knights 3-2, Dec. 29. Junior Chris Leblanc (Winthrop, Mass.) tallied a goal in that game along with senior Justin Hussar (Lancaster, N.Y.).
- Merrimack would than suffer a pair of setbacks in the Ledyard Classic in Hanover, New Hampshire. In a 3-2 decision to Union, Ben Bahe (Stillwater, Minn.) and Brett Seney (London, Ont.) did the scoring for the Warriors, before Merrimack fell to tournament hosts Dartmouth, 3-0, in the third place game.

Northeastern vs. No. 13 St. Lawrence - Fri. 1/8, Sat. 1/9 at SLU
- Northeastern looks to continue on the right track heading into a two-game set at St. Lawrence. Last time out the Huskies tied No. 2/1 Quinnipiac, 3-3, on Jan. 2 and are 2-1-1 in their last four outings dating back to Dec. 5.
- Prior to the draw with Quinnipiac, Northeastern defeated Michigan State at Matthews Arena, 2-1, Dec. 19. Senior Mike McMurty (Greely, Ont.) led the way for the Huskies tallying three points on a goal and two assists in the two games.

No. 15 Notre Dame vs. Western Michigan - Fri. 1/8 at Notre Dame, Sat. 1/8 at Western Michigan
- Last time out Notre Dame skated to two draws at No.17 Denver. Cal Petersen (Waterloo, Iowa) was a strong anchor all weekend for the Irish, making 49 saves in the 1-1 tie Friday, and than stopping another 43 pucks in Saturday's 2-2 draw. For his efforts, Petersen was named Hockey East Defensive Player of the Week on Jan. 4.
- Connor Hurley (Edina, Minn.) scored the only Notre Dame goal in the first night's 1-1 outing. Saturday night saw Sam Herr (Hinsdale, Ill.) and Thomas DiPauli find the back of the net for the Irish.

Vermont vs. Dartmouth - Fri. 1/8 at UVM
- The Catamounts welcome former Vermont great Martin St. Louis back to Gutterson Fieldhouse Friday night as they are set to face former ECAC rival Dartmouth. The university will honor the 1997 graduate and 16-year NHL veteran with a special pre-game ceremony. St. Louis remains the school's all-time leading scorer, posting 267 points (91g, 176a) in his four years as a Catamount.
- Vermont is coming off a successul winter break, most recently downing New Hampshire in a overtime of a non-conference contest. Jarrid Privitera (Old Tappan, N.J.) notched the game-winner just 40 seconds into the extra frame.
- Prior to that victory, Vermont was backboned to a Catamount Cup title by Pro Ambitions Rookie of the Month Packy Munson (Hugo, Minn.), who went 3-2-0 with a pair of shutouts in his first five collegiate starts. He was named MVP of the Catamount Cup after allowing just one goal over the course of the tournament. Munson is 4-0-0 with 0.75/.965 numbers at home this year.