York's Ascent to 1,000 Halted, Briefly, By Boston University
by Brandan Blom, special to HockeyEastOnline.com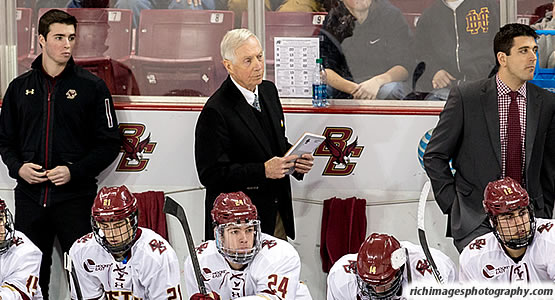 Jerry York has guided his teams to five NCAA National Championships
There isn't much left for Boston College men's ice hockey head coach Jerry York to accomplish in his coaching career. York is already college hockey's all-time winningest head coach. He has guided his teams to five NCAA National Championships as well as nine Hockey East Tournament titles and his team is currently ranked fourth in the country.
But on Saturday night, now in his 44th year as a head coach, York had a chance to add another accolade to his esteemed career. With a win over cross-town rival No. 10 Boston University York would've become the first college hockey coach to reach 1,000 wins.
Unfortunately for York, BU wasn't about to let the milestone occur on their home ice. Despite allowing a late goal to the Eagles, the Terriers managed to battle through overtime to preserve the 1-1 tie. Because of that, Coach York now has to wait for his next opportunity to earn the 1,000th win of his career as this squad preps for weekend showdowns at Massachusetts and against UConn.
"We try not to think too much about outside distraction . . . but we didn't want to allow them to hoot and holler on our home ice," Boston University captain Matt Grzelcyk (Charlestown, Mass.) said after the game.
After falling to the Eagles, 5-3, in a wild game on Chestnut Hill, the Terriers needed a strong start to grab the momentum in the home-and-home series. They found just that by way of two early Eagle penalties to set the Terriers up with a five-on-three power play. Despite the tilted ice, Eagles goaltender Thatcher Demko (San Diego, Calif.) stood tall to keep the game scoreless after the first period.
"Both goaltenders played extremely well. We each had excellent chances to score more goals but Maguire and Demko were clearly the stars of the night," York said following the game.
The middle frame proved just as competitive as the first, as both programs saw quality scoring chances. Ultimately, Boston University struck first when Grzelcyk tipped a shot from the blue line past Demko midway through the stanza to give BU a one-goal advantage entering the second intermission.
The score remained 1-0 in favor of David Quinn's Terriers until late in the third period. Ryan Fitzgerald (North Reading, Mass.) received a centering pass from behind the BU net and snapped the puck above Maguire's right shoulder into the back of the net.
"I thought our late goal by Ryan Fitzgerald was made possible by a really creative play by Matt Gaudreau (Carneys Point, N.J.)," York said. "[Gaudreau] just kind of found [Fitzgerald] and put it right on his tape."
At the end of 60 minutes, it was only right that Boston University didn't allow York to win his 1,000th game at Agganis Arena, skating to a 1-1 stalemate. In Hockey East play, the Eagles and Terriers boast nearly identical records, with BC holding a 57-55-12 record.
As the historic rivalry, known as the Battle of Comm. Ave, has favored York and the Eagles as of late, claiming a 13-5 record against BU since the 2010 Beanpot, Grzelcyk knows that even the slightest victory counts in the road to the Hockey East championship at TD Garden.
"He's a great coach, a great guy. I have a lot of respect for him . . . but we definitely don't want to give that to him, especially at Agganis."