Thursday, January 14, 2016
Hockey East Weekend Preview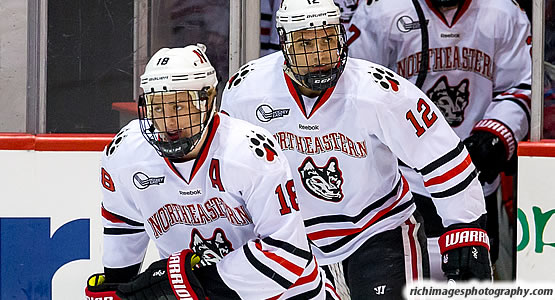 Northeastern and New Hampshire face-off in a home-and-home weekend series
Maine vs. UConn/vs. No.1/2 Quinnipiac - Fri. 1/15, Sat. 1/16, Tues. 1/19 at Maine
- UConn went 2-1-0 on its western road trip last weekend, which included one contest with Arizona State and a two-tilt outing at the Desert Hockey Classic, in which they faced Michigan Tech and the Sun Devils. The Huskies defeated ASU, 5-2, in the pre-tournament matchup. Senior captain Patrick Kirtland (Rocky Hill, Conn.) led the way for the Huskies in that game with two goals.
- UConn then fell to Michigan Tech in the opener of the Desert Hockey Classic in Glendale, Arizona, 4-2. In the rematch with Arizona State, the Huskies again came away victorious, registering a 3-0 victory behind Rob Nichols's (Dallas, Texas) his first shutout of the year. The sophomore stopped 20 pucks for his squad. Kirtland finished the weekend with three goals and an assist for four points on the three-game road trip. He has now recorded at least a point in five straight tilts.
- Maine split a two-game series with Colgate last weekend at Alfond Arena. The Black Bears defeated Colgate, 3-1, Friday night before suffering a 5-1 setback Saturday night.
- Steve Swavely (Reading, Pa.) scored two goals for the Black Bears in Friday night's 3-1 victory.

No. 3 Providence vs. Vermont - Fri. 1/15, Sat. 1/16 at UVM
- Providence suffered its first regulation loss of 2015-16 last Friday night at Boston College, 7-3, on Kelly Rink. The Friars then hosted the Eagles Saturday night and skated to a 4-4 draw.
- Senior Nick Saracino (St. Louis, Mo.) tallied a goal for the Friars in both games. In total, nine Friars made it on the score sheet in the 4-4 draw at Schneider Arena.
- Vermont skated to a 1-0 victory over Dartmouth last Friday during Martin St. Louis Night at Gutterson Fieldhouse. Brendan Bradley (Richboro, Pa.) scored the lone goal for the Catamounts in the game.
- Freshman Packy Munson (Hugo, Minn.) recorded his third shutout on the year, stopping a career-high 39 shots in the game. The Catamounts are now 5-2-0 since Munson took over netminding duties and the rookie has racked up four league awards in his seven starts, including Pro Ambitions Rookie of the Month for December.
- After starting the season 3-10-2, the Catamounts are now 6-3-0 since the start of December as they now face only Hockey East opponents for the remainder of 2015-16.

No. 4 Boston College vs. No.10 Boston University- Fri. 1/15 at BC, Sat. 1/16 at BU
- Boston College took three big points in league play over a weekend series with No. 3 Providence. The Eagles defeated the Friars Friday night, 7-3, behind a four point (3g, 1a) performance from Pro Ambitions Rookie of the Week Colin White (Hanover, Mass.).
- The Eagles finished the series with a 4-4 stalemate at Providence Saturday night. The Eagles were able to come back to tie the game after falling behind, 4-1, early in the contest. Chris Calnan (Norwell, Mass.) registered the game-tying goal for the Eagles in the opening minutes of the third period.
- Boston University skated past Harvard Thursday night, 6-5, in a wild come-from-behind victory that saw three Terriers' goals in the final four minutes of play. The Terriers capped the weekend with a 7-2 victory over Massachusetts Saturday night.
- Defenseman Matt Grzelcyk (Charlestown, Mass.) tallied five points (4g, 1a) in the two games for the Terriers, registering a goal and an assist against Harvard before scoring a natural hat trick against Massachusetts. Forward Jakob Forsbacka Karlsson (Stockholm, Sweden) also registered four points (1g, 3a) in the two games after returning from World Juniors. JFK tallied two assists against Harvard and followed that up with a goal and an assist against Massachusetts.

No. 11 UMass Lowell vs. Massachusetts - Fri. 1/15 at UMass, Sat. 1/16 at UML
- UMass Lowell skated past New Hampshire last Friday night, 1-0, at the Whittemore Center in its only contest of the weekend to collect two points in Hockey East play.
- Netminder Kevin Boyle (Manalapan, N.J.) recorded his fifth shutout of the year on 27 saves against the Wildcats. Ryan Collins (Newton, Mass.) tallied the game-winner for the River Hawks with just 2:44 remaining in the game.
- UMass fell to then-No. 12 Yale in overtime last week, 3-2, before being tripped up by the Terriers Saturday.
- Alex Wakaluk (Bellevue, Alta.) made 35 saves for the Minutemen in the overtime loss to Yale. Patrick Lee (Calgary Alta.) netted his second power-play goal of the year for UMass on the night, while Dominic Trento (Brockport, N.Y.) scored his career-high sixth marker. Two UMass rookies, Kurt Keats (Winnipeg, Man.) and Austin Plevy (Langley, B.C.), picked up assists in the game.

No. 13 Notre Dame vs. Merrimack - Fri. 1/15, Sat. 1/16 at ND
- Notre Dame took three points in a home-and-home with Western Michigan last weekend. The Irish rolled in the opener Friday night, 7-1, and then skated to a 3-3 draw on Saturday. In the 7-1 victory, 15 different Irish skaters found the score sheet.
- Cal Petersen (Waterloo, Iowa) made 36 saves for Notre Dame in the 3-3 tie Saturday. Anders Bjork (Mequon, Wis.) netted two goals in the weekend series.
- The Irish are now unbeaten in their last eight games (5-0-3), currently the longest such streak in the NCAA.
- Merrimack was swept in a weekend series at Cornell last weekend. The Warriors fell to Cornell, 3-0, on Friday night, and suffered a 5-2 setback on Saturday. Hampus Gustafsson (Ljungby, Sweden) tallied one of two goals on the weekend for the Warriors in Saturday's 5-2 defeat. Gustafsson is now third on the team in points with a 5-9--14 stat line.

New Hampshire vs. Northeastern - Fri. 1/15 at NU, Sat. 1/16 at UNH
- New Hampshire was shutout against UMass Lowell last Friday in its only game of the weekend, 1-0.
- The shutout of the Wildcats was only the second blanking of the team's offense this season and just the third time all year Andrew Poturalski (Williamsville, N.Y.) and Tyler Kelleher (Longmeadow, Mass.) were held pointless. The last such game came November 16 at Michigan State in a 7-4 Spartan victory.
- Still searching for its first Hockey East victory (0-8-3), Northeastern is quickly gathering points, registering a 4-1-2 record in their last seven contests. More strikingly, the Huskies are unbeaten in their last four contests (3-0-1).
- Northeastern swept a weekend series at then-No. 13 St. Lawrence last weekend, claiming victory, 3-0, Friday night, and then taking a 4-2 decision Saturday.
- Friday night's 3-0 victory was Ryan Ruck's (Coto De Caza, Calif.) first shutout on the year. Ruck made 51 saves on the weekend, allowing just two goals and recording the victory in both games.
- Adam Gaudette (Braintree, Mass.) registered three assists in Saturday's 4-2 victory at St. Lawrence. Gaudette is now on a four game point streak (1g, 4a).