Weekly Release: Huskies, Irish Extend Unbeaten Streaks; Eagles Take Three Points From Friars
Boston University Completes Wild Comeback At Harvard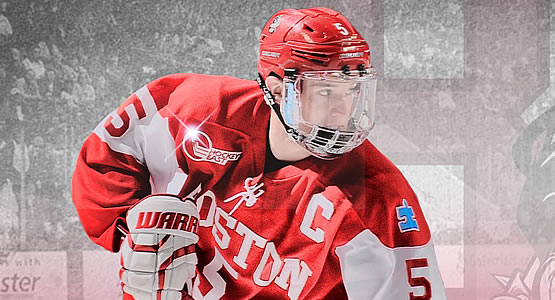 Warrior Hockey Player of the Week Matt Grzelcyk of Boston University
AROUND HOCKEY EAST: No. 3 Providence and No. 7 Boston College squared off for the second and third time in two weeks in a home-and-home series last weekend as the Eagles handed the Friars the first lost in regulation of 2015-16. Friday night's victory brought BC head coach Jerry York to 998 career victories. Fresh off a bronze-medal winning performance with Team USA at the World Junior Championship, BC rookie Colin White (Hanover, Mass.) netted a hat trick and assisted on the game-winning goal in Friday's 7-3 victory ... No. 11 Boston University completed a wild comeback with three goals in the final four minutes to top No. 4 Harvard Thursday night. Captain Matt Grzelcyk (Charlestown, Mass.) then recorded a natural hat trick, the first of his career, to break a 2-2 tie and lead BU to a 7-2 win over UMass Saturday ... The Vermont Catamounts retired former UVM great Martin St. Louis's jersey Friday night at the Gutterson Fieldhouse, spurring the current Cats to a 1-0 victory over Dartmouth. Rookie netminder Packy Munson (Hugo, Minn.) picked up his third shutout in his first five career starts at home in the win, making a career-high 39 saves while junior Brendan Bradley (Warminster, Pa.) scored the game's lone goal ... No. 10 UMass Lowell goaltender Kevin Boyle (Manalapan, N.J.) registered his fifth shutout of the year in a 1-0 victory at New Hampshire Friday night. He made 27 saves against one of the nation's top offenses to push the River Hawks to victory ... Maine split a weekend series with Colgate. In Friday's 3-1 win a Alfond Arena, senior Steven Swavely (Reading, Pa.) found the back of the net twice for the Black Bears, including the game's decisive goal ... Northeastern scored a pair of victories at No. 13 St. Lawrence with the help of Adam Gaudette's (Braintree, Mass.) four assists. The rookie is currently riding a four-game point streak (1g, 4a). The Huskies are unbeaten in their last four outings (3-0-1) ... UConn toppled Arizona State twice in the desert last weekend, propelled by Patrick Kirtland's (Rocky Hill, Conn.) three goals and four points. Kirtland has registered at least one point in each of his last five contests, with each game being away from the XL Center in Hartford, Connecticut ... Notre Dame went 1-0-1 against Western Michigan last weekend, backboned by another strong showing in net from Cal Petersen (Waterloo, Iowa) and two goals from Anders Bjork (Mequon, Wis.). The Irish are unbeaten in their last five games (5-0-3).
---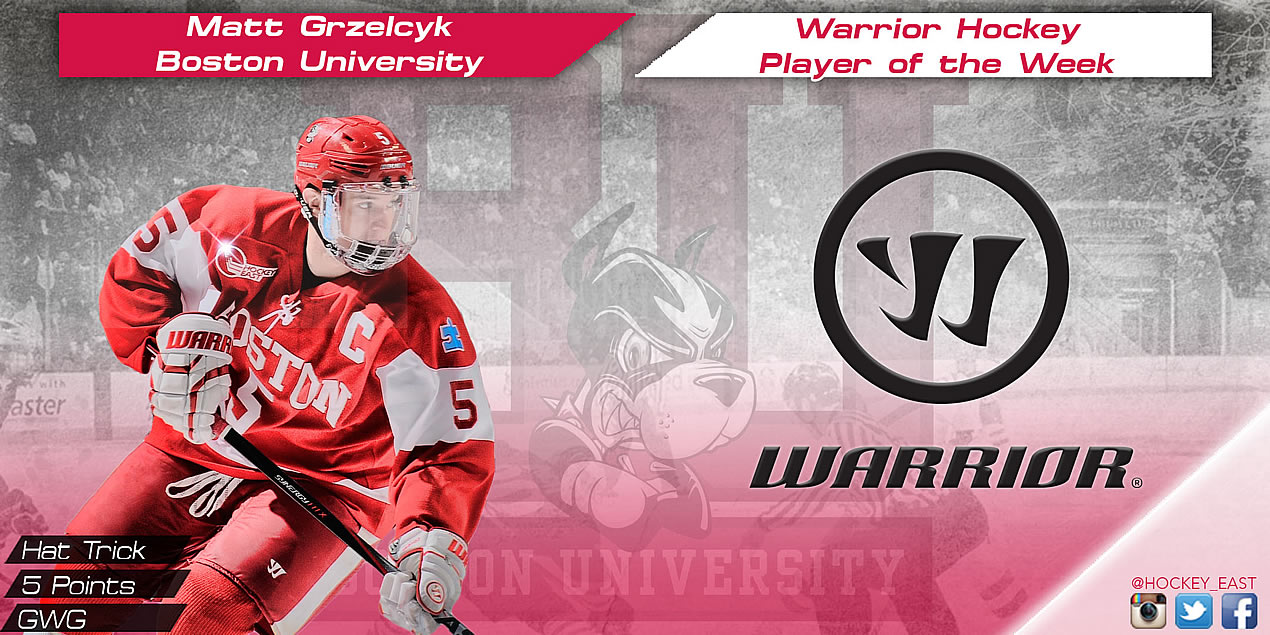 MATT GRZELCYK - BOSTON UNIVERSITY

The Terrier captain returned to the BU lineup in grand fashion, scoring a goal to ignite a three-goal comeback in the final four minutes to topple No. 4 Harvard, 6-5, Thursday. Saturday, he picked up the first hat trick of his career on three consecutive goals, including the game-winning strike, in a 7-2 win over UMass.
---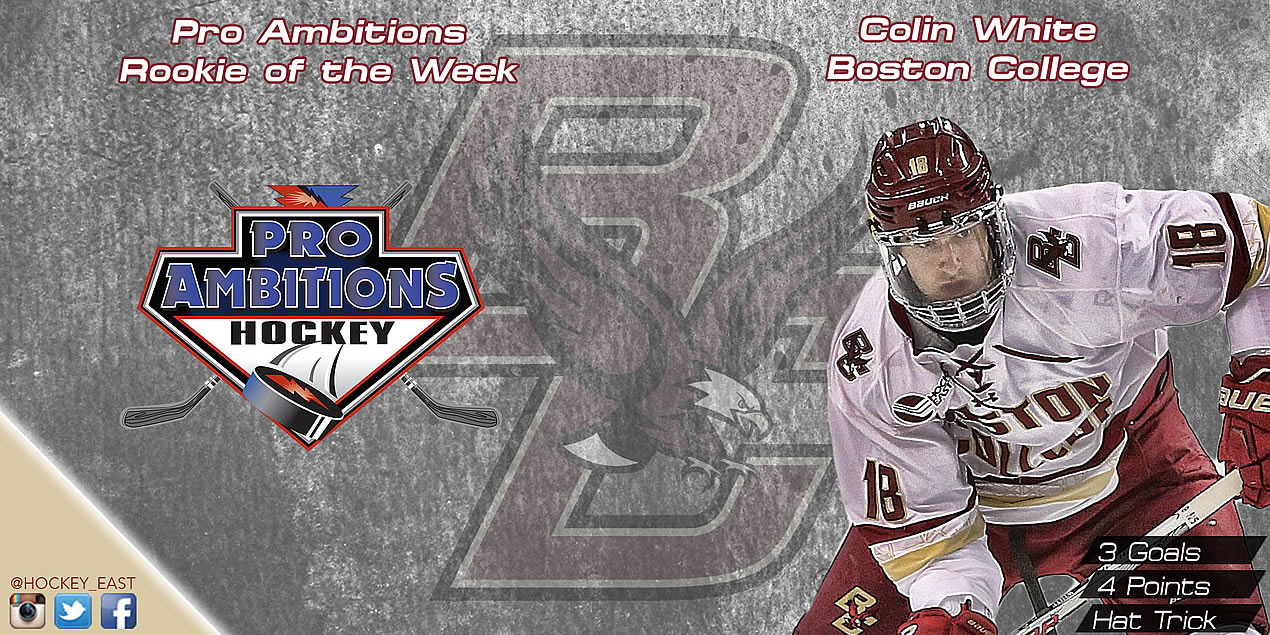 COLIN WHITE - BOSTON COLLEGE

White picked up where he left off with the Eagles after winning a bronze medal with Team USA at the WJC as he helped BC to a 7-3 win over No. 3 Providence Friday night. He scored three goals and added an assist on the decisive marker against the Friars in his first game in maroon and gold since Dec. 10.
---

KEVIN BOYLE - UMASS LOWELL
Boyle continued his stellar season for the River Hawks and picked up his fifth blank sheet of 2015-16 en route to moving to 12-4-4 on the year with a 1-0 win on the road against league rival New Hampshire. Boyle shut down one of the nation's top offenses with 27 saves.

PACKY MUNSON - VERMONT
Munson pushed his record to 5-0-0 at home this season with his third shutout at Gutterson Fieldhouse in five starts. His 39 saves in a 1-0 win were a career high for the rookie netminder.
---
HOCKEY EAST WEEKLY TOP PERFORMERS
Jakob Forsbacka Karlsson, BU (Fr., F; Stockholm, Sweden) Dished out three helpers and scored a goal in two BU wins after returning from the World Junior Championship in Finland last week.
Charlie McAvoy, BU (Fr., D; Long Beach, N.Y.) Helped Team USA to a WJC bronze medal then set up three goals for the Terriers and finished with a plus-six rating in two wins for BU.
Patrick Kirtland, UConn (Sr., F; Rocky Hill, Conn.) Chalked up three goals and an assist in three games in Arizona, helping the Huskies to two wins over the Sun Devils.
Tage Thompson, UConn (Fr., F; Orange, Conn.) Posted a three-point weekend out west on two goals and an assist.
Rob Nichols, UConn (So., D; Dallas, Texas) Recorded his first shutout of the season with 20 saves in a 3-0 win over ASU Sunday evening.
Ryan Collins, UML (So., F; Newton, Mass.) Tallied the lone goal for the River Hawks with 2:44 remaining in a 1-0 win at New Hampshire.
Kevin Boyle, UML (Sr., G; Manalapan, N.J.) Kicked out 27 shots for his fifth shutout of the year on Friday at New Hampshire.
Adam Gaudette, NU (Fr., F; Braintree, Mass.) Factored in on four of seven Northeastern goals this weekend with four helpers.
Ryan Ruck, NU (Fr., G; Coto de Caza, Calif.) Collected two wins at No. 13 St. Lawrence to push NU's unbeaten streak to four games. Finished with a 1.00 GAA and .911 SV%.
Matt Benning, NU (Jr., D; St. Albert, Albs.) Scored twice in the Huskies 4-2 win at No. 13 St. Lawrence Saturday night, including a power-play goal and game-winning marker.
Anders Bjork, ND (So., F; Mequon, Wis.) Returned to the Irish lineup after winning bronze with Team USA at the World Junior Championship by scoring two goals in each game against Western Michigan.
Dylan Malmquist, ND (Fr., F; Edina, Minn.) Helped Notre Dame to a 1-0-1 weekend with four points (2g, 2a) in two outings.
Cal Petersen, ND (So., G; Waterloo, Iowa) Backboned ND as it extended its unbeaten streak to eight games (5-0-3) by stopping 53 shots for 2.04/.930 numbers in two outings against Western Michigan (1-0-1).
John Gilmour, PC (Sr., D; Montreal, Que.) Scored two goals and added an assist in two games against Boston College.
Erik Foley, PC (Fr., F; Mansfield, Mass.) Is riding a three-game point streak (1g, 3a) after two points (1g, 1a) in two outings against BC.
Brendan Bradley, UVM (Jr., F; Warminster, Pa.) Netted the decisive goal over Dartmouth in a 1-0 UVM victory Friday night.