Thursday, December 3, 2015
Hockey East Weekend Preview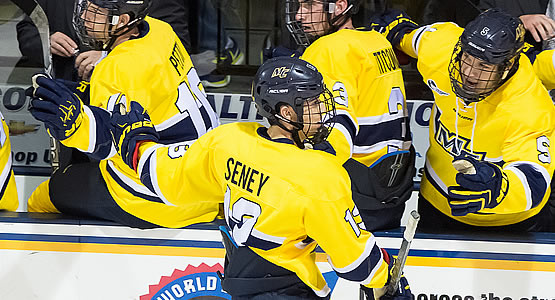 Merrimack and Providence College meet up in a home-and-home series this weekend
No. 1 Providence vs. No.16 Merrimack - Fri. 12/4 at MC, Sat. 12/5 at PC
- Providence was able to top then No. 9/10 Yale in a 4-3 come-from-behind win last weekend to remain undefeated on the year and stay No. 1 in both college hockey polls. Eleven different Friars recorded at least a point in the victory for Providence.
- The Friars are now unbeaten in their last 15 matchups dating back to last season's run to the 2015 NCAA championship.
- Nick Saracino (St. Louis, Mo.) tallied an assist on the game-winning goal in the defeat of Yale and the senior forward has now has registered at least a point in each his last eight games. Over that span, he has three goals and ten assists and has factored in on four game-winning strikes, scoring once and assisting on three others.
- Jake Walman (Toronto, Ont.) scored the game-winning goal for the Friars and now is tied for fourth in the country with 10 goals. Walman is tied for the NCAA lead with five power-play goals and leads all NCAA defensemen with 10 goals, 18 points, three game-winning goals and 51 shots on net. His efforts earned him an invite to Hockey Canada's World Junior training camp.
- Merrimack lost their only game of the week, dropping a 4-0 decision to Union. Freshman goaltender Drew Vogler (Florissant, Mo.) relieved Colin Delia (Rancho Cucamonga, Calif.) in the third period marking his second appearance on the year and recording the first 10 saves of his career.
- Prior to the setback against the Dutchmen, Merrimack was riding a five-game unbeaten streak. The Warriors now enter a stretch of three consecutive Hockey East contest, putting their 2-1-4 league record on the line.

No. 3/2 Boston College vs. Northeastern - Sat. 12/5 at BC, Sun. 12/6 at NU
- Boston College defeated UConn and RIT last week. The Eagles have now won 11 straight and are 12-1-0 on the season and head coach Jerry York is just 4 victories away from collecting is 1,00th career win as a coach.
- Freshman Colin White (Hanover, Mass.) registered a goal and three assists in both games, and now has registered points in eight straight games. Through 13 games, the freshman has now tallied seven goals and 14 assists for 21 points. He was named Pro Ambitions Rookie of the Month and HCA National Rookie of the Month for November.
- Matthew Gaudreau (Carneys Point, N.J.) tallied three assists in the 6-2 topping of RIT and has tallied at least a point in eight straight games.
- Northeastern fell to UMass Lowell, 3-2, in overtime in the opening game of the Friendship Four in Belfast, Northern Ireland. Northeastern was leading UMass Lowell with only minutes left to play but could not sustain the lead. Northeastern went on to defeat Colgate, 7-1, in the third-place game of the tournament.
- Ryan Rosenthal (Montvale, N.J.) had a goal and two assists in the 7-1 win over Colgate to lift his tournament total to 2-2-4.
- Zach-Aston Reese (Staten Island, N.Y.) also had a big tournament for the Huskies, totaling two goals and one assist for three points. He now leads the team in scoring with a 4-8-12 stat line.

No. 5 UMass Lowell vs. UConn - Sat. 12/5 at UConn, Sun. 12/6 at UML
- UMass Lowell competed at the Friendship Four last weekend, skating in two overtime contests, including a shootout victory, to take home the inaugural Belpot Trophy.
- Sophomore C.J Smith (Des Moines, Iowa) had an assist in UML's overtime win in the first round of the tournament before registering two goals and an assist in the championship game over Brown. Smith is now on a nine-game point streak.
- UConn lost its only game of last week, 5-1, to Boston College. • Spencer Naas (Minnetonka, Minn.) scored the only game for the Huskies in the loss to Boston College. Naas now has 3 goals on the year for the Huskies.

No. 12/11 Boston University vs. Vermont - Fri. 12/4, Sat. 12/5 at BU
- Boston University downed Bentley last week and trumped Cornell in a shootout to win at Madison Square Garden to remain undefeated in the Red Hot Hockey rivalry.
- Freshman Jordan Greenway (Canton, N.Y.) notched his first goal of his career at 16:05 of the third period to send the game against Cornell into overtime. Matt Lane (Rochester, N.Y.) then converted in the shootout to give the Terriers the Kelly-Harkness Cup.
- Vermont fell to Penn State in the Philadelphia College Hockey Faceoff, 4-0, at the Wells Fargo Center last Sunday.
- Junior goaltender Mike Santaguida (Mississauga, Ont.) made 42 saves for the Catamounts in the loss against Penn State.

No.20 Notre Dame vs. UMass - Fri. 12/4, Sat. 12/5 at ND
- Notre Dame fell to Harvard in the first round of the Shillelagh Tournament, 4-1. The Irish went on to defeat Western Michigan, 3-1, in the third-place game.
- Sam Herr (Hinsdale, Ill.) scored the game-winning goal for the Irish late in the third period against WMU. Senior defensemen Andy Ryan (Brighton, Mich.) skated in his 100th career game and also tallied two assists in the defeat of the Broncos.
- UMass was swept by No. 3 Quinnipiac last weekend, dropping Friday night's decision, 4-1, and Saturday's result, 1-0.
- Marc Hetnik (Chestnut Hill, Mass.) scored the lone Minutemen goal in Friday night's setback. UMass out-shot Quinnipiac, 28-23, Saturday but were unable to break through for a goal against Quinnipiac goalie and HCA Player of the Month Michael Garteig.

New Hampshire vs. Maine - Fri. 12/4 at ME Sat. 12/5 at UNH
- New Hampshire fell to RPI last Tuesday despite a hat trick from NCAA points leader Andrew Poturalski (Williamsville, N.Y.), but recovered to defeat Bentley Saturday, 5-4.
- Poturalski and Tyler Kelleher (Longmeadow, Mass.) each tallied points in both UNH games last weekend and each has now recorded at least a point in nine of New Hampshire's last 10 games, including six straight. Matias Cleland (Longmont, Colo.) also has a five-game point streak alive.
- Maine swept a two-game weekend series with Princeton, extending its winning streak to four games.
- Nolan Vesey (North Reading, Mass.) got the offense rolling for the Black Bears in Friday night's 5-3 victory with an even strength goal assisted by Mark Hamilton (Winthrop, Mass.) and Brendan Robbins (Nashua, N.H.).
- Blaine Byron (Ottawa, Ont.) scored the game-winning goal Saturday to lift the Black Bears over Princeton in overtime, 3-2. Byron's overtime goal was his second of the game and now leads the team in scoring with a 5-5--10 stat line.
- Senior goaltender Matt Morris (Ridgewood, N.J.) has won each of the last four games in which he has appeared, stopping 135 shots and collecting a 1.98 goals against and .944 save percentage in sweeps of Vermont and Princeton.