Thursday, December 10, 2015
Hockey East Weekend Preview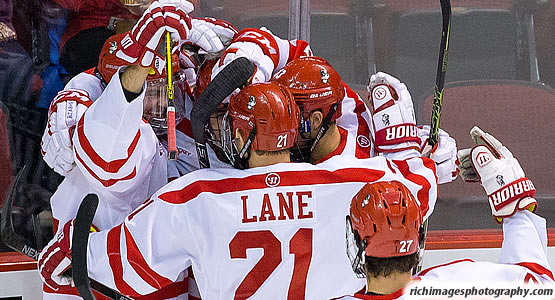 Boston University travels to Yale and Quinnipiac this weekend
No. 1 Providence vs. Brown - Thurs. 12/10 at PC
- Providence kept the No. 1 ranking in the country and pushed its unbeaten streak to 18 games last weekend with a sweep of league foe Merrimack. They are just one of two teams remaining that have yet to suffer a loss (Quinnipiac). The Friars are currently riding a five-game winning streak entering the first game of the Mayor's Cup against Brown.
- The Friars defeated Merrimack Friday night, 2-1, and Saturday night, 4-0, to stay unbeaten in 2015-16. Historically against Brown, Providence holds a 27-27-2 all-time record.
- Nick Ellis (Millersville, Md.) recorded his second shutout of the year in Saturday's 4-0 victory, stopping 31 saves against the Warriors.
- Jake Walman (Toronto, Ont.) scored the game-winning goal in Saturday's 4-0 defeat and now has four game-winners on the year. Walman is also tied for fourth nationally with 11 goals. He leads all NCAA defensemen in goals (11), points (19), power-play goals (6), power-play points (10) and game-winning goals (4).

No. 3 Boston College vs. No. 18 Notre Dame - Thurs. 12/10 at BC
- Boston College tied Northeastern Saturday night, 3-3, and defeated the Huskies, 4-3, on Sunday afternoon. Head coach Jerry York is now three victories away for 1,000 on his career. The Eagles snapped an 11-game winning streak with Saturday's 3-3 tie, but remain unbeaten in their last 13 games.
- Freshman Colin White (Hanover, Mass.) tallied points in both games for BC, scoring a short-handed goal to tie the game Saturday and picked up an assist in Sunday's victory. White has now registered at least one point in 10 straight games.
- Miles Wood (Manchester, Mass.) also recorded points in both games and is now riding a seven-game point streak.
- Notre Dame swept UMass in a weekend series in South Bend last weekend. The Irish beat the Minutemen Friday night, 3-1, and followed that up with a 5-1 victory on Saturday night.
- Anders Bjork (Mequon, Wis.) scored two goals in Saturday's win and added an assist Friday night, giving him three points on the weekend. Bjork would finish with a plus-five rating on the weekend. Thomas DiPauli (Caldaro, Italy) added three points to his season total on the weekend. DiPauli scored a goal Friday night, and dished out two assists in Saturday's 5-1 victory. The Irish were led all weekend by strong goaltending by Cal Petersen (Waterloo, Iowa). Petersen recorded a .965 save percentage off 55 saves for two wins.
- Notre Dame and Boston College will meet for the 40th time tonight. The Eagles hold a 20-17-2 record in the 39 previous meetings. Currently, the Eagles and Irish sit second and third in the Hockey East standings, respectively.

No. 11/12 Boston University vs. No.15 Yale/vs. No.2 Quinnipiac - Fri. 12/11 at Yale, Sat. 12/12 at QU
- Boston University split a weekend series with Vermont this past weekend at Agganis Arena. The Terriers fell to the Catamounts Friday night, 4-2, and completed a come-from-behind victory Saturday afternoon, winning 5-3 by way of three third-period goals.
- Matt Lane (Rochester, N.Y.) and Brandon Fortunato (North Hills, N.Y.) each had career days in Saturday's 5-3 toppling of Vermont. Lane scored the game-tying goal and also dished out two assists for three points while Fortunato scored the empty-netter to seal the victory and also dished out two assists on the game-tying and game-winning goals.
- Freshman forward Jordan Greenway (Canton, N.Y.) recorded three assists on the weekend and now has four points in his last three games (1g, 3a).
- Four Terriers were invited to international World Junior Championship training camps. Fortunato and freshman defenseman Charlie McAvoy (Long Beach, N.Y.) were selected to USA Hockey's camp while rookie forward Jacob Forsbacka Karlsson (Stockholm, Sweden) and sophomore defenseman Brandon Hickey (Leduc, Alta.) were chosen by Sweden and Canada, respectively.

UMass vs. Union - Fri. 12/11 at UMass
- UMass traveled to South Bend last weekend and was swept by the Irish. The Minutemen fell Friday night, 3-1, and Saturday night, 5-1.
- Senior Shane Walsh (West Roxbury, Mass.) scored the only goal for UMass in both contests. Walsh now leads the team with 11 goals and is tied for fourth in the country with that total. His six markers in Hockey East play place him third in the league.
- Ray Pigozzi (Evanston, Ill.) assisted the Walsh goal Saturday night, giving him nine assists on the year, and also marking his 50th career point as a Minuteman.
- Despite falling in each game, UMass prevented Notre Dame from scoring on the power play in six tries, extending its penalty-killing streak to 23 straight opportunities and have allowed just one power-play goal in the last 30 penalty killing scenarios.

No.19 Merrimack vs. UConn - Fri. 12/11 at UConn
- Merrimack was swept in a home-and-home series with Providence last weekend. The Warriors fell Friday night, 2-1, and was shutout on Saturday at Schneider Arena, 4-0.
- Freshman Mathieu Foget (Orleans, Ont.) recorded the only Warrior goal on the weekend. Foget's goal to even the game Friday night was his second on the year.
- UConn came away with a huge four-point weekend as they swept No. 5 UMass Lowell last weekend. The Huskies defeated UML, 4-3, Saturday afternoon, and than finished the weekend with a, 2-1 victory on Sunday afternoon. The sweep of the River Hawks snapped an eight-game losing streak for the Huskies and it also marked the first time Mike Cavanaugh's squad sweep a Hockey East rival in a two-game weekend set since UConn joined Hockey East in 2014-15.
- UConn was led by freshman Tage Thompson (Orange, Conn.), who recorded three power-play goals on the weekend, including both game-winners. Thompson was named Hockey East's Pro Ambitions Rookie of the Week for his efforts. He now has seven goals, all on the power-play, and is tied for first in the NCAA in power-play strikes.
- Rookie Husky Max Letunov (Moscow, Russia) assisted on both of Thompson's game-winners, pushing his point total to 17 (6g, 11a) on the year, third among Hockey East rookies.
- The Huskies were backboned by Rob Nichols (Dallas, Tex.), who stood tall in net all weekend for the Huskies. Nichols was named Hockey East's Defensive Player of the week, recording 57 save and two wins on the weekend.

New Hampshire vs. Dartmouth - Fri. 12/11 at UNH
- New Hampshire tied Maine Friday night, 3-3, and then finished the weekend with a 5-2 victory over the Black Bears on Saturday night, taking three points in Hockey East Play.
- The Wildcats were led by Warrior Hockey East Player of the Week Andrew Poturalski (Williamsville, N.Y.), who recorded three goals and two assists for five points for the second straight week. Poturalski is now the NCAA leading point-getter with 14 goals and 16 assists for 30 points.
- Senior Maxim Gaudreault (Annapolis, Md.) also had a hand in Saturday night's 5-2 win over Maine. Gaudreault scored two goals in the game, including the game-winner.
- Tyler Kelleher (Longmeadow, Mass.) had a pair of assists in both games and is now ranked second nationally in points behind teammate Poturalski. Kelleher has 27 points on six goals and 21 assists. Both players are also riding eight-game point streaks.
- The Wildcats' three-point weekend was backstopped by the strong goaltending of Danny Tirone (Trumbull, Conn.). The sophomore made 50 saves in Friday night's 3-3 draw, and stopped another 28 on Saturday for a .940 save percentage on 78 saves.

Vermont vs. No.13 St. Lawrence - Fri. 12/11 at UVM, Sat. 12/12 at SLU
- Vermont defeated Boston University, 4-2, on Friday night, before falling to the Terriers, 5-3, on Saturday afternoon.
- The Catamounts were led by Junior goaltender Mike Santaguida (Mississauga, Ont.). Santaguida made 28 saves in Friday night's victory, and made 41 saves in Saturday's setback before leaving the game due to injury. Santaguida stopped 69 of 74 shots on the weekend.
- Brendan Bradley (Warminster, Pa.) scored goals in both games for the Catamounts including the game-winner Friday night.
- Junior net minder Pat Feeley (Winthrop, Mass.) saw his first NCAA action coming into relieve Mike Santaguida on Saturday.
- Liam Coughlin (South Boston, Mass.) recorded his first career goal as a Catamount and assisted on the game-winner Friday night.