Thursday, November 5, 2015
Hockey East Weekend Preview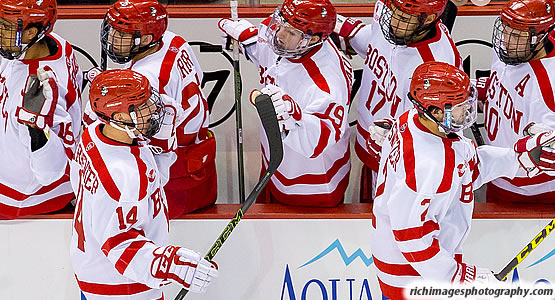 Boston University and Northeastern face-off in a home-and-home Hockey East series this weekend
No. 3 Boston College vs. Maine - Fri. 11/6, Sun. 11/8 at BC
- Boston College took a slight jump in this week's national ranking to move to No. 3 with a win over then-No. 5 Denver, 4-3. The Eagles battled all night and finished off a victory with a game-winning goal from Matthew Gaudreau (Carneys Point, N.J.) with just 36 seconds left in the game.
- Rookie forward Miles Wood (Manchester, Mass.), who had a goal and an assist in the win against Denver, is now tied for second in freshman overall scoring with a 2-6-8 stat line.
- Junior goaltender Thatcher Demko (San Diego, Calif.) recorded his fourth shutout in five games for the Eagles, as BC came away with a 7-0 win against UMass on Tuesday night. This was the first time in the history of the BC hockey program and Demko's feat earned him Stop It Goaltending Goaltender of the Month honors.
- Maine fell, 5-4 in overtime, to league rival UMass in the Capital City Classic in Trenton, N.J., last weekend before dropping a 3-1 decision to Princeton in the third-place game.
- Freshman goaltender Rob McGovern (Weymouth, Mass) started both games for the Black Bears and made 54 saves in the tournament. Cam Brown (Natick, Mass.) dished out two assists in the first game against UMass and now leads the team in points (1g, 3a).

No. 5/4 UMass Lowell vs. Vermont - Fri. 11/6, Sat. 11/7 at UVM
- The River Hawks also made a jump in this week's national polls, advancing to No. 4 in the USCHO.com Poll after a weekend split with then-No. 6 Minnesota Duluth, falling Saturday before taking a 6-3 win Friday night.
- UMass Lowell sophomore forward C.J. Smith (Des Moines, Iowa) had a career night for the River Hawks in Saturday's 6-3 victory over Duluth, scoring a goal and adding three assists for four points.
- The Vermont Catamounts took three of four points in a home-and-home series with Northeastern last weekend. Kevin Sneddon's squad skated to a 3-2 victory Thursday night at Matthews Arena before skating to a 3-3 overtime tie at the Gutterson Field House on Halloween.
- Catamount sophomore forward Jarrid Privitera (Old Tappan, N.J.) notched goals in both games for Vermont, stretching his goal-scoring streak to three games.

No. 10/11 Boston University vs. Northeastern - Fri. 11/6 at BU, Sat. 11/7 at NU
- The Terriers dropped a pair of decisions to Hockey East foes UConn and Merrimack last weekend, but rebounded to finish off the weekend with a 5-4 overtime win over then-No. 5 Denver on Halloween. BU never trailed in the contest, winning with an overtime goal off the stick of senior forward Ahti Oksanen (Kirkkonummi, Finland).
- Sophomore defenseman Brandon Fortunato (North Hills, N.Y.), who picked up a pair of assists in three games during the week, is now tied for second in Hockey East overall defenseman scoring with a 1-2--3 stat line and leads league defenseman with 9 shots on goal.

No. 16 Merrimack vs. Canisius - Sat. 11/7 at Canisius
- Merrimack was able to pick up two points against Boston University Friday night but fell to another Hockey East rival New Hampshire Saturday night, 4-2. The Warriors picked up a 5-1 win Wednesday night at Bentley, taking advantage of a third period that saw Merrimack score four goals in less than five minutes.
- The team leader in points Ben Bahe (Stillwater, Minn.) (4g, 5a), has a goal and four assists in his last three games for Merrimack. Bahe is also tied for second with a plus/minus rating of plus-four in Hockey East play.
- Merrimack's Brian Christie (West Chester, Pa.) (3g, 5a) now has points in six of the seven games he has skated in for the Warriors this season.

No. 18 Notre Dame vs. Minnesota - Fri. 11/6, Sat. 11/7 at Notre Dame
- Notre Dame makes their first appearance in the national polls this week, coming in at No. 18 in the USCHO.com Poll. Last weekend, the Irish swept UConn with a 2-1 victory Saturday at the XL center and an 8-2 victory at Barclays Center in Brooklyn Sunday afternoon. Friday (Nov. 6) night's contest with Minnesota will be aired live on American Sports Network, including airing on NESN in New England.
- Sophomore goaltender Cal Petersen (Waterloo, Iowa) received Hockey East Defensive Player of the Week honors after guiding the Irish to two wins and notching a 1.50 goals against average and .917 save percentage in his two outings.
- Senior forward Thomas DiPauli (Caldaro, Italy) had the game-winning goal and three assists in Sunday's 8-2 win over the Huskies and currently leads all Hockey East skaters in plus/minus with a plus-five rating.

UMass vs. UConn - Friday. 11/6 at UConn Sat. 11/7 at UMass
- UMass battled to a 5-4 overtime victory against Maine in the Capital City Classic in Trenton, N.J., before falling to nationally ranked Yale, 6-1, in the championship game.
- Shane Walsh (West Roxbury, Mass.), who had two goals and an assist over the weekend, is now tied for sixth in overall scoring for Hockey East players with a 6-4--10 stat line.
- Minutemen sophomore forward Dennis Kravchenko (Laguna Niguel, Calif.) is tied for the national lead with seven goals in as many games. For his efforts, he was named Warrior Hockey East Player of the Month for October.

New Hampshire vs. Michigan State - Fri. 11/6, Sat. 11/7 at Michigan State
- The Wildcats won their only game over the weekend, handing previously undefeated Merrimack its first loss of the year on Halloween. Sophomore forward Andrew Poturalski (Williamsville, N.Y.) scored twice, including the game-winning tally.
- New Hampshire now ranks second behind Boston College with a 5.00 goals per game average in Hockey East play.
- Tyler Kelleher (Longmeadow, Mass) (6a) and Poturalski (3g, 3a) currently sit tied for first in overall scoring in Hockey East play. Each skater has recorded three power-play points, which is also tied for the league lead.
- New Hampshire is 2-0-1 in its last three games, behind strong offensive contributions from Kelleher (1g, 8a) and Poturalski (4g, 4a) in that span.

Northeastern vs. No. 10/11 Boston University/ vs. Notre Dame- Fri. 11/6 at BU, Sat. 11/7 at NU, Thurs. 11/12 at ND
- Northeastern played a home-and-home with Vermont this past weekend, collecting one point in conference play by way of a 3-3 overtime draw at Matthews Arena on Thursday night. The Huskies skate in three more Hockey East matchups this week, taking on No. 10/11 Boston University in a home-and-home before traveling to No. 18 Notre Dame.
- The Huskies look for continued production from junior forward John Stevens (Sea Isle City, N.J.), who leads the team with four goals and five points, while senior forward Kevin Roy (Lac-Beauport, Qué.) looks to regain his scoring touch that saw him lead the Huskies with 44 points (19g, 24a) in 2014-15.

UConn vs. UMass/vs. Army- Fri. 11/6 at UConn, Sat. 11/7 at UMass, Tues. 11/10 at UConn
- UConn came away with a big home win last Tuesday against then-No. 7 Boston University, led by a Tage Thompson (Orange, Conn.) hat trick, who would be honored by Hockey East as Rookie of the Week.
- The Huskies also boast Pro Ambitions Rookie of the Month and HCA National Rookie of the Month Max Letunov (Moscow, Russia), who leads the Huskies and all Hockey East rookies in scoring with five goals and 11 points.
- Sophomore defenseman Derek Pratt (Mount Herman, Mass.) ranks second in Hockey East with 18 blocked shots.