Thursday, November 26, 2015
Hockey East Weekend Preview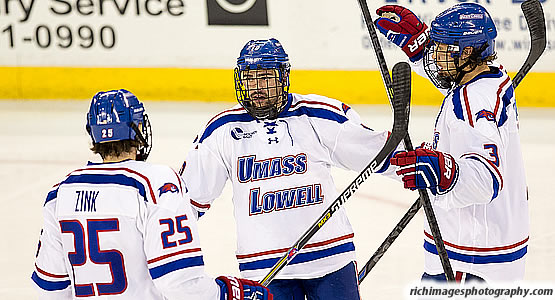 UMass Lowell meets Northeastern for a Hockey East conference game in Belfast, Northern Ireland
No. 1 Providence vs. No. 9/10 Yale - Sat. 11/28 at PC
- The top-ranked team in the country kept their unbeaten streak live with a weekend sweep of Northeastern. Junior netminder Nick Ellis (Millersville, Md.) completed his first shutout of the season in Saturday's 3-0 blanking of the Huskies. The Friars will welcome No. 9/10 Yale to Providence Saturday night for the first meeting of the programs since 1998.
- Senior forward Mark Jankowski (St. Catherines, Ont.) was named Warrior Hockey East Player of the Week for his contributions this weekend, after compiling four points (3g, 1a). Jankowski scored two power-play goals Friday night, including the game-winner, and netted the game-winning strike again Saturday night while also adding an assist.
- Nick Saracino (St. Louis, Mo.) is currently riding a seven-game point streak, tallying three goals and nine assists for 12 points in that span.

No. 2 Boston College vs. RIT - Sat. 11/28 at BC
- Boston College extended its win streak to 10 games with a 6-3 defeat of New Hampshire Saturday, followed with a 5-1 victory at UConn Tuesday night. The 11-1-0 start is the best to open a season under current head coach Jerry York, who is just five wins away from winning his 1,000th career contest.
- Colin White (Hanover, Mass.) extended his point streak to seven games (5g, 12a) with two assists and the game-winning goal in the victory over UConn.
- Matthew Gaudreau (Carneys Point, N.J.) is also riding a seven-game point streak, extending it with an empty-net goal at UConn. He now has three goals and six assists on the year.
- Boston College boasts the most prolific offensive unit in the NCAA, averaging 4.42 goals per game, as well as the top defense at 1.17 goals per game.

Massachusetts vs. No. 3 Quinnipiac - Fri. 11/27 at UMass, Sat. 11/28 at QU
- UMass skated to back-to-back draws in overtime against New Hampshire on Friday and Merrimack on Saturday.
- Shane Walsh (West Roxbury, Mass.) scored the game-tying goal, his ninth on the season and 50th point on his career for the Minutemen on Friday night.
- Walsh ranks second on the UMass team in points behind Dennis Kravchenko (Laguna Niguel, Calif.) with nine goals four assists for 13 points. Kravchenko is tied for fourth in the nation for point-scoring with 17 points on seven goals and 10 assists.

No. 4 UMass Lowell vs. Northeastern/vs. Brown/Colgate - Fri. 11/27, Sat. 11/28 in Belfast, Northern Ireland
- UMass Lowell tied Notre Dame Friday night, 2-2, and won on Saturday night, 3-1. The River Hawks found the back of the net three times on the power-play to take three points from the Irish.
- UML rookie forward Nick Master (Broomall, Pa.) was awarded Pro Ambitions Rookie of the Week for his efforts this weekend, scoring two goals in the two games. He has now tallied points in 4 straight games.
- The River Hawks' C.J. Smith (Des Moines, Iowa) extended his point streak to seven games with an assist on both nights, and now has three goals and seven assists for 10 points in that span.
- UMass Lowell meets Northeastern for a Hockey East conference game in Belfast, Northern Ireland as part of the inaugural Friendship Four tournament. All four games of the tournament can be seen in North American on NESN, NESNplus and TSN.
- Northeastern was swept by No. 1 Providence College last weekend in a home-and-home series. The Huskies', Zach Aston-Reese (Staten Island, N.Y.) tallied a goal and an assist in Friday night's setback. He snapped a three-game point streak in Saturday's shutout loss to the Friars. Aston-Reese leads all Husky skaters with nine points on two goals and seven assists.

No. 12/11 Boston University vs. No. 15/16 Cornell - Sat. 11/28 at Madison Square Garden
-. The No.12/11 Boston University Terriers split a weekend series with then-No.12 Michigan last weekend, including a come-from-behind win Friday night, 3-2, before suffering a Saturday afternoon setback, 4-2.
- Senior forward Danny O'Regan (Needham, Mass.) had a goal Friday night and added an assist Saturday night against Michigan and helped BU to a 3-0 win over Bentley Tuesday night with an assist and the game-winning goal. The returning All-American has now tallied points in 10 of the Terriers' 13 games.
- The Terriers will meet the No. 15/16 ranked Cornell team at Madison Square Garden for the 2015 incarnation of Red Hot Hockey. The fifth installment of the rivalry game is set for 8 p.m.

No. 13 Merrimack vs. Union - Sat. 11/28 at MC
- Merrimack tied the only game they skated in last weekend, drawing with UMass last Saturday, 1-1. The result clinched the season series against UMass for the Warriors, having defeated the Minutemen, 4-2, November 13. The result ran Merrimack's unbeaten streak to five games.
- Sophomore forward Aaron Titcomb (Charlestown, Mass.) scored the lone goal for the Warriors, the first of his career. The goal was assisted by sophomore forward Brett Seney (London, Ont.), who has now tallied at least one point in eight of Merrimack's 11 contests.

No. 18 Notre Dame vs. Harvard/vs. Western Michigan/RPI - Fri. 11/27, Sat. 11/28 at ND
- Notre Dame moved to No. 18 in the USCHO.com poll after a 0-1-1 weekend at then-No. 5 UMass Lowell last weekend. The Irish fought to a 2-2 draw at the Tsongas Center Friday night and than fell to the River Hawks, 3-1, Saturday night.
- Freshman forward Dennis Gilbert (Williamsville, N.Y.) struck on the power play late in the second frame for his first collegiate goal to spark the Irish to Friday night's comeback.
- Anders Bjork (Mequon, Wis.) scored the game-tying goal for the Irish at 9:55 of the third period Friday to secure the 2-2 draw. Bjork now ranks third on the team in points behind senior Thomas DiPauli (Caldaro, Italy) and sophomore Jake Evans (Toronto, Ont.) with 11 points on three goals and eight assists.

New Hampshire vs. Bentley - Sat. 11/28 at UNH
- New Hampshire skated to a 2-2 draw with UMass Friday night and fell to the No. 2 ranked Boston College Eagles Saturday night, 6-3. In a Tuesday night matchup, Andrew Poturalski (Williamsville, N.Y.) netted a hat trick, but it wasn't enough to power the Wildcats past RPI in a 4-3 loss.
- The top point-getters in the NCAA, Tyler Kelleher (Longmeadow, Mass.) and Poturalski, continued their offensive production as Kelleher recorded three assists and a goal, combined with Poturalski's four goals and three assists. Matias Cleland (Longmont, Colo.) also added a goal and two assists on the weekend.
- Poturalski and Kelleher have both tallied points in nine of New Hampshire's 12 games and are both riding five-game point streaks. They rank first and second in the NCAA in scoring, respectively, with 23 and 22 points. Poturalski's 11 goals are tops in the nation while Kelleher's 16 assists are the most in the country.

Princeton vs. Maine - Fri. 11/27 Sat. 11/28 at Maine
- Maine came away with their first two victories on the season in a sweep of Vermont last weekend, picking up a pair of wins at Alfond Arena.
- Dan Renouf (Pickering, Ont.) was named Hockey East Defensive player of the week as he tallied four points (2g, 2a), including the game-winner on Friday.
- Junior Matt Morris (Ridgewood, N.J.) started both games in net for the Black Bears and recorded the win in each game, stopping 73 shots while allowing just 3 goals.

Vermont vs. Penn State - Sun. 11/29 at Wells Fargo Center
- Junior forward Mario Puskarich (Ft. Walton Beach, Fla.) picked up his fifth goal of the season in Friday night's loss to Maine, lifting his team-leading point total to 12 points on five goals and seven assists.
- The Catamounts will meet Penn State at the Wells Fargo Center in Philadelphia, Pennsylvania for the fourth annual Philadelphia College Hockey Faceoff.