Thursday, November 12, 2015
Hockey East Weekend Preview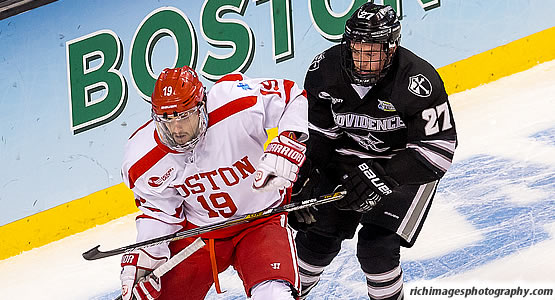 Providence College and Boston University battle in a home-and-home series this weekend
No. 1 Providence vs. No. 11 Boston University - Fri. 11/13 at PC, Sat. 11/14 at BU
- Providence was off last weekend, but rose to the top ranking in the national polls, marking the first time the Friars have held the top ranking during the regular season since 1983. Two weeks ago, PC swept Colgate led by Warrior Hockey East Player of the Week Jake Walman (Toronto, Ont.) as the defenseman tallied four goals and two assists for a six-point weekend. Walman now leads all NCAA defenseman in goals and overall point-scoring with a 7-5-12 stat line.
- Providence is riding a 10-game unbeaten streak, which date backs to last year's national title run. The Friars have not been defeated in regulation since February 13, 2015, a 2-0 loss to Hockey East rival Notre Dame.
- No. 11 Boston University welcomed back its captain in senior defensemen Matt Grzelcyk (Charlestown, Mass.) in a weekend sweep of Northeastern. Grzelcyk had an immediate impact for the Terriers, receiving Hockey East Defensive Player of the Week honors, netting two goals and adding an assist in the series.
- Friday's contest marks the first time the two programs have met since last year's national championship game, where Providence defeated Boston University, 4-3, at TD Garden in Boston.

No. 2 Boston College vs. Michigan State - Fri. 11/13 at Boston College
- Boston College came away with a weekend sweep of Maine behind back-to-back shutouts from Thatcher Demko (San Diego, Calif.), who posted his sixth shutout in seven starts. That mark has been achieved just once before in the history of college hockey (Blaine Lacher, LSSU - 1994). His streak has helped the Eagles to win its last seven consecutive outings.
- Colin White (Hanover, Mass.) had a goal and three assists in the series against the Black Bears, and the rookie forward now has nine points (2g, 7a) in the last four games.
- Michigan State enters Conte Forum off of a two-game sweep of Hockey East's New Hampshire last weekend in East Lansing, outscoring the Wildcats, 12-4. The Eagles and Spartans have meet on The Heights three times previously with the record standing at 1-1-1 for each squad.

No. 5 UMass Lowell vs. Maine - Fri. 11/13 at UML, Sun. 11/15 at ME
- UMass Lowell came away with a sweep of Vermont this past weekend, led by senior forward Michael Fallon (Glenview, Ill.), who posted a goal and two assists for a three-point weekend.
- The River Hawks continue to see strong goaltending from senior netmidner Kevin Boyle (Manalapan, N.J.). Boyle recorded two wins at Gutterson Fieldhouse, including a 32-save shutout in a 1-0 victory. In total, Boyle stopped 59 of 62 shots on the weekend for a .952 save percentage.
- Maine was shut out in back to back contests at Boston College this past weekend at Conte Forum.
- The Black Bears continue to get strong goaltending from freshman Rob McGovern (Weymouth, Mass). McGovern ranks in the top 5 for Hockey East goaltenders in goals against average (2.08 - 5th), and save percentage (.935 - 3rd).

No. 13/14 Merrimack vs. UMass/New Hampshire - Fri. 11/13 at UMass, Sat. 11/14 at MC
- Merrimack downed the Bentley Falcons Wednesday night, 5-1, and Canisius, 3-2, Saturday. Jared Kolquist (Hermantown, Minn.) spearheaded the Warriors offense with three assists in the two games.
- Sophomore goaltender Colin Dellia (Rancho Cucamonga, Calif.) ranks in the top five among Hockey East goaltenders in each overall statistical category, ranking third in goals against average (1.73), fourth in save percentage (.924) and fifth in win percentage (.750).
- New Hampshire fell in each of a two-game set with Michigan State in a weekend series in East Lansing last weekend.
- After being shutout Friday night, Andrew Poturalski (Williamsville, N.Y.) and Tyler Kelleher (Longmeadow, Mass.) sparked the Wildcats offense once again, as each recorded a goal and an assist in Saturday's game. Kelleher (4-11-15) ranks first in overall scoring for Hockey East players while and Poturalski (6-8-14) ranks third.

No. 18 Notre Dame vs. Northeastern - Thurs. 11/12, Fri. 11/13 at Notre Dame
- Notre Dame split a weekend series with Minnesota, capturing a win late in regulation Friday night, 4-3, before suffering a Saturday night setback, 4-1.
- The Irish offense was led by junior forward Anders Bjork (Mequon, Wis.), who had a goal and two helpers in Friday's victory and added another assist Saturday for a four-point weekend. The Irish also saw offense from blue liner Jordan Gross (Maplegrove, Minn.) who added two goals, including the game-winner, in Friday night's win.
- Northeastern fell in each game of a home-and-home series with Boston University, 5-4, Friday night and, 4-1, Saturday night. Adam Gaudette (Braintree, Mass.) led the Huskies' offensive attack with two goals and an assist in the weekend series. Gaudette is now tied for fourth in Hockey East rookie scoring with a 3-1-4 stat line.

Vermont vs. UConn/UMass - Friday. 11/13, Sun. 11/15 at UVM
- Vermont dropped a weekend series to UMass Lowell at home last weekend. Freshman forward Mike Lee (Hamden, Conn.) registered his first career goal as a Catamount on Friday night. The Catamounts offense was paced by junior forward Mario Puskarich (Fort Walton Beach, Fla.), who registered 10 shots to pick up a goal and an assist.
- UMass earned a weekend sweep of UConn over the weekend in a home-and-home series. UMass was led by Pro Ambitions Rookie of the Week Austin Plevy (Langley, B.C.), who had a four-point weekend on two goals and two assists. Dominic Trento (Brockport, N.Y.) also tallied a big weekend for the Minutemen, posting five points on three goals and two assists en route to being named the No. 2 star of the week in NCAA hockey.
- Trento now leads all Hockey East skaters in conference goal scoring with four markers on the year while Plevy ranks third among league freshmen in scoring with a 2-3-5 stat line.

UConn vs. Vermont/No. 3/4 Quinnipiac - Friday. 11/13 at UVM, Tues. 11/17 at UConn
- UConn senior captain Patrick Kirtland (Rocky Hill, Conn.) posted two assists for the Huskies in a pair of setbacks to UMass last week collecting an assist in each game.
- Pro Ambitions Rookie of the Month Max Letunov (Moscow, Russia) registered a goal and an assist in Saturday's 5-3 loss. Letunov now ranks second among rookies in Hockey East scoring with three goals and four assists for seven points, and ranks first in power-play points with four (4a).
- The Huskies are now 0-4-0 when Letunov fails to score a point following a 2-0 shutout of the Huskies by Army at the XL Center on Tuesday night.