Thursday, October 8, 2015
Hockey East Weekend Preview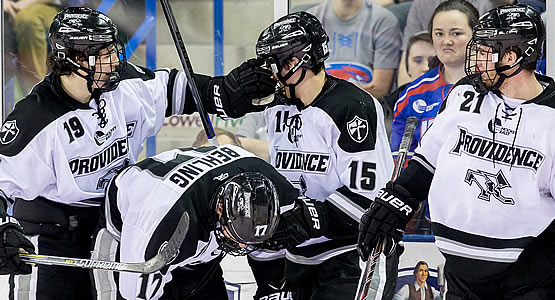 Reigning national champion Providence College will open regular season play with a two-game set at Miami
No. 1 Boston College vs. Army West Point; RPI - Fri. 10/9 at Army; Sun. 10/11 at RPI
- Boston College opens its 2015-16 season on the road at Army West Point on Friday, Oct. 9. The Eagles will collide with Army on Tate Rink at 7 p.m.
- The Eagles will then make the short trip to RPI to take on the Engineers for a Sunday afternoon showdown. Sunday's game at Houston Field House will take place at 2 p.m.
- The Eagles bring back 2014-15 leading-scorer Alex Tuch, who became the first Eagle freshman to lead Boston College in points in 42 years after logging 14 goals and 14 assists last season. The Eagles will also look to highly-touted newcomers Colin White, Jeremy Bracco, and Miles Wood for increased production in 2015-16.

No. 2 Boston University vs. Union - Sat. 10/10 at Union
- The Terriers will officially open their 2015-16 season with their first-ever trip to Union.
- Only one active skater - Northeastern's Kevin Roy - enters this season with more career points than Terrier senior Danny O'Regan. As the right wing on last year's top line in college hockey, O'Regan put up 50 points on 23 goals and 27 assists and enters his last go-around with 110 career points.
- BU will add four freshmen to their forward group, including two who were picked in the second round of this summer's NHL Entry Draft. Jakob Forsbacka-Karlsson (Boston Bruins) is an impressive two-way center and Jordan Greenway (Minnesota Wild) is a power forward with an imposing 6-5, 223-pound frame.
No. 7 Providence vs. No. 11 Miami - Fri. 10/9, Sat. 10/9 at Miami
-The reigning national champions will open regular season play with a two-game set at No. 11 Miami. The two squads battled in last season's NCAA East Regional with the Friars scoring a 7-5 win at the Dunkin Donuts Center on March 29.
- No. 7 Providence College netted five power play goals en route to a 9-1 exhibition victory over Simon Fraser last Saturday night at Schneider Arena.

No.13 UMass Lowell vs. RPI - Fri. 10/9 at UMass Lowell
- UMass Lowell registered a 3-2 victory against New Brunswick in exhibition play on Sunday afternoon at the Tsongas Center, with goals from returners Jake Kamrass, Michael Louria, and Evan Campbell.
- The River Hawks officially open their 49th season of play on Friday against ECAC foe RPI.
- The River Hawks bring back their 2014-15 leading-scorer in sophomore C.J Smith, who scored 35 points (16g,19a).

Notre Dame vs. Guelph; vs. NTDP - Fri. 10/9 at ND; Sun. 10/11 at NTDP
- The Irish bring back leading goal-scorer Mario Lucia who scored a team-high 21 goals and added 11 assists for 32 points. His 32 points ranked third on the team, while his 21 goals and 32 points were career-high totals.
- The Irish were picked to finish the regular season seventh in the Hockey East Preseason Coaches' Poll, which was released prior to the start of media day on September 21. Notre Dame is entering its third season in Hockey East in 2015-16.

UConn vs. Alabama Huntsville - Fri. 10/9, Sat. 10/10 at UAH
- The UConn men's hockey team took the ice for the first time in 2015-16 Saturday afternoon and came away with a 3-1 win over Queens University in an exhibition contest at Freitas Ice Forum on the Storrs Campus.
- The Huskies bring back their leading goal-scorer and point-getter in Spencer Naas and Shawn Pauly. Naas was third on the team in scoring with 17 points and led all UConn goal-scorers, finding the back of the net 13 times. Pauly led the Huskies in scoring with 20 points, scoring five goals and passed out a team-high 15 assists.

Maine vs. Michigan State; North Dakota - Fri. 10/9 at Cross Insurance Arena
- The Black Bears return their second leading scorer from a year ago in Cam Brown (7g, 21a).
- Maine was tabbed 10th in Hockey East in the league's coaches' poll, and opens its 2015-16 season with the annual Ice Breaker Tournament, hosted this year in Portland, Maine.

New Hampshire vs. AIC - Sat. 10/10 at UNH
- Shane Eiserman and Marcus Vela recorded three points apiece to lead New Hampshire in Sunday evening's 6-4 comeback victory in an exhibition game against St. Francis Xavier at the Whittemore Center.
- The Wildcats were picked to finish sixth in the 2015-16 Hockey East Preseason coaches' poll.
- New to the bench this season, the Wildcats will welcome former player Mike Souza as associate head coach after Souza spent 2014-15 alongside UConn head coach Mike Cavanaugh.

Northeastern vs. Colgate - Sat. 10/10 at Northeastern
- Northeastern got its season started in a big way Sunday afternoon, firing 63 shots on Simon Fraser and scoring 10 times en route to a 10-2 exhibition victory at Matthews Arena.
- Northeastern brings back one of the league's top forwards in senior Kevin Roy, who led the team with 44 points (19g, 25a), which tied for fourth in Hockey East and 17th in the nation. Roy had 33 points (16g, 17a) in the last 19 games of the season and was one of eight players in the nation to have recorded a five-point game.

Vermont vs. No. 8 Minnesota - Sat. 10/10 at Minnesota
- The Catamounts dropped an exhibition game to Acadia, 2-1, Sunday afternoon to open the 2015-16 season. Former Hockey East rookie of the year Mario Puskarich scored the Catamounts' only goal.
- The Catamounts will look to their leading goal-scorer from a year ago in Brady Shaw, who led the team with 19 goals and ranked second on the squad with 31 points. The Catamounts also return offensive defenseman Alexx Privitera, who tallied 26 points on seven goals and 19 assists to finish second on the squad in assists and fifth in Hockey East and 20th nationally in defensive scoring.

Massachusetts vs. Colorado College - Fri. 10/9; Sat. 10/10 at CC
- The Minutemen travel west for a pair of games against the Tigers to open 2015-16, lead by returning leading goal-scorer Shane Walsh (14g, 8a) who scored a dozen of those tallies over the final 18 games.
- UMass sophomore Dennis Kravchenko finished fifth nationally among rookies in 2014-15 with 33 points (10g, 23a).