Thursday, October 29, 2015
Hockey East Weekend Preview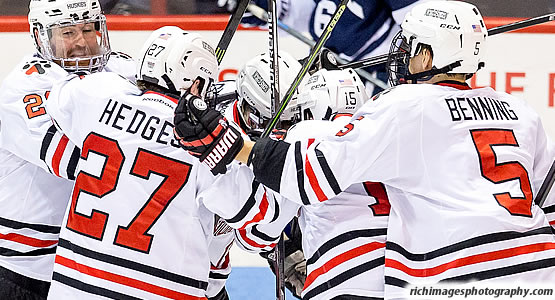 Northeastern and Vermont will begin home-and-home series Thursday night at Matthews Arena
No. 3 Providence vs. Colgate - Fri. 10/30, Sat. 10/31 at Colgate
- The Friars completed a weekend sweep of Ohio State at home last weekend to remain undefeated in 2015-16 (4-0-1) and extending their unbeaten streak to nine games dating back to last season (8-0-1). Trevor Mingoia (Fairport, N.Y.) posted a career high three assists in Saturday's 6-4 win that saw six different goal-scorers for Providence.
- Providence carries a 17-9-4 record all time against Colgate in 30 total previous meetings as they travel to Colgate's Starr Rink for the first time since 1996. Last season, the Friars and Raiders played a single game in Providence, with Mingoia netting the game-winner in a 4-3 victory.

No. 4 Boston College vs. No. 5 Denver - Fri. 10/30 at BC
- The Eagles came away with a 5-0 shutout in the finale of the weekend series against Colorado College Saturday night. It marked the first time in eight and a half years the Eagles shut out an opponent in three consecutive games, dating back to 2005-06 when Cory Schneider (Marblehead, Mass.) turned the trick for BC. Thatcher Demko (San Diego, Calif.) is the second goaltender to three shutouts this season and is now tied for sixth all-time at Boston College with six career shutouts with former Boston College netminders Parker Milner (Pittsburgh, Pa., 2009-13) and Joe Carroll (1951-54).
- Denver is 2-2-0 in games played at Conte Forum, having last skated at BC Oct. 14, 2011 in a 4-2 win.

No. 7/8 Boston University vs. No. 17 Merrimack/vs. No. 5 Denver - Fri. 10/30 at MC, Sat. 10/31 at BU
- Freshman forward Jakob Forsbacka Karlsson (Stockholm, Sweden) and sophomore defenseman Brandon Fortunato (North Hills, N.Y.) scored power-play goals in the third period to lift the No. 7/8 Boston University to a 4-2 victory over visiting UConn in the Hockey East opener for both teams on Saturday afternoon at Agganis Arena.
- The Terriers visit No. 17 MC Friday night in a Hockey East matchup on Lawler Rink. After going 1-0-1 against the Warriors in 2014-15, BU swept MC in the 2015 Hockey East quarterfinals by scores of 6-2 and 5-0 at Agganis Arena.

No. 8/7 UMass Lowell at No. 6 Minnesota Duluth - Friday. 10/30, Sat. 10/31 at UMD
- Senior goaltender Kevin Boyle (Manalapan, N.J.) registered 34 saves to lead the UMass Lowell River Hawks to a 1-1 tie at then-No. 19 Merrimack College on Friday night at Lawler Rink in the Hockey East opener for both clubs. He followed up by stopping 22 shots in another 1-1 draw at the Tsongas Center the following evening.
- A lone goal from Michael Kapla (Eau Claire, Wis.) helped the River Hawks to a 1-1 draw with Merrimack Saturday night at the Tsongas Center. The River Hawks continue to be perfect on the penalty kill, going 2-for-2 on the night and improving to 16-for-16 overall.
- Head coach Norm Bazin's squad travels to Minnesota to face off with No. 6 Minnesota Duluth and begins a stretch where they will play five of six games on the road (at UMD, at Vermont, at Maine).

Maine vs. UMass/vs. (Princeton/No. 15/13 Yale) - Fri. 10/30, Sat. 10/31 at Sun National Bank Center
- UMass scored five unanswered goals, including four in the third period, to rally for a 6-6 tie against New Hampshire Friday night at the Mullins Center to remain undefeated at 3-0-1. The five-goal rally marked the largest such comeback in the program's Div. I history. Sixteen different UMass players earned the team's 17 points, including six different goal scorers.
- The University of Maine fell to New Brunswick, 5-1 in an exhibition contest Friday night. Sean Romeo (Cary, N.C.) received his first start of the season in net for the Black Bears.
- The two Hockey East schools will matchup for a non-conference game Friday at 4:30pm in the Capital City Classic in Trenton, New Jersey. The winner will play either Yale or Princeton Saturday for tournament title.

New Hampshire vs. No. 17 Merrimack - Sat. 10/31 at MC
- Senior alternate captain Dan Correale (Prince George, B.C.) recorded his first career hat trick as the Wildcats skated to a 6-6 tie at UMass Friday night. For his efforts, Correale earned Warrior Player of the Week honors, finishing the weekend with five points (4g, 1a) and also helped UNH to a 5-2 road win at then-No. 18 Union Saturday.
- Tyler Kelleher (East Longmeadow, Mass.) had a three-point night (1g, 2a) to help New Hampshire to a 5-2 win over Union, handing the Dutchmen their first loss of the season. The Wildcats face off with Hockey East rival Merrimack Saturday night at Lawler Rink. The Wildcats were 2-0-0 over the Warriors in 2014-15, winning 4-1 and 3-0.

No. 17 Merrimack vs. Boston University/vs. New Hampshire - Fri. 10/30, Sat. 10/31 at MC
- Senior forward Ben Bahe (Stillwater, Minn.) scored his team-leading third goal of the season and added an assist in a weekend that saw then-No.19 Merrimack tie then-No. 7 UMass Lowell in back-to-back 1-1 league contests.
- Two nights in a row, Merrimack College sophomore goaltender Collin Delia (Rancho Cucamonga, Calif.) allowed just one goal to top-ten opponent UMass Lowell. In 130:00 of play, he totaled 31 saves finishing with 0.92/.939 numbers. Delia has allowed just one goal in each of his four outings this season, boasting a 0.97 GAA in 246:39 minutes.

Northeastern vs. Vermont- Thurs. 10/29 at NU, Sat. 10/31 at UVM
- Northeastern opens Hockey East play against the Catamounts in a home-and-home series this weekend. Historically, the Huskies carry a 13-12-6 record in league openers. Northeastern and Vermont have faced each other 58 times previously, with UVM holding a 29-23-6 record, including a 1-1-1 mark in 2014-15.
- Freshman goaltender Ryan Ruck (Coto de Caza, Calif.) was a bright spot for the Huskies last weekend, making 21 saves in 48 minutes Friday, including a highlight-reel save during a Husky penalty kill to keep the score at 3-0. Ruck then made 28 saves in his first career start Saturday.
- Vermont played host to top ranked North Dakota last weekend. Senior goaltender Mike Santaguida (Mississauga, Ont.) finished with a career-high 39 saves Friday night, including 33 in the first two periods.
- Jarrid Privitera (Old Tappan, N.J.) scored two goals Saturday night, with freshman Liam Coughlin (South Boston, Mass.) assisting on both strikes.

Notre Dame vs. UConn - Sat. 10/30 at UConn, Sun. 11/1 at Barclays Center
- A pair of goals by freshman forward Dylan Malmquist (Edina, Minn.) and a Thomas DiPauli (Caldaro, Italy) power-play tally Saturday night helped Notre Dame to the second consecutive 3-3 tie with then-No. 5 Minnesota Duluth in South Bend.
- The Irish begin Hockey East league play against UConn Saturday afternoon at the XL Center in Hartford, Connecticut, before the teams travel to Brooklyn for a Sunday afternoon matchup at Barclays Center.
- UConn freshman Max Letunov (Moscow, Russia) scored a pair of goals, but the Boston University Terriers posted two third-period power-play strikes en route to a 4-2 win at Agganis Arena in the Hockey East opener for both clubs Saturday afternoon. Letunov now leads the Huskies in goals with five. UConn junior goaltender Rob Nichols (Dallas, Texas) made a season-high 29 saves.
- The Huskies upset No. 7 Boston University Tuesday night behind a Tage Thompson (Orange, Conn.) hat trick that earned their first win against Boston University under head coach Mike Cavanaugh.
- Last season, Notre Dame and UConn played a home-and-home series, with the Irish taking a 1-0-1 record. Jeff Jackson's squad skated to a 3-3 tie Jan. 16 at the Compton Family Ice Arena before claiming a 6-1 win at Webster Bank Arena in Bridgeport, Connecticut Jan. 18.