Thursday, October 22, 2015
Hockey East Weekend Preview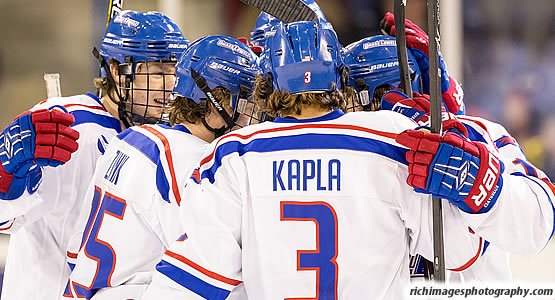 UMass Lowell and Merrimack face-off in a home-and-home series this weekend
Vermont vs. No. 2/1 North Dakota/vs. Northeastern - Fri. 10/23, Sat. 10/24 at Vermont
- Vermont battled No. 1 Omaha at home this past weekend, but fell Friday night, 4-3, and Saturday night, 3-1.
- Friday night, Vermont responded midway through the middle frame on its second power-play opportunity. Liam Coughlin (South Boston, Mass.) tipped a pass to Jarrid Privitera (Old Tappan, N.J.) in the slot, and the sophomore buried his own rebound inside the left post to cut the Mavericks' lead in half. Brian Bowen (Littleton, Mass.) picked up his first career point with an assist on the play.
- Saturday night, Alexx Privitera (Old Tappan, N.J.) picked out Mario Puskarich (Fort Walton Beach, Fla.) at the top of the right faceoff circle, and Puskarich beat the goaltender glove side with a quick one-timer for his third goal in as many games. Kevin Irwin (Akron, Ohio) collected the second assist to cut the Mavericks' lead to one.

No. 3 Providence vs. Ohio State - Fri. 10/23, Sat. 10/24 at Providence
- The Friars came away with a 4-1 victory over Holy Cross on a special night that celebrated the Friars first-ever NCAA national championship. Led by strong goaltending from junior Nick Ellis (Millersville, Md.) and two points each from Mark Jankowski (Dundas, Ont.) and Jake Walman (Toronto, Ont.) paced the No. 3 Providence College Friars to a 4-1 win over Holy Cross in front of a sellout crowd
- Providence is led by a strong core of veterans as nine seniors return to the Friars from the banner season. The group has combined to log 858 games over the previous three-plus seasons and 417 total points.

No. 4 Boston College vs. Colorado College - Fri. 10/23, Sat. 10/24 at Colorado College
- First-year forward Colin White (Hanover, Mass.) picked up Boston College's first weekly honor of the season after earning Pro Ambitions Rookie of the Week accolades Monday afternoon after scoring a pair of goals in a 6-0 win over Wisconsin.
- Junior goaltender Thatcher Demko (San Diego, Calif.) earned his fourth-career shutout as an Eagle, stopping 20 shots in the win. It marks Demko's first shutout since blanking the Fighting Irish at Notre Dame on Feb. 27, 2015, with 35 saves.

Notre Dame vs. No. 5 Minnesota Duluth - Fri. 10/23, Sat. 10/24 at Notre Dame
- Notre Dame split a series last weekend with Penn State, winning Friday night's tilt, 7-4. The Irish were fueled by the first career hat trick from senior captain Steven Fogarty (Edina, Minn.). He also added an assist for a four-point night.
- The Irish fell Saturday night to Penn State, 5-3, but saw goals from Ben Ostie (Edina, Minn.), Dylan Malmquist (Edina, Minn.), and Mario Lucia (Plymouth, Minn.).

No. 7/8 Boston University vs. UConn - Sat. 10/24 at BU, Tues. 10/27 at UConn
- There was another banner night being celebrated in Hockey East as the Terriers hung five flags to honor the accomplishments of 2014-15 including a Beanpot title, Hockey East regular season and tournament titles, Hobey Baker winner Jack Eichel and and NCAA Frozen Four appearance. In a 4-1 win over Wisconsin, sophomore defenseman Brandon Fortunato (North Hills, N.Y.) scored the game-winning goal on the power play and added an assist. Classmate Connor LaCouvee (Qualicum Beach, B.C.) made 17 saves to pick up the win in goal.
- UConn came away with a 5-1 win over Arizona State last Friday night. The Huskies were fueled by underclassmen Spencer Naas (Minnetonka, Minn.), and Maxim Letunov (Moscow, Russia). The Huskies were 2-for-6 on the power play as Naas picked up two power-play goals on assists from Letunov. The Huskies will be looking for contributions from the younger players all year as they have a total of 18 underclassmen on their roster.

No. 8/7 UMass Lowell at Merrimack - Friday. 10/23 at MC, Sat. 10/24 at UML
- UMass Lowell senior goaltender Kevin Boyle (Manalapan, N.J.) was named Hockey East Defensive Player of the Week after he recorded two wins by stopping 39 of 42 shots in the weekend sweep of NCHC foe Colorado College at the Tsongas Center. He stopped 16 shots in Friday's 3-2 victory and followed that up with 23 saves in Saturday night's 2-1 win vs. the Tigers
- Merrimack came away with a weekend sweep over Clarkson and St. Lawrence by a combined scored of 10-2. Merrimack ripped off six goals over the final 40 minutes and saw five different skaters light the lamp in a 7-1 season- opening victory against Clarkson on Friday night at Lawler Rink. The seven goals were the most for the team since an 11-2 home win against Massachusetts on Feb. 5, 2011. Sophomore goaltender Collin Delia (Rancho Cucamonga, Calif.) posted 1.03 GAA/.962 SV% numbers on weekend.

UMass vs. New Hampshire - Fri. 10/23 at UMass
- With its 5-2 victory over Sacred Heart in the home opener last Friday, UMass is off to its first 3-0-0 start since the 2009-10 season.
- Sophomore forward Dennis Kravchenko (Laguna Niguel, Calif.) netted a hat trick and an assist for his second four-point effort of the season. The hat trick was the first of his career, while his four points tied a career single-game high. Included in his hat trick, Kravchenko notched his fourth career power-play goal (first of the season) and second career game-winning goal, while winning 10 of 16 (62.5%) faceoffs vs. the Pioneers. The big weekend earned Kravchenko Warrior Player of the week honors.

New Hampshire vs. UMass/vs. Union - Fri. 10/23 at UMass, Sat. 10/24 at Union
- New Hampshire hosted ECAC foes Clarkson and St. Lawrence this past weekend. Junior forward Jamie Hill (Glassboro, N.J.) and senior Maxim Gaudreault (Annapolis, Md.) each scored a goal, but the University of New Hampshire fell to St. Lawrence University in overtime Friday night, 3-2. Seniors Gaudreault and Kyle Smith (Lumberton, N.J.) as well as freshman Matt Dawson (Delta, B.C.) scored for the Wildcats in a 4-3 loss to St. Lawrence Saturday night.
- After this weekend, the Wildcats will start a road trip in which they won't return to the Whittemore Center until November 20.

Northeastern at Minnesota- Fri. 10/23, Sat. 10/24 at Minnesota
- Facing a 3-0 third period deficit thanks to a hat trick from Bentley's Andrew Gladiuk, Northeastern (1-1-0) scored twice in the final frame, but could not find the equalizer as Bentley escaped with a 3-2 victory on Friday night at Matthews Arena. The Huskies outshot Bentley 51-11, including 38 in the first 40 minutes of play.
- For the second straight night, Northeastern peppered Bentley netminder Jayson Argue all night, tossing 41 shots his way. Northeastern went 0-of-5 on the power play while the Falcons were 1-of-6. Northeastern fell to Bentley 4-1, with the lone Northeastern goal coming from sophomore forward Nolan Stevens (Sea Isle City, N.J.).

Maine vs. New Brunswick (ex) - Fri. 10/23 at Maine
- Maine will be back on the ice Friday night in exhibition game against New Brunswick after three quick games against Union (Friday & Saturday) and Quinnipiac (Tuesday). Maine walked away with one point in the weekend series against Union, skating to a 1-1 draw Friday night.
- Maine got a strong performance from freshman goaltender Rob McGovern (Weymouth, Mass.) Friday night as the rookie made 28 saves in the 1-1 tie with Union.