Weekly Release: No. 2 PC Tops Holy Cross; No. 7 UML Sweeps CC Tigers
No. 4 Boston College, No. 8 Boston University Down Wisconsin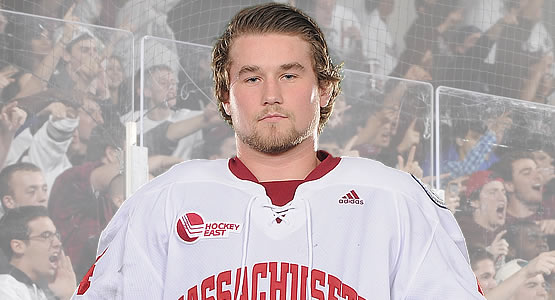 Warrior Hockey Player of the Week Dennis Kravchenko of Massachusetts
AROUND HOCKEY EAST: No. 2 Providence hung the 2015 NCAA National Championship banner Friday night in Schneider Arena before capping the night with a 4-1 victory over Holy Cross. Junior netminder Nick Ellis (Millersville, MD) turned aside 31 shots in the win, including 25 stops in the final 20 minutes of play. Sophomore defenseman Jake Walman (Toronto, ON) scored a goal and added an assist in the game to finish plus-two ... No. 6 Boston University also enjoyed a banner night on Saturday, hanging the 2015 Hockey East regular season and tournament banners in Agganis Arena. The Terriers downed Wisconsin, 4-1 ... UMass continued its feverish start, climbing to 3-0-0 for the first time since 2009. Warrior Player of the Week Dennis Kravchenko (Laguna Niguel, Calif.) registered his second four-point outing, including a hat trick and the game-winning goal, in a 5-2 win over Sacred Heart ... UMass Lowell took two wins from Colorado College at home this weekend, backstopped by Kevin Boyle's (Manalapan, NJ) 39 saves over the pair of games. Senior forward Ryan McGrath (O'Fallon, MO) notched both game-winning tallies for the River Hawks ... No. 3 Boston College toppled Wisconsin at Conte forum Friday night. Freshmen Colin White (Hanover, MA) (2g) and Casey Fitzgerald (N. Reading, MA) (2a) propelled the Eagles to the 6-0 win, while junior forward Austin Cangelosi (Estero, FL) (2g) potted a pair, including the game-winner ... The Maine Black Bears drew a 1-1 tie on the road at Union, thanks in part to a 28-save performance by rookie goaltender Rob McGovern (Weymouth, MA) ... UConn won its home-opener at the XL Center in Hartford, Connecticut, downing Arizona State, 5-1. Sophomore forward Spencer Naas (Minnetonka, MN) poured in a pair of power-play goals for the Huskies, while Max Letunov (Moscow, Russia) added two helpers ... Merrimack swept its homecoming weekend over Clarkson and St. Lawrence, led by Brian Christie's (West Chester, PA) four points (1g, 3a).
---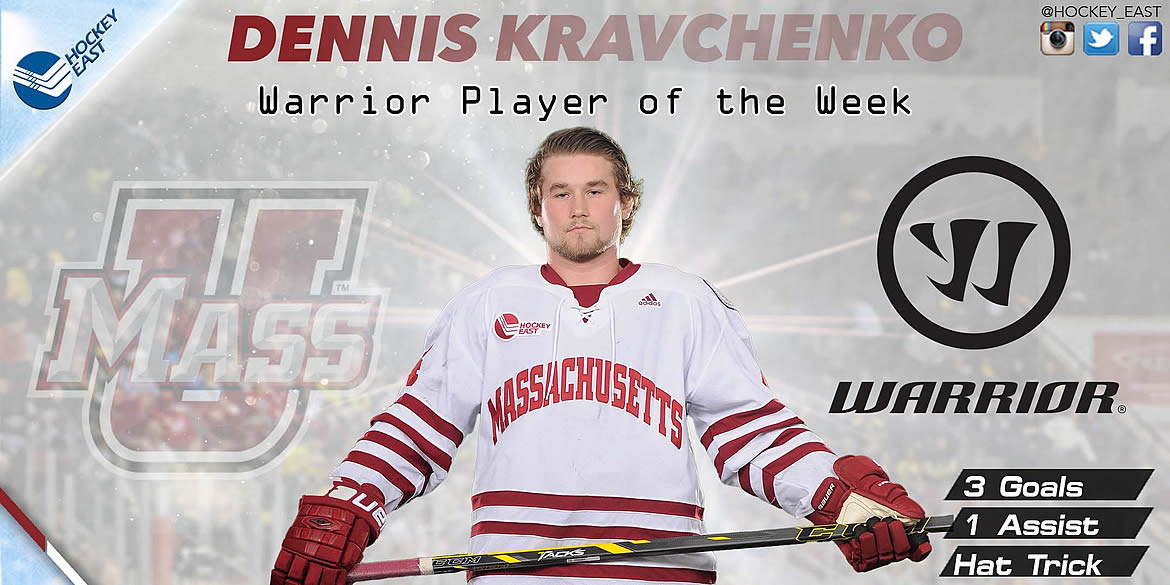 DENNIS KRAVCHENKO - MASSACHUSETTS: Tied for the national lead in scoring with eight points, Kravchenko turned in his second four-point outing of 2015-16 with a hat trick and one assist against Sacred Heart. He potted the game-winner and helped the Minutemen to their first 3-0-0 start since 2009-10. He also won 10 of 16 faceoffs in the game.
---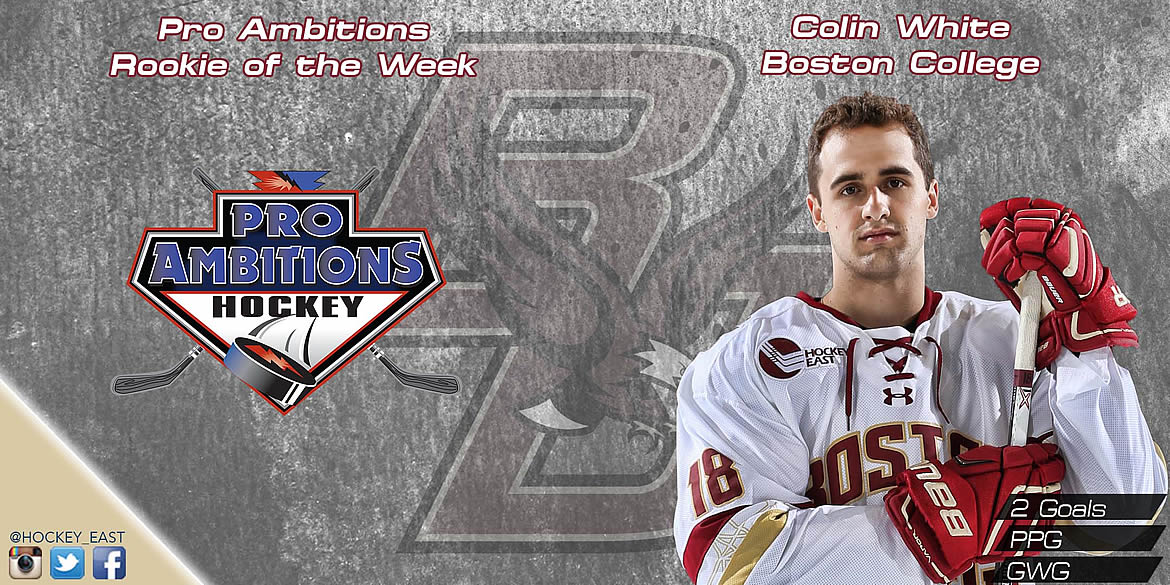 COLIN WHITE - BOSTON COLLEGE: White fired in the first two goals of his college career, helping to lead Boston College past Wisconsin, 6-0, Friday night. The Hanover, Massachusetts native scored the Eagles' lone power-play strike, netting the goal during a 5-on-3 advantage.
---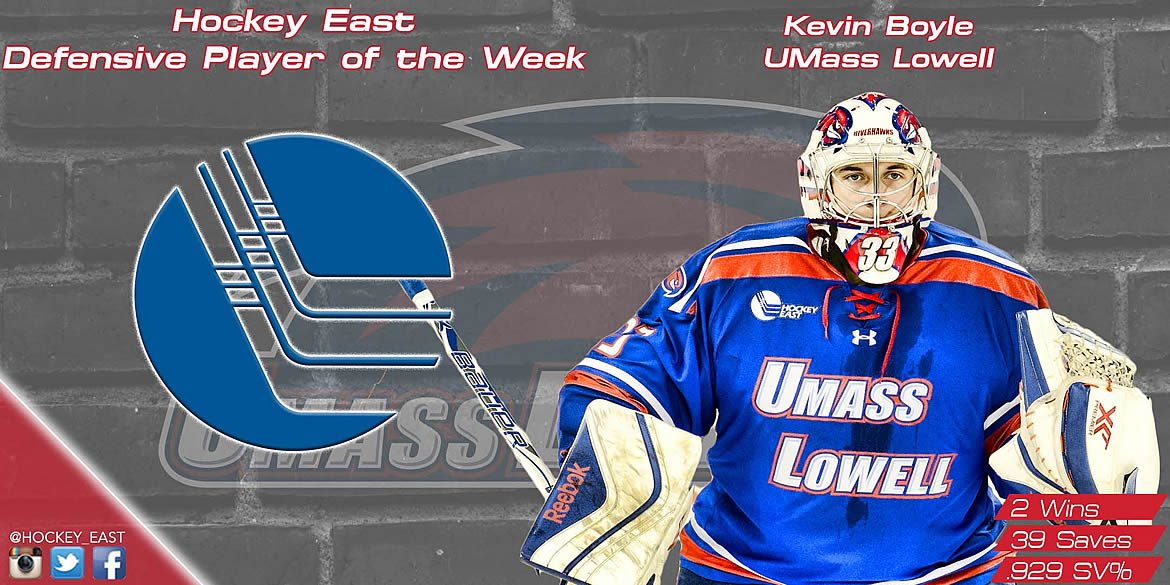 KEVIN BOYLE - UMASS LOWELL: Boyle registered two wins over Colorado College on the weekend, stopping 39 of 42 shots from the Tigers. He made 23 saves Friday and followed up with a 16- save performance to rack up 1.50/.929 numbers in the two-game home stand.
---
HOCKEY EAST WEEKLY TOP PERFORMERS
Austin Cangelosi, BC (Jr., F; Estero, FL) Recorded his second-career two-goal game and netted the game-winner over Wisconsin
Casey Fitzgerald, BC (Fr., D; N. Reading, MA) Had a pair of assists against Wisconsin for his second multi-point outing in three games.
Ryan Cloonan, BU (Fr., F; East Longmeadow, MA) Tallied a pair of assists in a 4-1 win over Wisconsin Saturday night.
Brandon Fortunato, BU (So., D; North Hills, NY) Netted the game-winning goal and registered an assist in the BU win over Wisconsin.
Spencer Naas, UConn (So., F; Minnetonka, MN) Scored two power-play goals in a 5-1 win over ASU in UConn's home-opener.
Max Letunov, UConn (Fr., F; Moscow, Russia) Picked up two assists to help the Huskies to a 5-1 victory Friday night.
Rob Nichols, UConn (Jr., G; Dallas, TX) Kicked out 24 shots and held ASU to just one goal to pick up his second win on the year.
Brian Morgan, Maine (Jr., F; Windham, NH) Netted one goal in a two-game weekend series against Union, helping Maine to a 1-1 draw.
Rob McGovern, Maine (Fr., G; Weymouth, MA) Made 28 saves for the Black Bears in a 1-1 tie with Union.
Austin Plevy, UMass (Fr., F; Langley, B.C.) Registered a pair of helpers to push the Minutemen to a 5-2 victory and a 3-0-0 start.
Ryan McGrath, UML (Sr., F; O'Fallon, MO) Scored both game-winning goals in a sweep of Colorado College.
Nick Master, UML (Fr., F; Broomall, PA) Had two points in two wins over CC, including his first career goal Friday night.
Brian Christie, MC (Sr., F; West Chester, PA) Racked up four points (1g, 3a) in two wins on the weekend, including three helpers Friday.
Matt Cronin, MC (Sr., D; Langley, B.C.) Scored his first career goal and added two assists for three points in Friday's 7-1 win over Clarkson.
Steven Fogarty, ND (Sr., F; Edina, MN) Led the Irish to a weekend split at PSU, registering a hat trick and an assist for four points Friday.
Andy Ryan, ND (Sr., D; Brighton, MI) Recorded his first career two-goal game in a 7-4 win at Penn State Friday night.
Jake Walman, PC (So., D; Toronto, ON) Tallied a goal and an assist in the Friars' 4-1 victory over Holy Cross.
Nick Ellis, PC (Jr., G; Millersville, MD) Turned aside 31 of 32 shots faced against Holy Cross, including 25 in the final two periods.
Tom Forgione, UVM (Jr., F; South Burlington, VT) Netted a short-handed goal and added a helper Friday against No. 3 Omaha.
Rob Hamilton, UVM (Jr., D; Calgary, AB) Dished out two assists in Friday night's effort against No. 3 Omaha.