Thursday, October 15, 2015
Hockey East Weekend Preview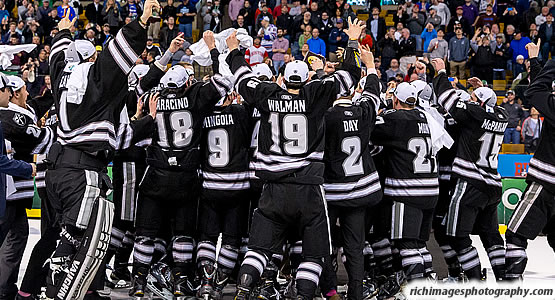 Providence College will raise the 2015 NCAA National Championship banner Friday night
No. 2 Providence vs. Holy Cross - Fri. 10/16 at Providence
- Defending national champions Providence College began the 2015-16 campaign with an impressive 7-3 win over No. 10 Miami Friday night at the Goggin Ice Center. The Friars' attack was led by Mark Jankowski and Trevor Mingoia as the duo combined for three goals and five assists.
- Mingoia added two assists to run his team-leading total to six points, as Providence skated to a 2-2 tie with Miami Saturday night and received Warrior Player of the Week honors.
- The Friars will raise the 2015 NCAA National Championship banner Friday night in Schneider Arena.

No. 3 Boston College vs. Wisconsin - Fri. 10/16 at Boston College
- Three rookies made their presence felt in Boston College's 5-1 victory at Army in the season opener on Friday night at Tate Rink. Freshmen Chris Brown, Miles Wood, and Casey Fitzgerald all recorded goals.
- Sophomore Eagle Zach Sanford scored a power-play goal in both BC games during the opening weekend, but the Eagles ultimately lost at RPI, 2-1, Sunday afternoon after topping the Black Knights Friday.

No. 6 Boston University vs. NTDP (ex)/vs. Wisconsin - Fri. 10/16, Sat. 10/17 at BU
- Freshman defenseman Charlie McAvoy's first collegiate goal created a late tie, but Union quickly regained the lead and added an empty netter as then-No. 2 Boston University dropped a 5-3 contest in its season opener Saturday evening at Messa Rink.
- Senior goaltender Sean Maguire recorded 26 saves in goal for the Terriers, who dressed all seven members of their freshman class.

No. 9 UMass Lowell vs. Colorado College - Fri. 10/16, Sat. 10/17 at UML
- Junior forward Evan Campbell posted two points (1g,1a), as UMass Lowell registered a 3-0 shutout against ECAC foe RPI in its season opener on Friday night at the Tsongas Center in front of 5,786 fans. Senior goaltender Kevin Boyle picked up the 27-save shutout.
- With last week's victory UMass Lowell, head coach Norm Bazin recorded his 100th career win at the helm of the River Hawks. His record now stands at 100-47-13 in his fifth season as head coach.

No. 20 Vermont vs. No. 3 Omaha - Fri. 10/16, Sat. 10/17 at Vermont
- Mario Puskarich netted a pair of goals and Mike Santaguida registered 24 saves as Vermont blanked No. 8 Minnesota, 3-0, in the U.S. Hockey Hall of Fame Game at Mariucci Arena Saturday night.
- Vermont returns to Gutterson Fieldhouse this weekend to host 2015 Frozen Four participant and national semifinalist No. 3 Omaha for a two-game series.

Massachusetts vs. Sacred Heart - Fri. 10/16 at UMass
- Freshman forward Austin Plevy scored three times and added an assist in his collegiate debut to help lift UMass to a 6-3 win on the road at Colorado College Friday night. Plevy became the first UMass player to log a hat trick since Michael Pereira did so in February 2012 and is the first freshman in the program's history with a hat trick since Michael Marcou in January 2008.
- The Minutemen erased a 3-0 deficit by scoring three times in 2:07 to open the third period. Plevy added the game-winner late in the frame to complete the 4-3 comeback win over Colorado College on Saturday night at Broadmoor World Arena. His five points (4g, 1a) and two game-winning goals earned him Pro Ambitions Co-Rookie of the Week.

Northeastern vs. Bentley - Fri. 10/16 at NU, Sat. 10/17 at Bentley
- Northeastern skated to a 2-1 victory over then-No. 20 Colgate last Saturday as Jason Cotton, Adam Gaudette, Lincoln Griffin and Eric Williams all made their collegiate debuts while sophomore forward Nolan Stevens netted a highlight-reel game-winning goal for the Huskies.
- Sam Kurker dressed in his first game as a Husky after transferring from Boston University.

UConn vs. Arizona State - Fri. 10/16 at UConn
- UConn freshman Max Letunov recorded a hat trick in his first collegiate game to lead the Huskies to a 5-2 win at Alabama Huntsville Friday night. Letunov scored the game-winner in the second and added a pair in the third to pace the Huskies to their first win in a season opener since the 2007-08 season. Letunov would receive Pro Ambitions Co-Rookie of the Week honors as he finished the weekend with four points.
- Sophomore Steve Thulin made his first career start in goal for the Huskies Saturday and made 24 saves.

Maine vs. Union/vs. Quinnipiac - Fri. 10/16, Sat. 10/17 at Union; Tues.10/20 at Quinnipiac
- The Black Bears defeated Michigan State in a shootout to open the 2015-2016 season last Friday at the Ice Breaker Tournament in Portland, Maine. Steven Swavely was able to lift the puck past MSU goaltender Jake Hildebrand to seal the shootout win.
- Maine doubled down to defeat North Dakota last Saturday night in yet another shootout at the Ice Breaker. Red Gendron got a huge effort from his freshman goalie Rob McGovern, who received his first career start in net for the Black Bears. The 6'4" goaltender kicked out 44 shots on the night.

Merrimack vs. Clarkson/vs. St. Lawrence - Fri. 10/16, Sat. 10/17 at Merrimack
- Guided by 11th-year head coach Mark Dennehy, the Warriors kicked off the 2015-16 campaign with a home exhibition against Saint Francis Xavier at Lawler Rink October 3 and will officially start the season against Clarkson and St. Lawrence as part of Homecoming Weekend.
- Merrimack bring back a lot of fire power on offense as they return leading scorers Brett Seney, Hampus Gustafsson, and Brian Christie. Seney led the way last year as a rookie tallying 26 points (11g, 15a), Gustafsson recorded 25 points (11g, 14a), and Christie recorded 23 points (10g, 13a).

New Hampshire vs. St. Lawrence - Fri. 10/16, Sat. 10/17 vs Clarkson, at New Hampshire
- Tyler Kelleher and Andrew Poturalski recorded four points apiece to propel the University of New Hampshire to last Saturday night's 7-3 victory against American International in the season opener for both teams at the Whittemore Center.
- Maxim Gaudreault and Jason Salvaggio also scored for UNH, as a total of 12 Wildcat skaters recorded a point.
- Goaltender Danny Tirone made 14 of his 26 saves in the second period.

Notre Dame vs. Penn State - Fri. 10/16, Sat. 10/17 at PSU
- The University of Notre Dame opened its 2015-16 campaign with a 7-5 exhibition victory over Guelph. Six different players scored for the Fighting Irish, led by freshman defenseman Dennis Gilbert's two goals and two assists.
- The Irish hockey team skated to a 2-2 overtime tie with the U.S. National Under-18 team Sunday afternoon at USA Hockey Arena in Plymouth, Michigan. It was a homecoming for Jeff Jackson, who helped develop the inaugural teams at USA Hockey's National Team Development Program in 1996 and was the program's first head coach (1996-2000).