Monday, September 21, 2015
2015-16 Hockey East Men's Composite Schedule Unveiled
15-16 Conference Season Set to Kick Off October 3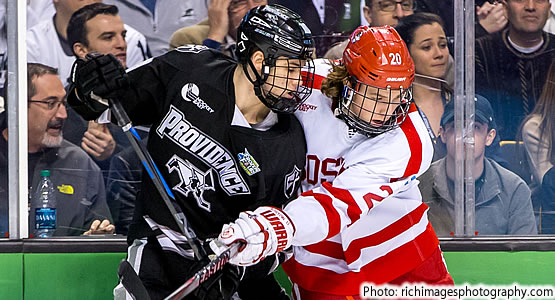 2015-16 Conference Season Set to Kick Off October 3
WAKEFIELD, Mass. - The Hockey East Association unveiled the 2015-16 men's composite schedule today at the league's annual media day at TD Garden. Each of the 12 member institutions will play 22 league contests as well as several featured non-conference tilts and tournaments.
A full PDF schedule can be found by clicking here.
Hockey East teams begin play Saturday, October 3 when six schools play in exhibition contests. Regular season play begins Friday, October 9 before the conference schedule opens two weeks later on Friday, October 23 with two league games on the slate.
Friday, November 13 will mark the first meeting of Boston University a nd Providence College in a rematch of the 2015 NCAA Championship game. In that contest on April 11, the Friars captured the first national title in program history at TD Garden in Boston.
The Hockey East season will culminate at TD Garden once again, with the 32nd annual Hockey East Tournament returning to the Garden ice March 18-19. Tickets for the conference championship will go on sale in December.