Saturday, January 6, 2018
Late Surge Sends Providence To 4-1 Win Over Vermont
Senior forward Brooke Boquist posts two goals and assist for Friars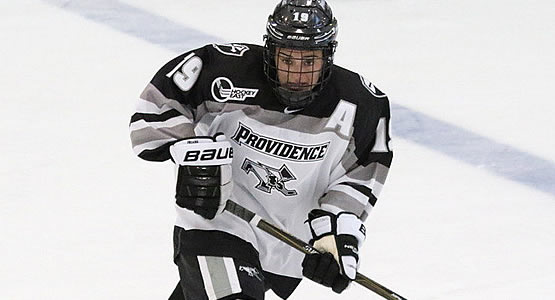 Senior forward Brooke Boquist had two goals and an assist for the Friars
| | | | | | | |
| --- | --- | --- | --- | --- | --- | --- |
| Prd | Time | Team | Score | Type | Scored By | Assists |
| 2nd | 17:56 | PRV | 1-0 | PP | Whitney Dove (6) | Meaghan Rickard/11, Chloe Gonsalves/6 |
| 3rd | 3:26 | VER | 1-1 | EV | Kristina Shanahan (3) | Allie Granato/2, Alyssa Holmes/2 |
| 3rd | 14:52 | PRV | 2-1 | EV GW | Meaghan Rickard (6) | Brooke Boquist/8, Emily Landry/3 |
| 3rd | 17:13 | PRV | 3-1 | EV | Brooke Boquist (10) | Meaghan Rickard/12, Whitney Dove/3 |
| 3rd | 19:14.1 | PRV | 4-1 | EV EN | Brooke Boquist (11) | Emily Landry/4, Rachel Rockwell/8 |
| | | | | |
| --- | --- | --- | --- | --- |
| Scoring | 1st | 2nd | 3rd | Final |
| Providence | 0 | 1 | 3 | 4 |
| Vermont | 0 | 0 | 1 | 1 |
| | | | | |
| --- | --- | --- | --- | --- |
| Shots on Goal | 1st | 2nd | 3rd | SOG |
| Providence | 9 | 15 | 12 | 36 |
| Vermont | 10 | 5 | 7 | 22 |
| | | | |
| --- | --- | --- | --- |
| Team Stats and Records | PP | PIM | SHGF |
| Providence (13-5-4) | 1/4 | 3/6 | 0 |
| Vermont (5-13-3) | 0/3 | 4/8 | 0 |
| | | | | | | |
| --- | --- | --- | --- | --- | --- | --- |
| Providence Goaltending | MIN | GA | 1 | 2 | 3 | Saves |
| Madison Myers (W, 12-4-4) | 59:52 | 1 | 10 | 5 | 6 | 21 |
| Empty Net | 0:08 | 0 | | | | |
| | | | | | | |
| --- | --- | --- | --- | --- | --- | --- |
| Vermont Goaltending | MIN | GA | 1 | 2 | 3 | Saves |
| Melissa Black (L, 1-5-1) | 57:58 | 3 | 9 | 14 | 9 | 32 |
| Empty Net | 2:02 | 1 | | | | |
BURLINGTON, Vt. - Kristina Shanahan tied the game at 1-1 with 16:34 remaining in regulation, but the Friars stormed back late in the game to take a 4-1 victory Saturday afternoon at Gutterson Fieldhouse.
Vermont falls to 5-13-3 overall and 3-9-2 in Hockey East play while the eighth-ranked Friars move to 13-5-4 overall and 9-1-2 in conference play.
"Tough result for us today after a pretty well-played game," Head Coach Jim Plumer said. "Other than a lack of discipline in the second period by taking four penalties I felt that we played better than we had before the break. I think we can clean up a few things for tomorrow and have a successful outing."
Providence's Whitney Dove broke the deadlock and gave PC the lead after nearly 40 minutes of play. On the fourth PC power play of the period, Dove received a pass from Rickard at the top of the faceoff circle to Melissa Black's right and ripped a shot through traffic and over Black's shoulder.
Shanahan evened the game at 1-1 just over three minutes into the final period. Shanahan picked up a pass from Allie Granato and fired a shot that beat out Madison Myers. Alyssa Holmes also picked up an assist on the goal.
Rickard put home the game winner with just over five minutes remaining in the third. She picked up the puck in the Providence zone and moved down the ice on a 2-on-1 before snapping a shot by Black.
Brooke Boquist added an insurance goal for the Friars two minutes later with Rickard and Dove picking up assists. She then put home an empty net goal to seal the victory.
The Catamounts could not capitalize on the power play, with three penalties called against Providence in the first period. Providence scored on its third power play of the game and had four man-advantage opportunities.
Black stopped 32 shots for the Catamounts in the losing effort, including a highlight reel save late in the second period to keep the game scoreless. Myers stopped 21 of 22 shots faced for the Friars.
UVM and PC take the ice tomorrow afternoon at 2 p.m. to close out the season series. It is the third 'Kids Day' of the season and all kids wearing a hockey jersey can get into the game for free, and a "Kids Day' poster will be distributed to the first 100 fans in attendance. Following the game, Head Coach Plumer and four players will be available for a post-game press conference where all kids will receive a Vermont credential and be able to ask questions. The 'Kids Day' series is presented by the Windjammer and Upper Deck Pub.