Saturday, October 21, 2017
Providence College Rallies To Tie Princeton, 2-2
Junior forward Cassidy MacPherson scores both goals for Friars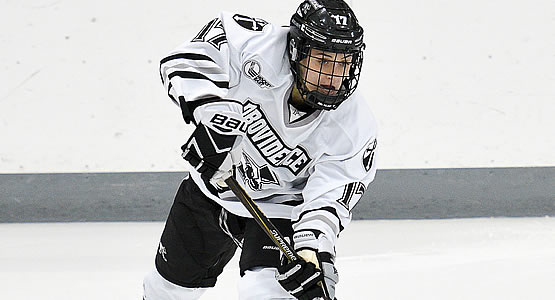 Junior forward Cassidy MacPherson scored both goals for the Friars
| | | | | | | |
| --- | --- | --- | --- | --- | --- | --- |
| Prd | Time | Team | Score | Type | Scored By | Assists |
| 1st | 10:41 | PRN | 1-0 | EV | Carly Bullock (3) | Karlie Lund/2, Stephanie Sucharda/1 |
| 2nd | 7:36 | PRN | 2-0 | PP | Keiko DeClerck (1) | Kiersten Falck/1, Julia Edgar/1 |
| 2nd | 14:27 | PRV | 1-2 | EV | Cassidy MacPherson (1) | Christina Putigna/8, Brooke Boquist/2 |
| 3rd | 7:47 | PRV | 2-2 | EV GT | Cassidy MacPherson (2) | Chloe Gonsalves/2 |
| | | | | | |
| --- | --- | --- | --- | --- | --- |
| Scoring | 1st | 2nd | 3rd | OT | Final |
| Providence | 0 | 1 | 1 | 0 | 2 |
| Princeton | 1 | 1 | 0 | 0 | 2 |
| | | | | | |
| --- | --- | --- | --- | --- | --- |
| Shots on Goal | 1st | 2nd | 3rd | OT | SOG |
| Providence | 12 | 10 | 12 | 5 | 39 |
| Princeton | 15 | 12 | 4 | 1 | 32 |
| | | | |
| --- | --- | --- | --- |
| Team Stats and Records | PP | PIM | SHGF |
| Providence (4-2-2) | 0/5 | 4/8 | 0 |
| Princeton (0-0-2) | 1/4 | 5/10 | 0 |
| | | | | | | | |
| --- | --- | --- | --- | --- | --- | --- | --- |
| Providence Goaltending | MIN | GA | 1 | 2 | 3 | OT | Saves |
| Madison Myers (T, 4-2-2) | 64:41 | 2 | 14 | 11 | 4 | 1 | 30 |
| Empty Net | 0:19 | 0 | | | | | |
| | | | | | | | |
| --- | --- | --- | --- | --- | --- | --- | --- |
| Princeton Goaltending | MIN | GA | 1 | 2 | 3 | OT | Saves |
| Steph Neatby (T, 0-0-2) | 64:57 | 2 | 12 | 9 | 11 | 5 | 37 |
| Empty Net | 0:03 | 0 | | | | | |
PRINCETON, N.J. - The Providence College women's ice hockey team tied the Princeton Tigers, 2-2, on Saturday afternoon at Hobey Baker Rink in Princeton, N.J. Cassidy MacPherson (Oakville, Ontario) scored both goals in the tie, which is the Friars' second in as many days.
SCORE
Providence - 2 | Princeton - 2
RECORDS
Providence: 4-2-2 (1-0-0 HE) | Princeton: 0-0-2 (0-0-0 ECAC)
VENUE
Hobey Baker Rink - Princeton, N.J.
GAME FLOW & NOTES
- Princeton's Carly Bullock scored the first goal of the game for the second consecutive day. Karlie Lund made a pass to Bullock who was alone in front, shifted to the backhand and scored over the pad of Madison Myers (Colchester, Vt).
- Both teams had power plays in the final minutes of the first frame, but neither team could convert.
- Myers made 14 first-period saves while Princeton's Stephanie Neatby made 12.
- Princeton was able to double its lead with a goal on the 5x3 advantage in the second period. Keiko DeClerck scored on a scramble in front to make it 2-0. Kiersten Falck and Julia Edgar earned assists.
- Cassidy MacPherson scored her first goal of the season to cut the lead to 2-1. She skated off the boards, through two defenders and ripped a wrist shot into the top corner with 5:33 left in the second. Christina Putigna (Grimsby, Ontario) picked up her eighth assist of the season while Kate Friesen (Altona, Manitoba) notched her fourth.
- MacPherson struck again at the 7:47 mark of the third period. Chloe Gonsalves (Toronto, Ontario) took a shot from the blue line that MacPherson tipped over Neatby's shoulder.
- The Friars outshot the Tigers 5-1 in the overtime frame.
- Providence was a combined 0/10 on the power play this weekend.
HOW THEY SCORED
1-0 (Princeton) - 10:41/1st - EV - Carly Bullock, assisted by Karlie Lund and Stephanie Sucharda - Cross-ice pass from Lund, backhand finish in front of goal
2-0 (Princeton) - 7:36/2nd - PP (5x3) - Keiko DeClerck, assisted by Keirsten Falck and Julia Edgar - Scramble in front, rebound goal
2-1 (Providence) - 14:27/2nd - EV - Cassidy MacPherson, assisted by Christina Putigna and Kate Friesen - Wrist shot from the slot
2-2 (Providence) - 7:47/3rd - EV - Cassidy MacPherson, assisted by Chloe Gonsalves - Shot from Gonsalves at the point, tipped in front by MacPherson
GOALTENDERS
Providence: Madison Myers, 4-2-2: 30 saves, 2 goals against
Princeton: Stephanie Neatby, 0-0-2: 37 saves, 2 goals against
STAT COMPARISON
Providence-
Shots: 39
Face-off percentage: 49.2% (29/59)
Power plays: 0-5 (0%)
Penalty kill: 3-4 (75%)
Princeton-
Shots: 32
Face-off percentage: 50.8% (30/59)
Power plays: 1-4 (25%)
Penalty kill: 5-5 (100%)
PC GAME HIGHS
Shots: Brooke Boquist (6)
Goals: Cassidy MacPherson (2)
Assists: Three different players (1)
LOOKING AHEAD
The Friars return to Hockey East play for a home-and-home series with Northeastern next weekend. At 2:00 p.m. on Saturday, Northeastern comes to Schneider Arena for the Friars' annual Skating Strides game. On Sunday, Providence travels to Matthews Arena for a 2:00 p.m. game.