Stacey Goal Gives Maine 2-2 Tie With Vermont
Senior forward Brooke Stacey has game-tying goal and assist for Black Bears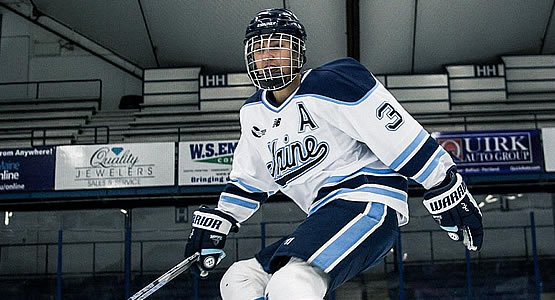 Senior forward Brooke Stacey had the game-tying goal and an assist for the Black Bears
| | | | | | | |
| --- | --- | --- | --- | --- | --- | --- |
| Prd | Time | Team | Score | Type | Scored By | Assists |
| 1st | 12:18 | VER | 1-0 | EV | Kourtney Menches (2) | Val Caldwell/3, Olivia Kilberg/3 |
| 1st | 14:44 | MNE | 1-1 | EV | Tereza Vanišová (9) | Brooke Stacey/11, Brittany Kucera/8 |
| 3rd | 9:24 | VER | 2-1 | EV | Taylor Willard (3) | Ali O'Leary/4, Kristina Shanahan/6 |
| 3rd | 15:49 | MNE | 2-2 | EV GT | Brooke Stacey (8) | Tereza Vanišová/21, Daria Tereshkina/3 |
| | | | | | |
| --- | --- | --- | --- | --- | --- |
| Scoring | 1st | 2nd | 3rd | OT | Final |
| Vermont | 1 | 0 | 1 | 0 | 2 |
| Maine | 1 | 0 | 1 | 0 | 2 |
| | | | | | |
| --- | --- | --- | --- | --- | --- |
| Shots on Goal | 1st | 2nd | 3rd | OT | SOG |
| Vermont | 2 | 9 | 4 | 2 | 17 |
| Maine | 19 | 6 | 10 | 4 | 39 |
| | | | |
| --- | --- | --- | --- |
| Team Stats and Records | PP | PIM | SHGF |
| Vermont (5-11-3) | 0/4 | 2/4 | 0 |
| Maine (11-6-3) | 0/2 | 4/8 | 0 |
| | | | | | | | |
| --- | --- | --- | --- | --- | --- | --- | --- |
| Vermont Goaltending | MIN | GA | 1 | 2 | 3 | OT | Saves |
| Sydney Scobee (T, 4-7-2) | 65:00 | 2 | 18 | 6 | 9 | 4 | 37 |
| | | | | | | | |
| --- | --- | --- | --- | --- | --- | --- | --- |
| Maine Goaltending | MIN | GA | 1 | 2 | 3 | OT | Saves |
| Carly Jackson (T, 9-5-3) | 65:00 | 2 | 1 | 9 | 3 | 2 | 15 |
ORONO, Maine - After giving up a pair of unlucky goals, the dynamic duo, Brooke Stacey and Tereza Vanisova, helped Maine catch back up with Vermont to take them into overtime resulting in a 2-2 draw.
Kourtney Menches found herself in the right place at the right time, as Maine goaltender Carly Jackson skated behind the net to retrieve a cleared puck. Jackson attempted to pass it off to her defender, but the puck didn't quite clear the net as it ricocheted off the side pipe directly in front of Menches who was hanging out near the net. A Maine defender raced to reach the wide open net before Menches shot the puck, but the play happened too quickly for her to stop it, as the Catamounts found themselves ahead 1-0, 7:42 into the opening stanza. Helpers were handed to Val Caldwell and Olivia Kilberg from clearing the puck out of their defensive end.
Tying up the match, 1-1, just two minutes later, Vanisova wove in and out of nearly every single Vermont player on the ice, with pure determination after falling behind. She faked out the goalie and tucked the puck away. Assists were given to Stacey and Brittany Kucera. The puck hardly ever escaped the Catamount's defensive end in the first period, as the Black Bears controlled the ice, only allowing two shots to approach Jackson in net compared to Maine's 19 shots on frame.
Midway through the third period, the tie was broken by Catamount's Taylor Willard, rocketing a shot towards net with Ali O'Leary positioned perfectly to screen the flying puck. After careful review by the referees, the goal became official with assists presented to O'Leary and Kristina Shanahan.
Refusing to back down, the Black Bears sent 10 shots at Vermont goalie Sydeny Scobee in the third period, with Maine's first line finding success taking Vermont into extra minutes. Daria Tereshkina commenced the play for the game-tying point with 4:11 remaining in regulation. She passed it up to Vanisova who once again effortlessly deked out the defenders then passed the puck off to Stacey through the crease patiently waiting at the back corner with her stick ready to quickly one-time it behind Scobee into the net.
In overtime, Maine found four scoring opportunities to Vermont's two chances, but neither could capitalize. Overall, Scobee left the ice with an impressive 37 saves to Jackson's 15 saves.
Both teams will face off again next weekend for their third game in a row, but this time the Black Bears will venture to Catamount territory in Vermont. Puck will drop at 2 p.m. on Saturday, December 2.